Project overview
Unfair is a unique tableau-building theme park game filled with humourously cynical challenges and strategies. This second Unfair CHKO expansion brings four new themes: Comicbook, Hacker, Kaiju and Ocean to the 10 theme packs already available. This takes Unfair's replayability to all new highs. Mix them with your old favourites, or with each other and discover all new strategies to master in this thrill ride of a game.
You can get the Unfair CHKO expansion in this campaign, with related game products including the Unfair base game, Unfair ABDW expansion and even Funfair, the fast and friendly introduction to the world of Unfair. Plus we offer a range of neoprene game mats and other add-ons to level up your Unfair game. More campaign details below.

Unfair CHKO expansion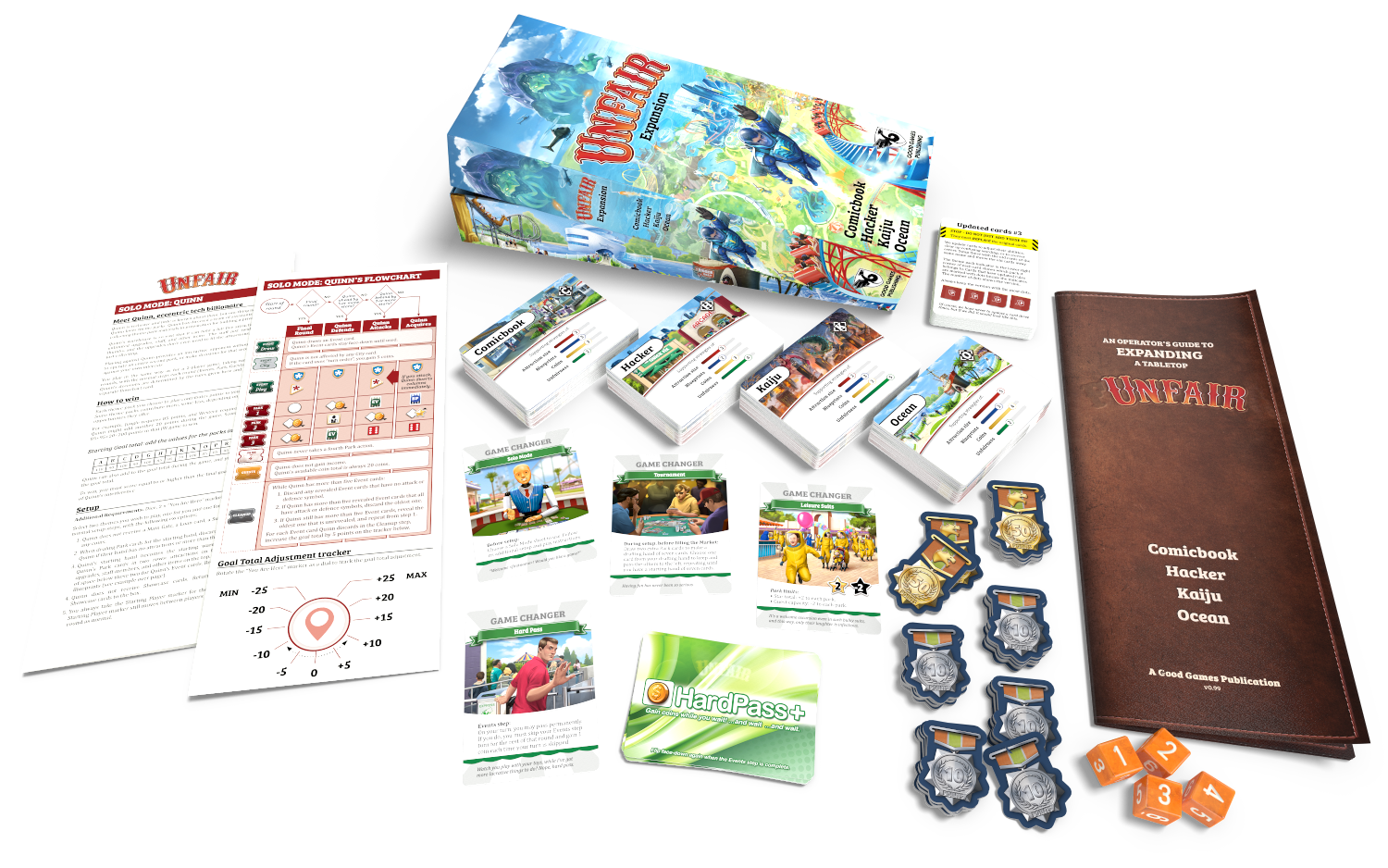 Comicbook theme pack
Hacker theme pack
Kaiju theme pack, 4 Kaiju health dice, 25 medal tokens
Ocean theme pack
3 new Game changer cards and 5 'hard pass' cards
8 sneak peek cards from future expansions
2 Funfair promo cards
Rulebook
Solo rules & solo flowchart
Update card set #3 - 23 update cards replacing previous Unfair cards.
NOTE. All pledges must include at least 1 copy of the Unfair CHKO expansion.
Shipping & VAT
All items will sea freight together from China to fulfilment hubs in the USA (+ CAN), UK (+ Europe & RoW), Australia (+ NZ), and China (+ Asia & RoW) to keep shipping costs as low as possible globally.
Shipping and VAT or customs fees will be charged in our pledge manager after the campaign concludes. UK & EU & backers should expect to be charged your country's VAT / customs rate on your pledge, all shipping charges and any add-ons in the pledge manager. You shouldn't then need to pay additional local charges.
We cover USD$16 of shipping for every backer who orders the Unfair CHKO expansion, which covers the full shipping cost of Zone 1 countries. Other Zones will need to pay small extra fees reflecting the extra costs of freight and postage there. Significant Add-on shipping costs are bundled into the price of each add-on, but add-on items sent to some zones will also attract the following additional shipping charges per item;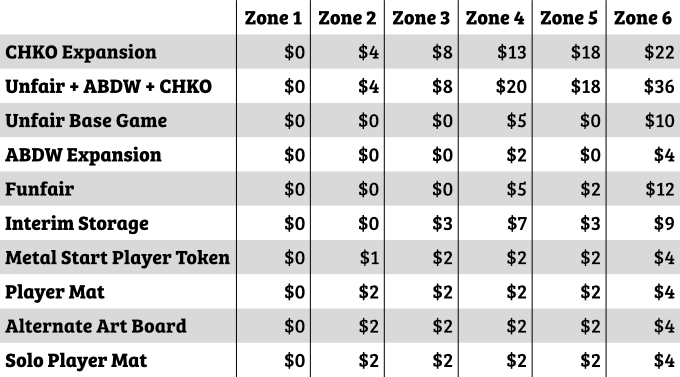 Zone 1 - USA, AUS, UK, CAN, China.
Zone 2 - Japan, Malaysia, Philippines, Singapore, South Korea, Taiwan, Thailand, Vietnam, South Africa.
Zone 3 - Austria, Belgium, Czech Republic, Denmark, France, Germany, Hungary, Ireland, Italy, Latvia, Lithuania, Luxembourg, Netherlands, New Zealand, Poland, Portugal, Slovakia, Slovenia, Spain, Sweden.
Zone 4 - Estonia, Finland, Greece, India, Indonesia, Israel, Malta, Norway, Romania, Switzerland.
Zone 5 - Bulgaria, Croatia, Cyprus.
Zone 6 - Mexico.
If your country is not on this list we currently don't plan to ship there due to the likely low number of backers and / or high cost. But feel free to ask and we can take a closer look.