Project overview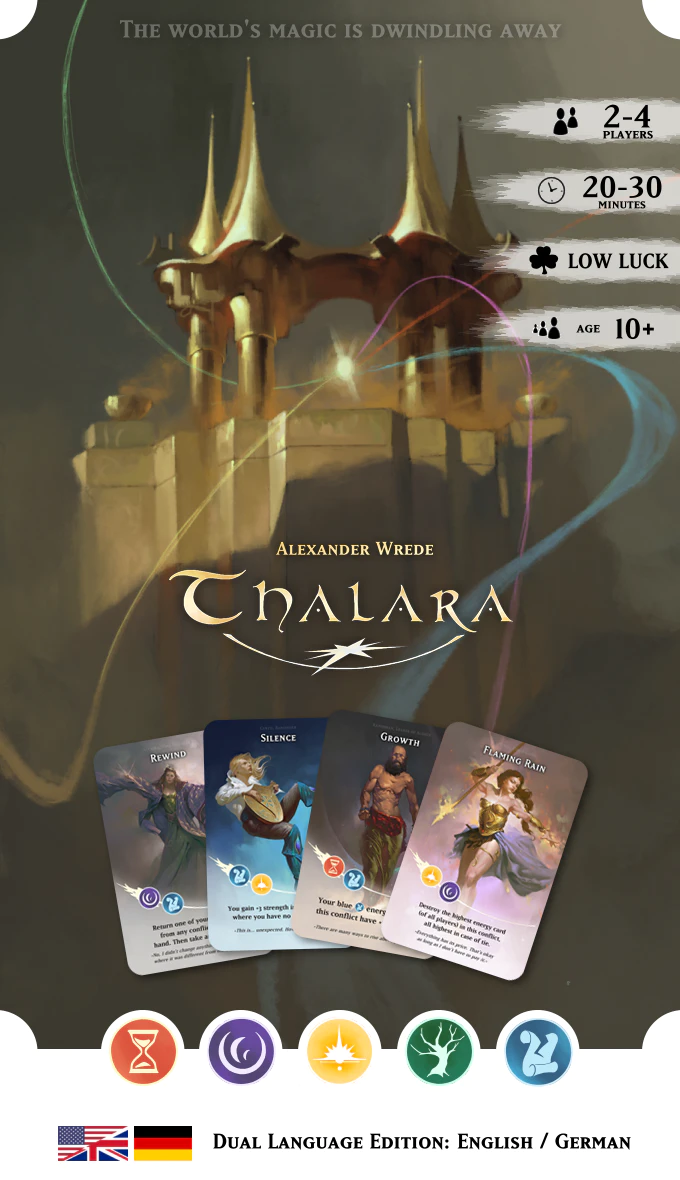 Thanks once again to everyone who supported us on Kickstarter! You can finalize your order here, enter your shipping details, upgrade your pledge or get additional addons if you like. In case you missed our Kickstarter you can also preorder Thalara here. In any case note: Scheduled delivery is May 2021 for the physical games and April 2021 for digital products (as noted on the Kickstarter page).
///
Nochmal Danke an alle, die unseren Kickstarter unterstützt haben! Du kannst hier deine Bestellung abschließen, deine Versanddaten angeben, deine Auswahl upgraden oder noch zusätzliche Addons hinzufügen, wenn du magst. Falls du die Kickstarter-Kampagne verpasst hast, kannst du Thalara auf dieser Seite vorbestellen. In beiden Fällen gilt: Das geplante Lieferdatum ist Mai 2021 für die produzierten Spiele bzw. April 2021 für digitale Produkte (wie in der Kickstarter-Kampagne angegeben).
Reviews
"I am totally enchanted!" (Father Geek)
"One of the most unique card games I have played to date" (Circle of Nerds)
You want all the details about the game, components, how-to-play videos? Head over to our
Kickstarter campaign page
-
and then come back to place your order :-)
///
Du willst alle Details über das Spiel, die Komponenten und How-to-Play Videos? Geh rüber zu unserer
Kickstarter-Kampagne
-
und dann komm zurück und gib deine Bestellung auf :-)
Contact /// Kontakt
Any questions? Send an email to thalara@wredespiele.de · Contact us on
Facebook
· Join us on
BoardGameGeek
///
Irgendwelche Fragen? Schick eine email an thalara@wredespiele.de · Schreib uns auf
Facebook
· Komm in unsere Foren bei
BoardGameGeek
wredespiele - Schlien Wrede GbR, Oliver Schlien, Erikaweg 13d, 21149 Hamburg, Germany
Note: According to the small businesses ruling § 19 UStG we do not charge German sales tax / VAT.
Hinweis: Als Kleinunternehmer im Sinne von § 19 Abs. 1 UStG wird von uns keine Umsatzsteuer berechnet.
Featured products
Most recommended!
Digital Issues /// Digitale Ausgaben