Project overview
Glory: A Game of Knights is a game in which you assume the role of a knight fighting for glory in the tournaments of 15th century Europe. Players have two types of tournaments to choose from - it's up to you whether you fight against each other or only against the most famous knights of the era like Jacques de Lalaing or Zawisza the Black.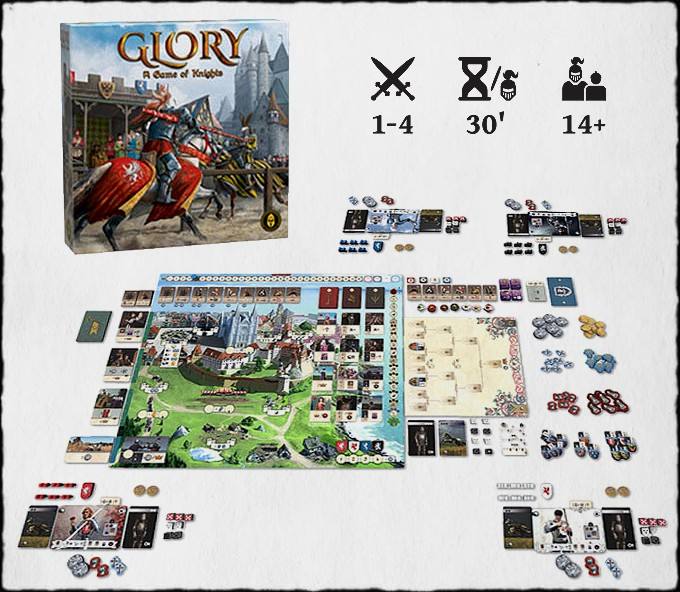 3 Modes of play:
The "Joust à plaisance" is a direct confrontation between players. (PvP)
The "Pas d'armes" is a battle versus the non player knights within the game. (PvE)
The solo mode is for a unique one-player game experience. (Solo)
Key Features:
A unique take on worker placement where players can build a character and compete with the game and other players.
Variable player characteristics and unique supporters, quests to fulfill, and titles to acquire provide a big amount of depth and replayability.
A highly interactive experience in PvP mode and a more calculated experience in PvE.
Multiple paths to victory by duelling in tournaments and acquiring titles.
Solo play mode with many goals to achieve.
25 stretch goals added in two crowdfunding campaigns (Kickstarter and Zagramw.to).
Over 400 components: cards, dice, wooden tokens and many more!
Crowdfunding-limited component: turn-order marker.
Metal coins as component improvement.
Illustrations based on historical sources.
Historical knights as your opponents.
English, German, French and Polish versions available
For more details or reviews about the game please visit our KS page:
Pledge Levels
Buy the game that was successfully funded on Kickstarter in late 2019
Get retail version of Glory with all stretch goals ulocked during crowdfunding campaign.
Add-ons
Additional content for improving your game
A set of metal coins for replacing the coin tokens in the game . You may order it even without the game.

Get a solid brass phase marker!