Project overview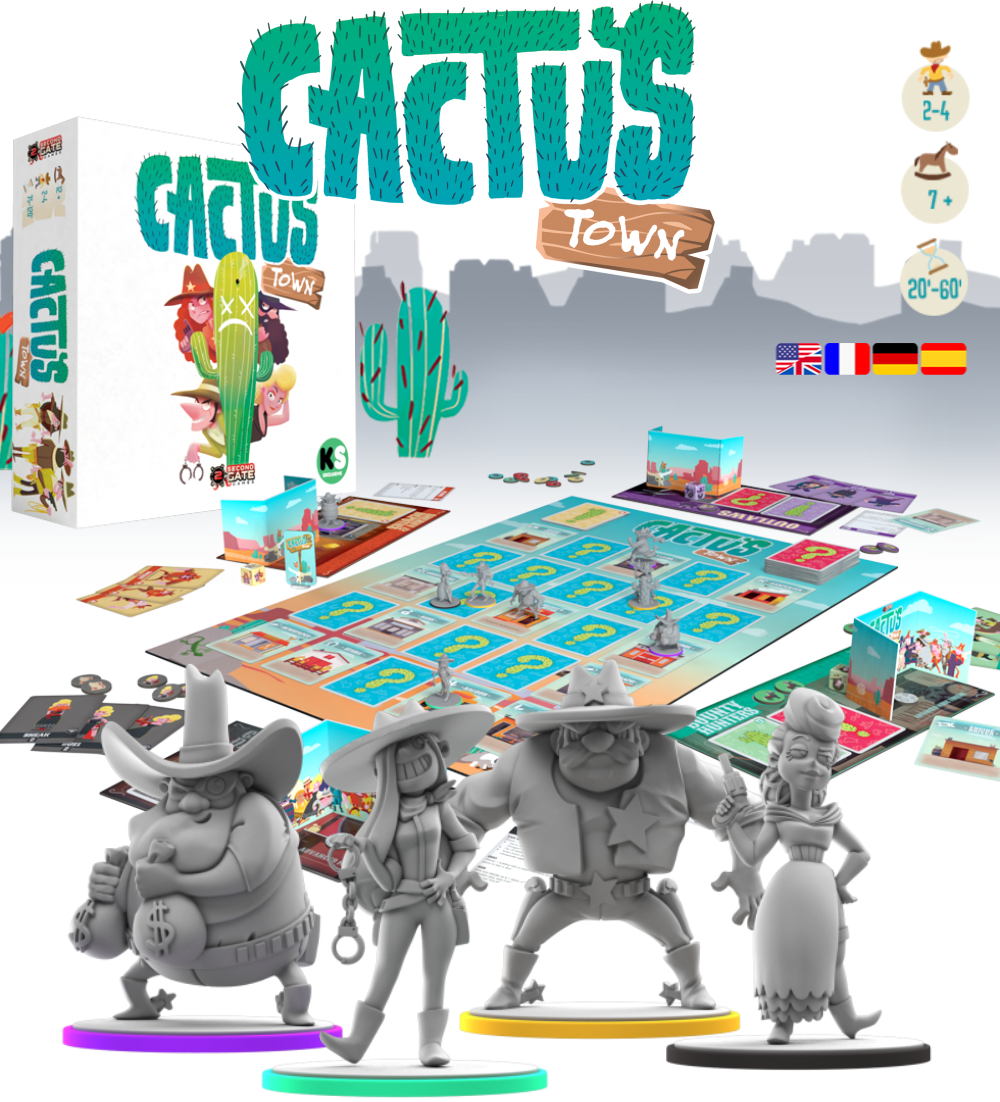 Awesome art meets fun gameplay!
A fast-playing programming game for 1-5 players.
OPEN FOR LATE PLEDGE UNTIL MINIMUM FEBRUARY 2022 (SHIPPING MARCH/APRIL)
Sleepy little Cactus Town is going to see some action: you can wear the Sheriff's badge, join a group of dangerous outlaws, seek ransom as a bounty hunter or even use the power of seduction being an avenging Can Can dancer. Each party has its own objectives and its own unique actions, making this a perfect gateway game for asymmetric gameplay. With playing time of just 10-15 minutes per player, you can swap and play various parties each session. The expansions add further factions to the fray, providing for huge replay variations.
Featured products
Most recommended!
Cactus Town Pledges
Choose which version of Cactus Town you would like.
The DEPUTY edition is our base version, while the SHERIFF edition is the deluxe game with miniatures, custom dice, personal player boards and a giant thematic game board.
If you'd like to include the expansions at a discounted price, choose the DEPUTY + 3 EXPANSIONS or the SHERIFF + 3 EXPANSIONS pledges, they have a saving of 5€ and 15€ respectively versus buying the products separately.
All editions come with all applicable stretch goals from the KS campaign.
Wondering if you STILL can make a late pledge, when the product is already being produced/shipped? Yes, you can, we have sligthly overproduced for sales on our online store, so we will leave the PM open for late pledgers until the end of 2021 or until the overproduction volume depletes.
Cactus Town Expansions
New factions with fun new objectives and mechanisms, further increasing the variety of gameplay. With the Lone Ranger, you also extend gameplay to 5 players and have a solo mode.
Cactus Town Multiple Pledges