Project overview

👇 English version below !
Après le succès de la campagne Kickstarter, nous sommes heureux de vous accueillir ici. Les lates pledges / pledge manager sont désomais clos pour cette campagne, vous pouvez désormais retrouver le jeu sur www.perteetfracas.com
SI VOUS AVEZ SOUSCRIT DURANT LA CAMPAGNE, c'est ici que vous finalisez votre promesse de don, fournissez votre adresse postale et payez vos frais d'expédition. Dans votre panier, vous trouverez des crédits correspondant à votre don durant la campagne. Sélectionnez la contrepartie que vous souhaitez (identique ou différente à celle choisie durant la campagne). Vous pouvez également sélectionner des ajouts et des contreparties supplémentaires.
Si le coût total des articles dans votre panier dépasse le montant que vous avez promis sur Kickstarter, vous payez simplement la différence lorsque vous passez à la caisse.
SI VOUS ÊTES UN RETARDATAIRE, alors bienvenue à bord du Drakkar !
Vous pouvez encore commander en ajoutant les produits désirés dans votre panier pendant quelques semaines.
🤟 LE JEU
Odin a promis le Valhallalala au groupe de rock viking le plus populaire de tous les temps.
Votre groupe est chaud patate mais n'a aucun fan.
Galvanisez les foules pour remplir votre salle de concert et devenez la plus grande RagnaRok Star !
RagnaRok Star est un jeu de stratégie combinant programmation, collecte et objectifs dans lequel chaque joueur remplit sa salle et signe des contrats pour gagner le plus de points de gloire possible.
Stratégique : programmation astucieuse des 5 personnages
Rapide : actions et résolutions simultanées pour un jeu sans temps mort
Fun : plein d'humour, d'hommages à la culture rock et à la mythologie viking
Avez-vous ce qu'il faut pour devenir la plus grande RagnaRok Star ?
INFORMATIONS SUR L'EXPÉDITION
Les frais d'expédition n'ont pas été facturés pendant la campagne Kickstarter et vous devrez payer les frais d'expédition ici, en fonction de votre adresse et votre mode de livraison.
🏪
Boutique Relais :
pour la France et la Belgique, vous avez la possibilité d'opter pour un retrait dans l'une de nos 45 boutiques partenaires pour
3€
seulement !
Précisez le choix de votre boutique via ce formulaire :
Choix de la boutique partenaire.
La date d'expédition prévue pour le jeu est Avril 2021. Cependant, il y a des facteurs sur lesquels nous n'avons aucun contrôle, comme la pandémie de Covid-19 et qui pourraient affecter la date de livraison. Pour toute information concernant l'expédition, ainsi que des nouvelles générales sur le travail qui est fait sur le jeu, nous réalisons des actualités sur notre page Kickstarter et notre page Facebook.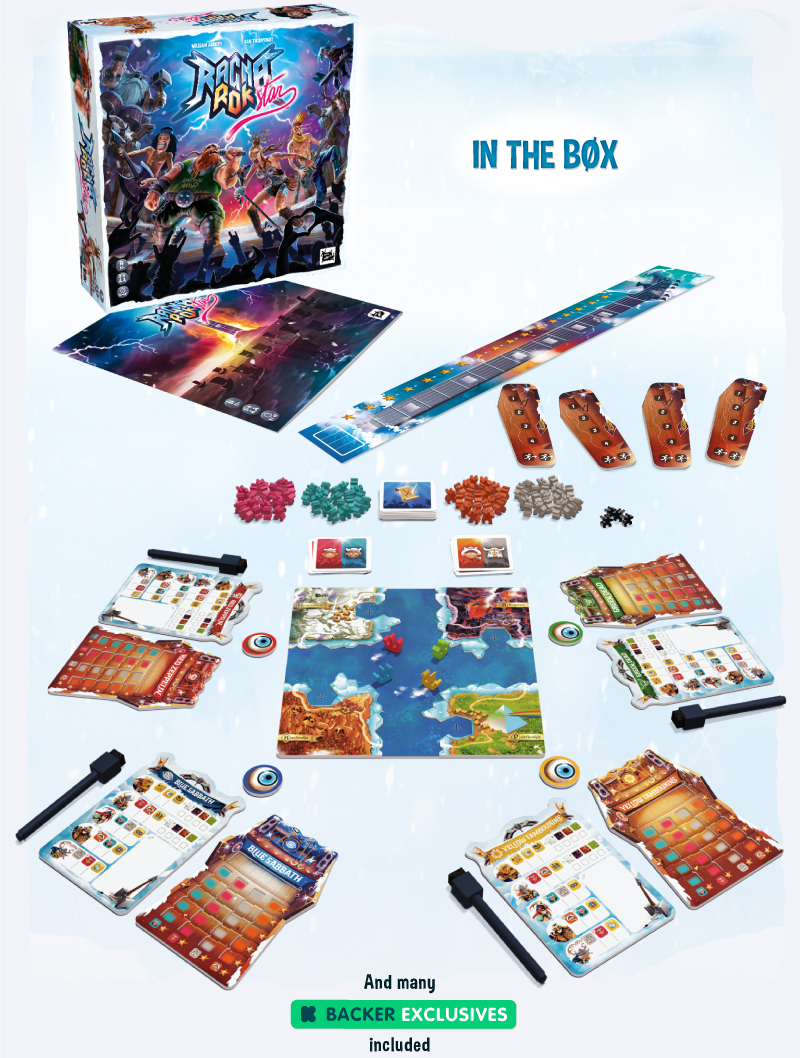 After the successful Kickstarter campaign, we are glad to welcome you here.
The lates pledges / pledge manager are now closed for this campaign, you can find the game on
www.perteetfracas.com
IF YOU ARE A BACKER of the Kickstarter campaign, then this is where you will finalise your pledge, provide your mailing address, and pay for shipping. In your cart you will find credits, equal to the amount that you paid during the KS campaign. Here you will have to select the pledge that you want, which can be the same or different than the one you chose on KS. You can also select add-ons and additional pledges. If the total cost of items in your cart exceeds the amount you pledged on Kickstarter, then you can pay the difference here on the pledge manager when you check out.
IF YOU ARE A LATE PLEDGER, so welcome aboard the Tour Boat !
You can still order by adding the desired products to your shopping cart for a few weeks.
RagnaRok Star is a strategy board game where calculated planning fills your concert hall with adoring fans and signing contracts ultimately bring fame and rock glory.
- Full of humor, rock culture tributes and viking mythology.
- Fun to program leading to many interactions between players.
- Simultaneous movement allows for speedy play.
Odin has issued a contest challenging bands from across the Nordic seas to earn a place in Valhallalala as the greatest viking rock band of all time. There is just one problem… they don't have any fans.
Do you have what it takes to become the greatest RagnaRok Star ?
Shipping was not charged during the KS campaign and you will have to pay for the shipping charges here, based on your delivery address.
Shipping in the Europe, USA, Canada and Australia is friendly, meaning you should not have to pay for customs when you receive the game. For the rest of the countries, you could be asked to pay for customs fees, depending on your country's policy.
The estimated shipping date for the game is April 2021. However, there are factors that we do not have any control over, such as the Covid-19 pandemic that we encountered, that could affect the delivery date. For any information with regards to shipping, as well as overall news on the work that is being done on the game, we are giving updates on our Kickstarter and Facebook page.