Project overview
For KS Backers:
You will be using this website to choose add-ons for your pledge and calculate shipping fees. We will send out invites once KS has finalized the backer list.
For Late Pledges:
Don't worry if you missed the KS campaign! Now you can make a Late Pledge and choose add-ons right on this page.
Notice on Credit Card Issues:
Please check with your bank first if you have a failed payment. T
he merchant name for the transaction is "Moaideas Game Design" or "Gamefound".
The payment currency is in US Dollars, but sometimes it may be routed to Stripe's Japan server, so the origin of the transaction might be from Japan.
To Complete Your Order
Check/Upgrade Your Pledge. Backer rewards from your Kickstarter pledge are already added to your cart. If you want to upgrade, remove the current item from your cart and choose another one.
Get Your Add-ons. Scroll to the Add-Ons section to add other items from the campaign to your order.
Checkout. Head to the checkout, where you will fill out your delivery address and pay the balance for shipping and any add-ons. They will be a credit equal to the amount you pledged on Kickstarter.
If you have any trouble, send a message to us via Kickstarter or send an email to us at
service@moaideas.net
Game Introduction
Mini Express is the second collaboration between designer Mark Gerrits (Mini Rails, SteamRollers) and Moaideas Game Design (Mini Rails, The Flow of History, Tulip Bubble, Symphony No.9).
If you enjoyed Mini Rails, you'll love exploring the various strategies of Mini Express — the direct sequel to Mini Rails; we know we have. Mark Gerrits and Moaideas Game Design have distilled the complex gameplay of 18XX games into a straightforward family-friendly hour-long gaming experience for your gaming table.
Mini Express is a luckless train game for 3 to 5 players where you and other wealthy capitalists manage four railroad companies. Through careful planning and ruthless execution, players pioneer the western expansion of the 19th century vying to be the most influential railroad baron and complete the transcontinental railroad.
The current estimated delivery date is January 2021.
This project is Customs Friendly in US, CA, EU, AU, NZ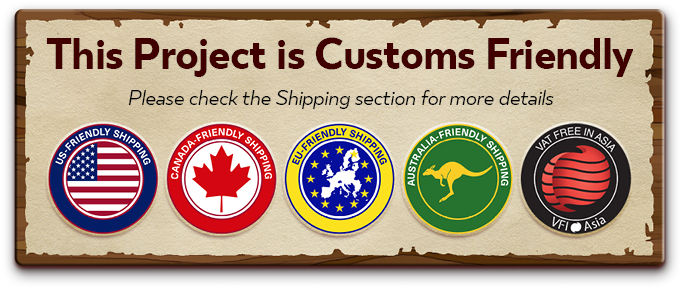 List of VAT-Free areas by VFI Asia:
Australia, Bahrain, Brazil, Indonesia, Kuwait, Macao, Malaysia, New Zealand, Philippines, Singapore, South Africa, Thailand, Vietnam.
United Kingdom:
We are keeping an eye on how import customs will change after Brexit. Our original plan was to deliver the games before the end of 2020, but now that it is delayed, nobody that we have contacted is sure what will happen yet.
Israel:
After consultation with a few backers from Israel, it should be better to send by TW Post since your order will likely not pass the duty threshold. Thus it is removed from VFI fulfillment.

Follow us on Twitter, Instagram, and Facebook to get direct updates on our progress!  
Featured products
Most recommended!
Mini Express:  1) Check/Upgrade Your Kickstarter Pledge
The pledge you chose in the Kickstarter is pre-loaded into your cart. To upgrade to a higher pledge, remove your old pledge from your cart and pick a new one.
Mini Express:  3)Train games by Mark Gerrits
Want to get of copy of another great train game by the same designer? Or do you want extra copies of Mini Express to your pledge? Add them to your cart here.
Mini Express:  2) Add Ons
If you want the Wooden Insert or the Playmat set, click the items below to add them to your cart.
4) Moaideas: Previous Titles
Check out our previous games to get a discount and save on shipping!