The project is currently open for backers with credits. You can't add anything to your pledge because you don't have any.
Project overview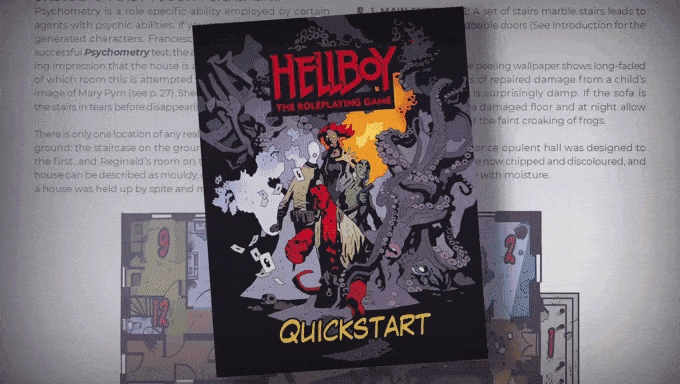 The quickstart gives a taste of Hellboy: The Roleplaying Game. It includes pre-generated characters, a unique story and the rules required to start your adventure. Download by clicking the image below...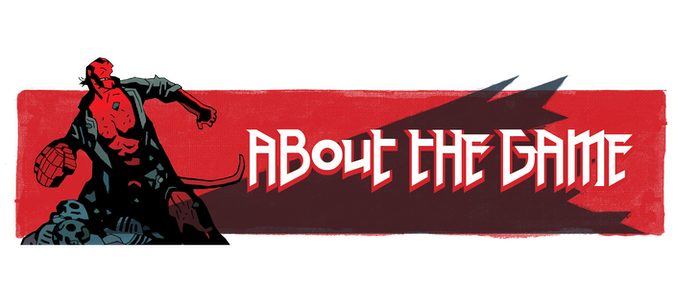 Created by Mantic Games, the board game publisher behind
Hellboy: The Board Game,
and the team at Red Scar Publishing,
Hellboy: The Roleplaying Game
is a totally new way to experience the inspirational work of Mike Mignola.
In this standalone game, you become a member of the B.P.R.D. and build your character from the ground up. Will you be a researcher skilled in the study of the occult, a hard-nosed B.P.R.D. security agent, a rookie with hidden supernatural powers and more… the choice is yours.
Based on the hugely popular
5th Edition
, we've made sure that
Hellboy: The Roleplaying Game
truly captures the experience of the graphic novels. We've added new mechanics – such as Doom and Ingenuity – along with unique classes and feats that drive the agents of the B.P.R.D. in their mission to wipe out supernatural threats.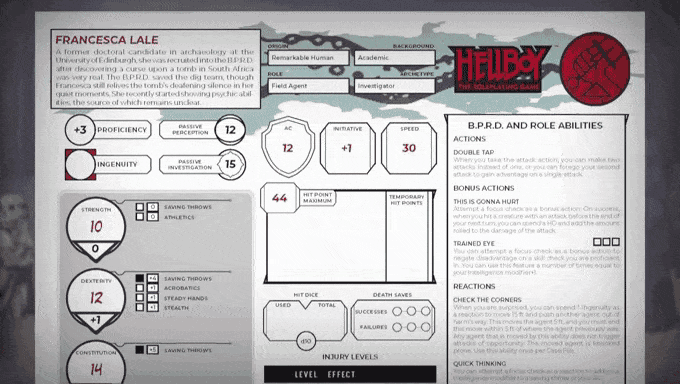 When creating your agent, you'll have a range of skills to choose from. Will you specialise in science, technology, investigations, or become an expert in the study of the occult? Making the most of your special skills will be key in piecing together the clues and completing the case.
As you create your unique agent, you must first choose their origin, including:
Remarkable human – The Bureau attracts skilled people from around the world with a range of training that will be vital in the field.
Psychic – Some individuals have supernatural powers that defy explanation.
Ghosts – Bound to the mortal realm, these agents can interact with the physical world and use their ectoplasmic powers to turn the tide.
The Cursed - From the undying, to the demonic (horns are optional), the vampiric, and the favoured servants of supernatural entities, the cursed have unique boons…but also banes.
The Fae - Ranging from those who have gained the unseen kingdom's favour, such as Alice Monaghan, or the replaced individuals who remain supplanted by the shapeshifters and servants of the Fae, they have insight to illusions and old magics and tales.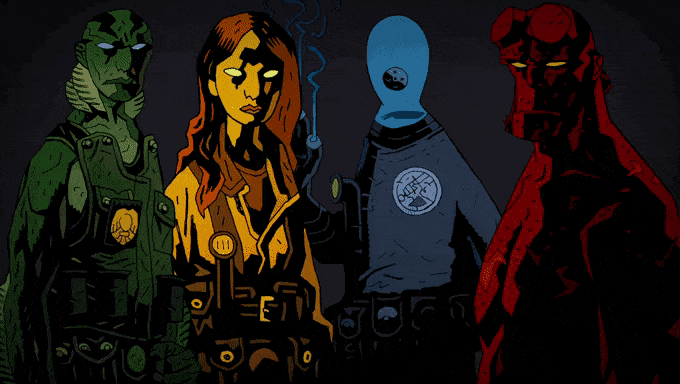 With your origin and role chosen, you will also be able to fully customise your agent using a selection of unique feats. Ranging from combat to supernatural and even B.P.R.D. specific, the variety of feats on offer will allow you to add truly distinct characteristics and flavour.
Of course, you'll be heading into the field, so make you sure you prepare adequately. The equipment chapter offers a wide range of tools to aid an agent's investigation. There is also a unique requisition and inventory system to make your gear selection run smooth and simply.
Can't make it to your RPG session? Don't worry, with the Backup Agents system you can still be involved with the game. Just like the board game, Backup Agents can be called in when things are getting tough to help the team.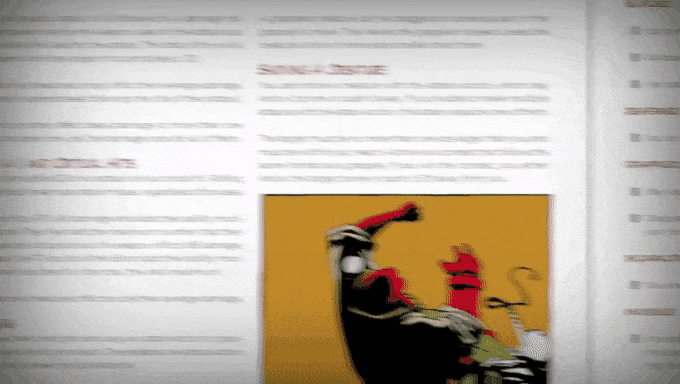 As well as a new agent, fresh to the B.P.R.D. there is also the option to play as legendary characters, like Abe Sapien, Liz Sherman, Johann Kraus and, of course, Hellboy himself! These are all pre-generated characters and are a great place for newcomers to start, especially if they've never experienced an RPG but want the thrill of punching a frog monster with the Right Hand of Doom.
As the GM, you'll be able to create smaller case files or an entire chronicle, packed with twists and turns. Tell your own adventures set within the inspirational Mignola-verse and use your favourite
Hellboy: The Boardgame
miniatures of iconic villains to represent the monstrous challenges you must face, like the insidious frog monsters or Rasputin himself.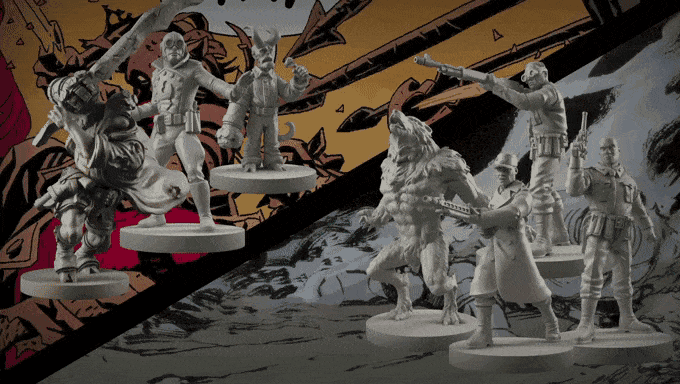 During play, the GM and players will be able to add to the narrative through the innovative Doom and Ingenuity system. Doom is generated when players fail certain tests and gives the GM a pool of resources they can spend to advance the Grand Conspiracy or provide a narrative twist. Meanwhile, Ingenuity shines when agents pass a test with a stroke of brilliance. Ingenuity has a range of uses to help players solve the mission.
Just like the boardgame, you'll have all you need to begin your adventures in the world of Hellboy and the B.P.R.D. The 240-page book contains all the rules you'll need for learning 5th Edition, along with detailed instructions on creating your character and an epic Case File to play through. Check out the chapter breakdown below to see what's inside.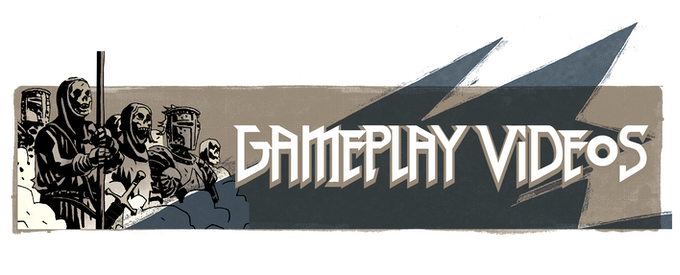 Risks and challenges
There are a number of risks with any Kickstarter project, especially getting accurate timings for such complex products with so many components. With this project, the writing is almost finished but will need final sign off from Dark Horse Comics and Mike Mignola. Once signed off, it will them be laid out and that will also need to be signed off. We have worked with Dark Horse and Mike Mignola on Hellboy: The Board Game, so don't anticipate this being an issue. The dice need to be tooled and then manufactured, the miniatures are already tooled and will just need to be manufactured.
We predict that we will begin shipping in May 2021 - however, the exact timing is impossible to predict and there is always the potential for delay with products produced in China. We will of course keep our backers up to date as best we can once the project closes.
To date, we've successfully fulfilled 18 Kickstarter campaigns: Kings of War, DreadBall, LOKA, Mars Attacks: The Miniatures Game, Deadzone, DreadBall Xtreme, Dungeon Saga, Kings of War 2nd Edition, Deadzone: Infestation, The Walking Dead: All Out War, DreadBall Second Edition, Star Saga: The Eiras Contract, Warpath, TerrainCrate, Kings of War: Vanguard, Hellboy: The Board Game and TerrainCrate 2. We currently have just one outstanding Kickstarter: League of Infamy (due to ship in November and currently in production).
TERMS AND CONDITIONS
By backing this campaign you acknowledge that the components, artwork and game elements may change in the final edition. This means some elements may differ from those shown here following the Kickstarter campaign. Some elements are also subject to change due to licensor approval. If you do not complete the pledge manager within the time specified when the pledge manager is sent, you agree that your contribution to the campaign was a donation and your pledge is fulfilled. Of course, we will use our discretion on a case by case basis. Completing the pledge manager is the ONLY way for us to confirm your shipping address and pledge details, as well as making sure we hit the production timelines. By pledging on this Kickstarter you agree that you will pay for any shipping and any import or other duties required in your country. If you refuse to pay customs or duties and do not accept the package, it will be destroyed and you will not be eligible for a refund. You also accept that you are liable for providing us with the correct shipping details upon request and we are not responsible for items lost in transit if sending to an incorrectly provided address. We also cannot ship to PO boxes and you must provide an alternative shipping in this circumstance. There is a risk that shipping may increase if any new tariffs or taxes are imposed for certain countries. Although we are aiming to deliver Hellboy: The Roleplaying Game to Kickstarter backers before the game is available at retail, production and shipping delays can lead to delivery at the same time or following the retail release. If you do not agree to these terms, then please purchase the product once it's available at your friendly local gaming store in 2021.
Featured products
Most recommended!