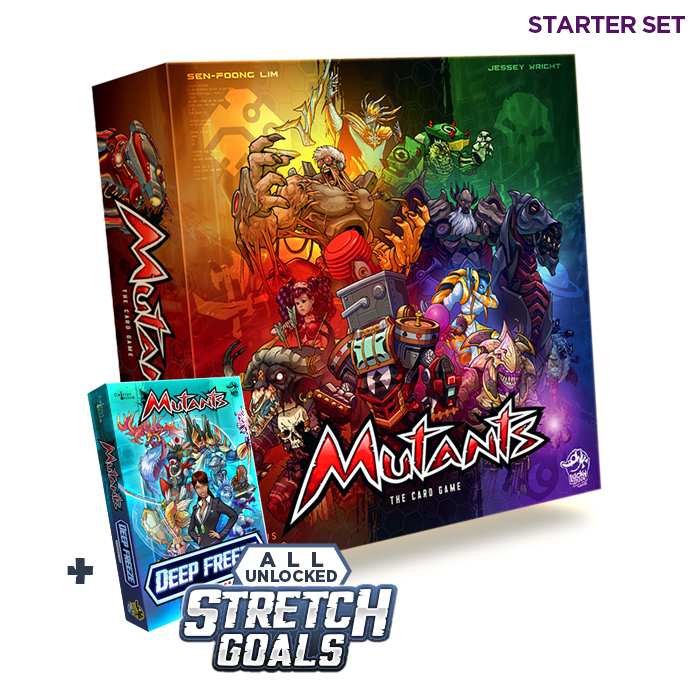 Starter Set
Get yourself the base game and all the Stretch Goals!
LKY MUT-K01-EN and LKY MUT-K01-FR
Product description
Mutants is an innovative deck-builder where players lead a team of genetically modified gladiators. Starting with a fully symmetric hand of cards, players have 5 rounds to breed the best possible gladiators from their asymmetric, uniquely crafted, gene pool and impose their strategy to the Arena!
More info
The Starter Set includes:
4 Player boards (cardboard)
1 Main board
4 Power markers
4 Score markers
1 Round marker
1 Rulebook
48 Basic Mutant cards
72 Advanced Mutant cards
34 Solo Mode cards
8 Helping cards
54 Stretch Goals cards
1 Goodies Vikings Gone Wild card
TOTAL: 217 cards
It's fully available in the following languages:
Reviews
"We love the asymmetrical nature of the mutant decks of cards!!"
"So. Freaking. Unique."
"Very unique deck builder!"
- Unfiltered Gamer
"Fluid & Colorful!"
Could not complete operation.