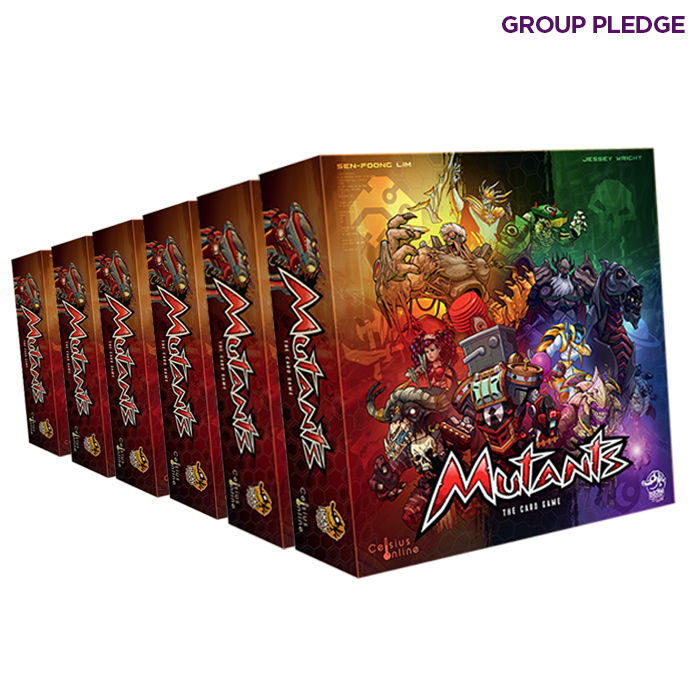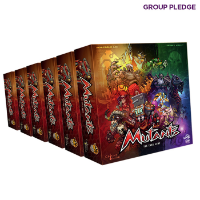 Group Pledge
Choose the Group Pledge to get SIX (6) copies of the game at a lower price!
LKY MUT-K03-EN and LKY MUT-K03-FR
Product description
Mutants is an innovative deck-builder where players lead a team of genetically modified gladiators. Starting with a fully symmetric hand of cards, players have 5 rounds to breed the best possible gladiators from their asymmetric, uniquely crafted, gene pool and impose their strategy to the Arena!
More info
The Group Pledge includes SIX (6) TIMES the following:
Incubator Overload Expansion (72 Second Wave cards, 38 Solo Mode cards, 4 Building tokens)
Next Level Expansion (40 Heroic Mutant cards, 48 Alternate Starter cards, 22 Solo Mode cards, 12 Orb tokens)
4 Ultra-large Neoprene Play-mats
4 Player boards (cardboard)
1 Main board
4 Power markers
4 Score markers
1 Round marker
1 Rulebook
48 Basic Mutant cards
72 Advanced Mutant cards
34 Solo Mode cards
8 Helping cards
54 Stretch Goals cards
1 Goodies Vikings Gone Wild card
TOTAL: 437 cards
It's fully available in the following languages:
Reviews
"We love the asymmetrical nature of the mutant decks of cards!!"
"So. Freaking. Unique."
"Very unique deck builder!"
- Unfiltered Gamer
"Fluid & Colorful!"
Could not complete operation.