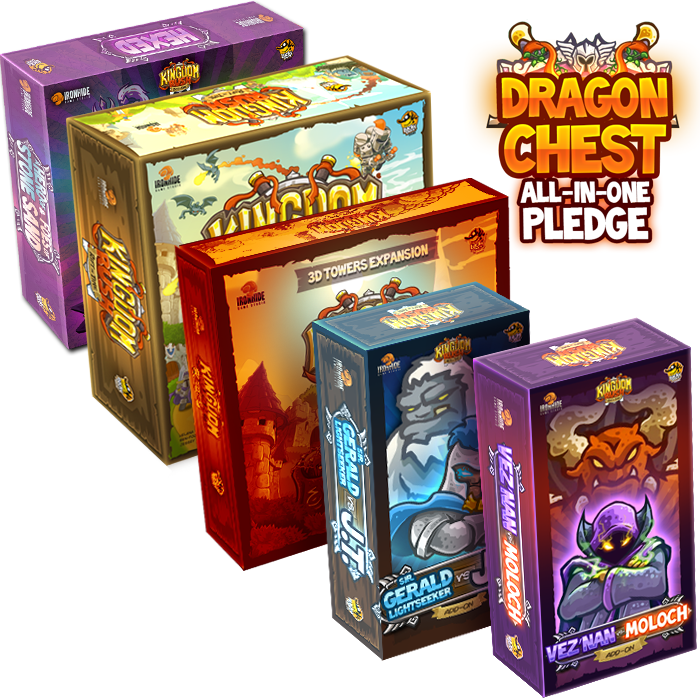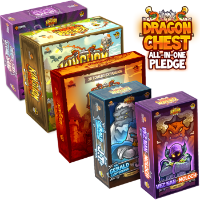 Dragon Chest (All-In) Pledge
INCLUDES: Kingdom Rush: Rift in Time - Core Box, Limited Edition Deluxe Upgrade, Gerald Lightseeker vs J.T. Expansion, Vez'nan vs Moloch Expansion, 3D Towers Expansion, All Unlocked Stretch Goals
Product description
Get yourself ALL of Kingdom Rush: Rift In Time and prepare yourself to defend the Kingdom! You will also receive all Unlocked Stretch Goals, including the Spider Goddess expansion.
More info
By selecting this pledge, you will get:
- The core box of Kingdom Rush: Rift In Time:
10 scenarios
22 boards
12 wooden Soldier meeples
68 tokens
130 polyomino tokens
44 Tower cards
80 Horde cards
4 Hero sets
3 Boss sets
24 plastic Tower Markers
8 plastic Horde Trays
4 Reference cards
1 campaign book
1 rulebook
1 custom box insert
- The King Deluxe upgrade:
12 plastic Soldiers upgrade
4 custom Hero Trays and their cover
1 custom Towers Tray and its cover
12 plastic Crystals upgrade
18 wooden Hearts upgrade
1 exclusive 70x50 poster
- The Spider Goddess Expansion:
6 new scenarios
Spider Goddess, Greenmuck, Grawl and Lynn miniatures
Grawl and Lynn Hero board
Grawl and Lynn Action card
Grawl and Lynn Special Action tiles
Grawl and Lynn attack polyomino tiles
Grawl and Lynn Hero Tray
alternative lvl 4 Towers set
Portal Horde cards
new Horde cards with Sand Wraiths and Saurians
Spider Goddess deck
Greenmuck deck
Portal Storm cards
Spider Challenge deck
Spells
Webbing and Teleportals overlays
Spider polyomino tiles
Saurian polyomino tiles
Mummy polyomino tiles
Spider Challenge removable stickers
- Sir Gerald Lightseeker vs J.T. add-on:
4 new scenarios
Sir Gerald Lightseeker and J.T. miniatures
Sir Gerald Lightseeker Hero board
Sir Gerald Lightseeker Hero Tray
Sir Gerald Lightseeker Activation card
Sir Gerald Lightseeker 4 Special Action tiles
Sir Gerald Lightseeker pack of polyomino damage tiles
J.T. Boss deck
J.T. Reference card
6 Horde cards
Portal Storm cards
- Vez'Nan vs Moloch add-on:
4 new scenarios
Vez'Nan and Moloch miniatures
Vez'Nan Hero board
Vez'Nan Hero Tray
Vez'Nan Activation card
Vez'Nan 4 Special Action tiles
Vez'Nan pack of polyomino damage tiles
Moloch Boss deck
Moloch Reference card
6 Horde cards
Portal Storm cards
- 3D Towers add-on:
18 cardboard Towers upgrade
2 storage plastic Trays and their cover
Reviews
Could not complete operation.