Chronicles of Crime - The Millennium Series
1–4 Players | 60–90 Mins per Scenario | Ages 14+
Chronicles of Crime: 1400 brings back well-known mechanics while adding some new twists. Now you can deduce not only from the evidence you find or the testimonies given by various characters but also from the mysterious scenes depicted on new Vision Cards. These scenes can be either from the future or from the past and they usually involve characters and objects yet to be revealed.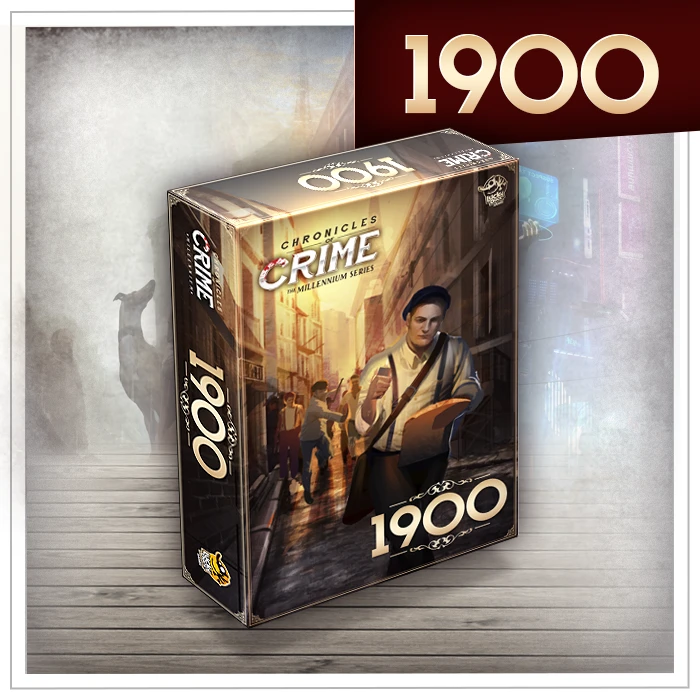 Chronicles of Crime: 1900 challenges players not only to skillfully collect evidence and interrogate suspects but also to solve some escape-room-style puzzles incorporated into each scenario.
Can you guess the right combination to open the safe? Would you be able to decipher an encrypted message found on the crime scene? Can you trace the suspect by navigating a map? It won't be easy, but if you get stuck, you can ask your colleague Charlotte for help. She runs the "Puzzles and Riddles" column in your newspaper, so she can always give you a hint about the mystery you're struggling with.
Chronicles of Crime: 2400
lets you use all the latest technology to solve crimes. Your pet Cyber-Raven can analyze evidence and search the web to find information on suspects. During the course of a scenario, you may also obtain cybernetic implants that would increase your abilities. Super-senses that help you find evidence on the crime scene? A tomograph to quickly check the person you're talking to for cyber enhancements? Or maybe a zapper to quickly neutralize any electronic device? The future is full of useful stuff!
Be careful though, as the technology is not always on your side! Is the character you're talking to a human or an android? Who's hiding behind the avatars you meet in the virtual cyberspace locations? The struggle between criminals and detectives is millennia old, but at the beginning of the 25th century, it's been taken to a whole new level.