You can't add items to your pledge at this time.
Project overview

You play a character from an unnamed Slavic tribe. The tribe's Žrec — sorcerer — chose you and a few fellow tribe members for an important mission. You are to venture inside a sacred forest to find and rescue two children who have gone missing from your village.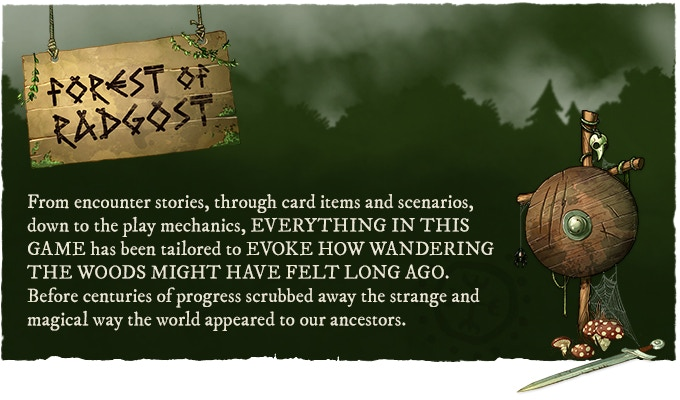 To succeed, you must find your way through a dense forest that plays tricks on your sense of distance and direction. The forest is rich with resources, but to endure your journey, you'll need to be prudent about what you put in your pouch. But that's only half of your troubles. You must also survive numerous encounters with forest creatures that have inscrutable intentions and a wicked sense of right and wrong.
You can check out the Kickstarter page here:
where you can find more details on game also preview, review and playthrough videos and updates.
WHAT'S NEW HERE
If you are coming from Kickstarter: all your pledge amount and discount are added here as credits.
You will be able here to
select pledge and any add-ons you want
,
set shipping address and pay for shipment and additional items you have selected.
If you are late backer:
you will be able to select pledge, and add-ons but you will receive retailer version that do not include Kickstarter exclusives.
SHIPPING INFORMATION
Shipping was NOT charged during the KS campaign, you will be able to pay for the shipping charges here, based on delivery address you provide here. We have done our best to provide the best possible quotes.
Shipping in the EU, UK, USA, Canada and Australia includes also taxes and VAT, meaning you will not have to pay any additional fee for customs when you receive the game. For the rest of the countries, you will be asked to pay for customs fees, depending on your country's regulations, when game reach your country.
The estimated shipping date for the game is December 2021. For any information with regards to shipping, as on the progress that is being done on the production, we are giving updates on our Kickstarter. Make sure to check the updates section, as you will not receive an email if you are a Late Pledger.
You can add 1 of each pledge directly to cart (in example Acorn and Perunika) and any combination of add-ons. For custom combination of multiple pieces (in example 3 Divine) combination of several identical pledges please write email to us, we will calculate shipping and taxes and make that pledge available for you.
For any questions, please send us an email at ivan@radgostforest.com
* Kickstarter Exclusives, are the products that will not be available to retail nor to late pledgers. By pledging here you agree to the Risks and Challenges that were described in the KS page.