ATTENTION: ADDITIONAL WORLDWIDE SHIPPING IS FLAT RATE $1 per ADD-ON UNIT, here 1 UNIT = 1 BOXED MINI
MISTRESS OF THE MIST - member of the Neutral Characters Battalia Collection*
Large and gorgeous miniature of the Mistress of the Mist. The wandering enchantress, always attracted by the building and expanding of cities... She was born as the only daughter of a Cloudborn master-builder and her love for architecture and building arts remained forever. But the fate brought her later to an eastern magical school, where she learned the arts to cover and defend huge places with a misty veil, the perfect protection for cities against enemy attacks. But every coin is double sided, that's why sometimes her positive intentions cause more trouble than real good....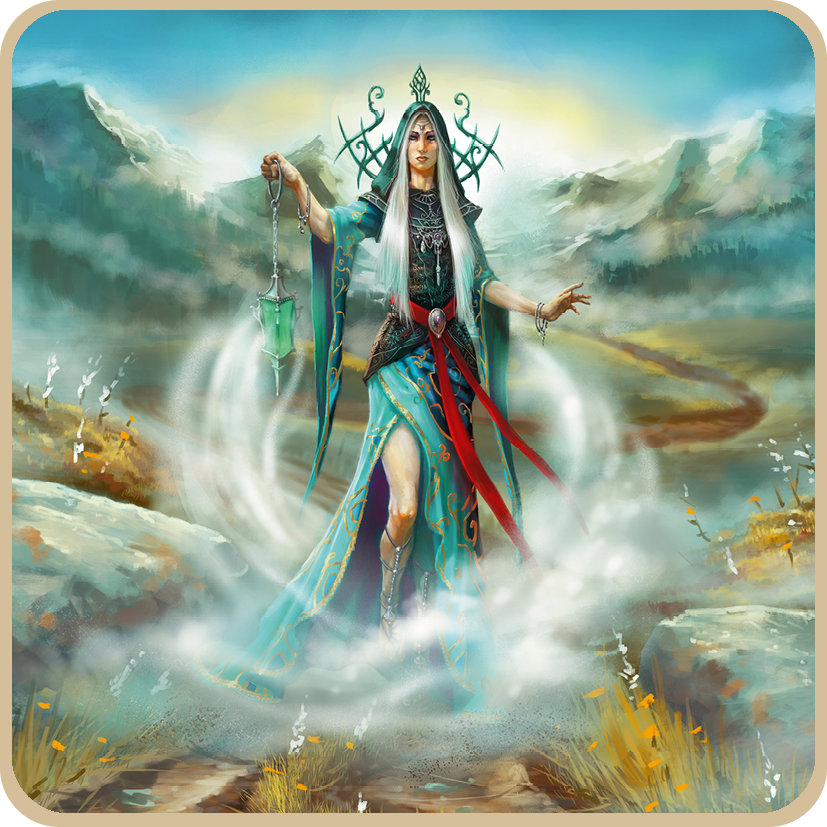 Appearance: On a random ruins card (alternative - in the middle of the extended map), at the end of the first week, before first player's turn of week 2 / day 1.
Movement: When a player builds or upgrades a city, he immediately must move the Mistress of the Mist 2 squares away in any direction (horizontally, vertically or diagonally / movement as a chess horse is also possible)
Effect: The Mistress spreads waves of mist around her. Her inner desire is to protect the master masons' and great craftsmen's work from the destructive force of the war. All squares in this figure's range are considered covered with fog. This have the following impact on the game:
The space, occupied by the Mistress: This is the center of the figure's range. The fog at this space is so thick that the Mistress unwittingly makes this square a taboo. Nothing can be build or upgraded there. No hero can enter or leave this space. If there is a city there, it cannot be attacked. No trade in any form can happen here.
The 8 squares around the Mistress: These spaces are also misted - not so heavily as the center square, but still enough to make a lot of trouble to the traveling heroes. Movement through these spaces costs +1 Supply card (or 1 point of horse movement). Cities on this squares cannot be attacked. City builds or upgrades and trading activities (like for example trade posts, Starsmuggler, Bilkarr) are allowed.
Important: This figure has NO impact on the movement or effects of any other NPCs. - Mechanics design is still under development, changes and adjustments still possible!
Playable with: 2,3,4,5,6 players on a standard or extended map.
Miniature size:
37 x 72 x 37 mm
Base: 30 mm
Color: dark purple - Battalia's color for neutral miniatures.
Content: 1 x cardboard box with 1 miniature - box size approx. 40 x 75 x 40 mm
Tip: Avoid mixing it up in the same game with too many other aggressive NPCs, if you want to keep the grade of distraction from your main victory goal on a lower level and do the opposite if you're looking for more challenges.
*NCBC is a collection of mini expansions based on neutral big scale figurines, which are designed to enlarge the immersive Battalia universe, introducing a whole bunch of new strategic possibilities to the players and adding completely new adventure elements to the basically competitive plot. In general they don't belong to any faction (resp. to any player) and can be played in different combinations with the basic game or with the BIG!Expansion. We don't recommend to mix more than 3 different types of NPCs in your games in order to avoid higher complexity. But you can mix them in totally different combinations, which ensures the long-term replayability and excitement in this game universe. Normally the NPCs have small complementary rules, which are provided only online on Battalia's home page battalia.eu as high resolution printable PDF files. The miniatures are distributed in small packaging boxes with custom artwork as separate items or possibly in bundles.
Attention: Rules are not final, you can find them later on our homepage!
==================================================================================================
You can find all printable PDFs in English and possibly later even some language versions in our section
battalia.eu/rules
under "COMPLEMENTARY RULES FOR EXTRA COMPONENTS", which will be continuously updated over time. At the moment we are uploading only rules, which are finally designed, tested, layouted and overall completed. Please note, that the majority of the rules for the Neutral Characters Battalia Collection (NCBC) are in different "work in progress" stages and will be finalized after this pledge manager starts. We will add them to the page as soon as they are ready. We highly appreciate your patience, thank you in advance!
==================================================================================================
Some examples of different painted Battalia miniatures:

Find more general information on
battalia.eu
(for the moment mainly about the basic game, but all stuff is continuously updated) :
rulebooks and reviews in different languages, discussions, videos, downloadable content & interesting details around the whole Battalia universe!
Pledge now and save at least $5.00 from MSRP + GET GRATIS 46 UNLOCKED STRETCH GOALS.
This product is part of Kickstarter campaign and will be delivered within 7-8 months from January 2017.
Click on the image below to navigate to the game.