ATTENTION: ADDITIONAL WORLDWIDE SHIPPING IS FLAT RATE $1 per ADD-ON UNIT, here 1 UNIT = 1 BOXED MINI
THE UNBOUND BUFF - member of the Neutral Characters Battalia Collection*
Large and gorgeous miniature of the wild and restless NPC mercenary leader, who enters the map randomly through roads from outside the border lands and automatically attacks every hero on his way….To deal with him, every player has a couple of choices: Of course you can fight him, or you could try to bribe him or even hire him for a week...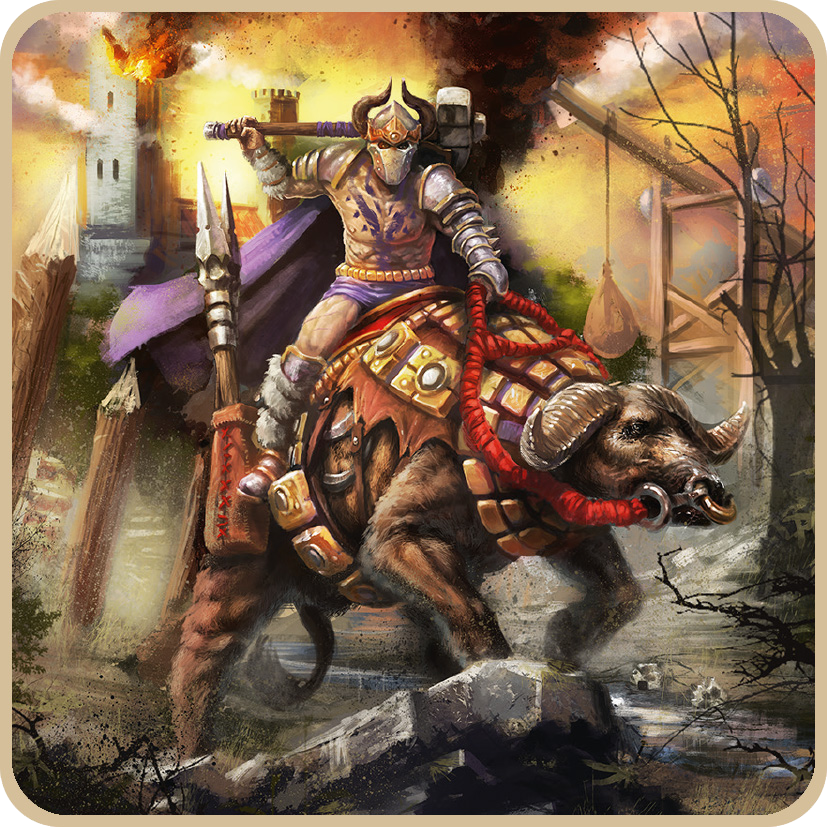 Playable with: 2,3,4,5,6 players on a standard or extended map.
Miniature size:
31 x 64 x 65 mm
Base: 30 mm
Color: dark purple - Battalia's color for neutral miniatures.
Content: 1 x cardboard box with 1 miniature - box size 68 x 56 x 44 mm
Tip: Avoid mixing it up in the same game with too many other aggressive NPCs, if you want to keep the grade of distraction from your main victory goal on a lower level and do the opposite if you're looking for more challenges.
*NCBC is a collection of mini expansions based on neutral big scale figurines, which are designed to enlarge the immersive Battalia universe, introducing a whole bunch of new strategic possibilities to the players and adding completely new adventure elements to the basic competitive plot. In general they don't belong to any faction (resp. to any player) and can be played in different combinations with the basic game or with the BIG!Expansion. We don't recommend to mix more than 3 different types of NPCs in your games in order to avoid higher complexity. But you can mix them in totally different combinations, which ensures the long-term replayability and excitement in this game universe. Normally the NPCs have small complementary rules, which are provided only online on Battalia's home page battalia.eu as high resolution printable PDF files. The miniatures are distributed in small packaging boxes with custom artwork as separate items or possibly in bundles.
==================================================================================================
You can find all printable PDFs in English and possibly later even some language versions in our section
battalia.eu/rules
under "COMPLEMENTARY RULES FOR EXTRA COMPONENTS", which will be continuously updated over time. At the moment we are uploading only rules, which are finally designed, tested, layouted and overall completed. Please note, that the majority of the rules for the Neutral Characters Battalia Collection (NCBC) are in different "work in progress" status and will be finalized after this pledge manager starts. We will add them to the page as soon as they are ready. We highly appreciate your patience, thank you in advance!
==================================================================================================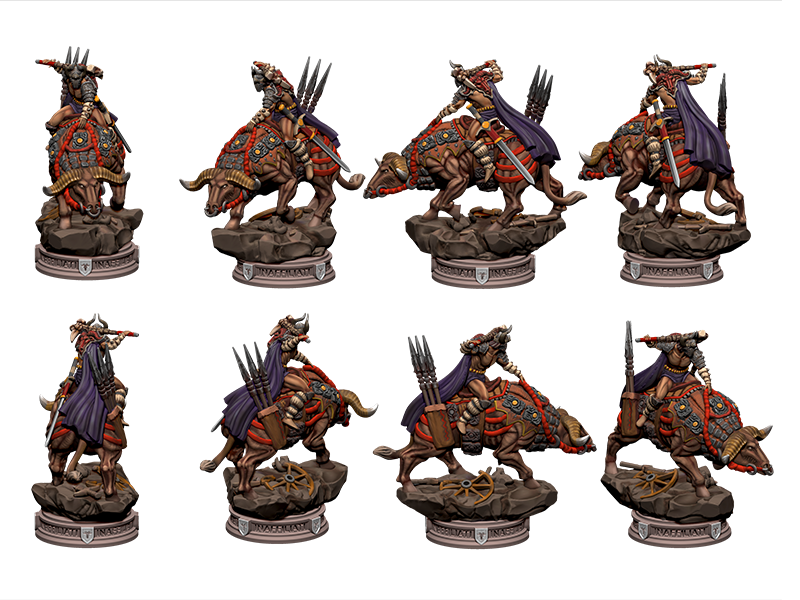 You can see a painted version of Buff in the middle of the picture below:

Find more general information on
battalia.eu
(for the moment mainly about the basic game, but all stuff is continuously updated) :
rulebooks and reviews in different languages, discussions, videos, downloadable content & interesting details around the whole Battalia universe!
Pledge now and save at least $5.00 from MSRP + GET GRATIS 46 UNLOCKED STRETCH GOALS.
This product is part of Kickstarter campaign and will be delivered within 7-8 months from January 2017.
Click on the image below to navigate to the game.