Project overview
2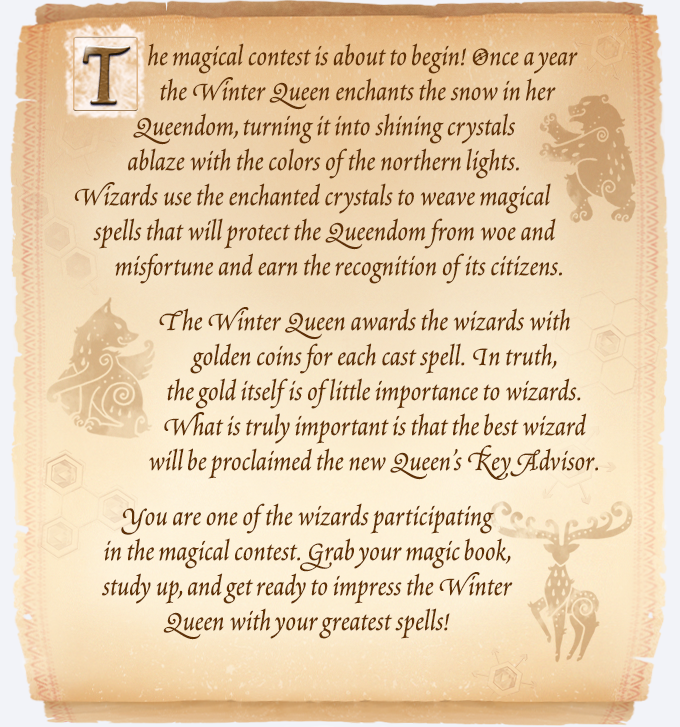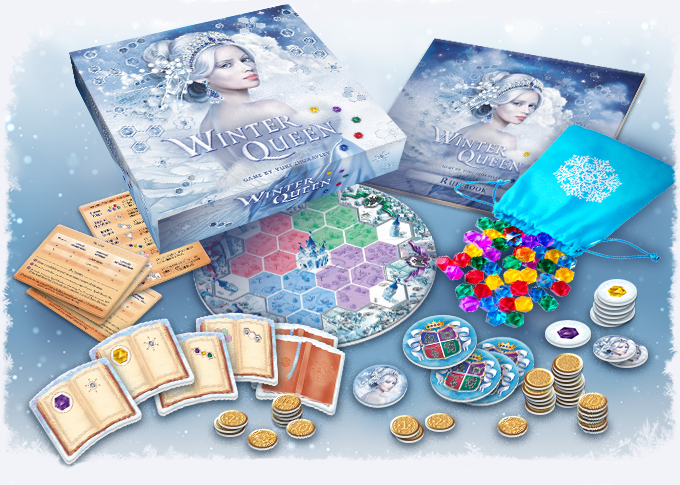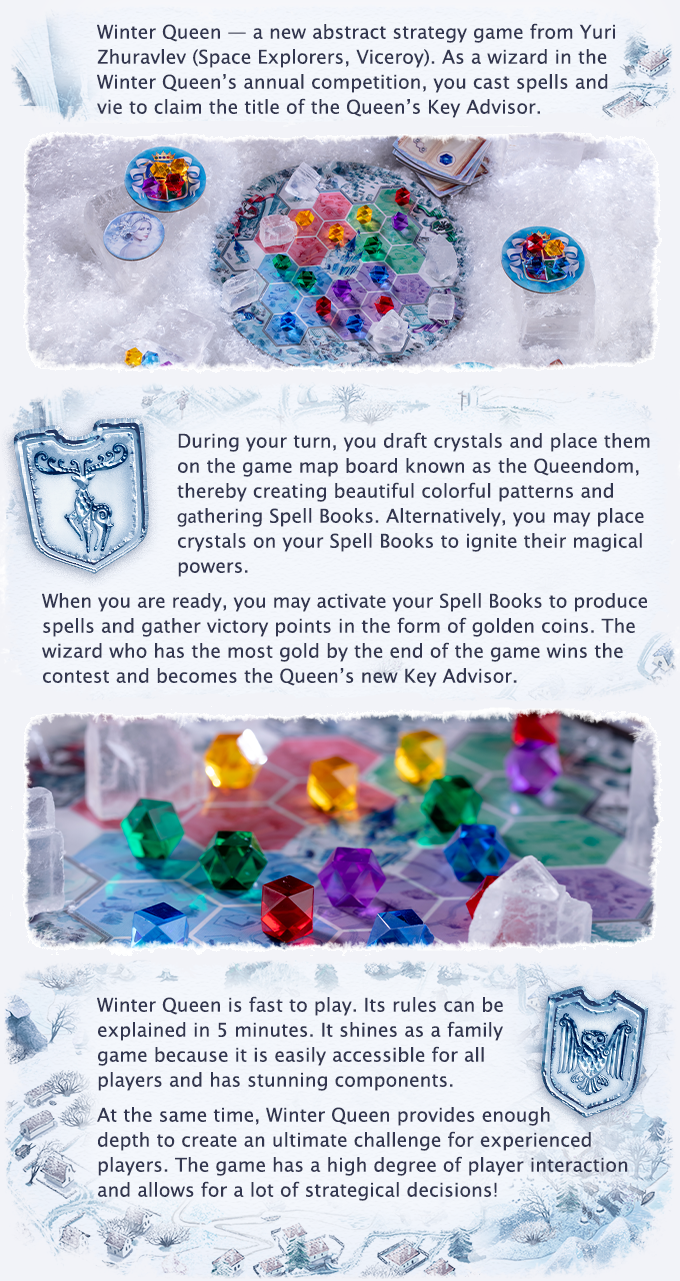 Winter Queen was successfully funded on Kickstarter on December 31, 2020. Production has already begun — with plans to ship Winter Queen in May 2021.
Winter Queen is available for late pledging on GameFound until February 4, 2021. This is your very last chance to become a part of this bright and beautiful fairy tale before Winter Queen hits retail! The most popular 'Royal Wizard' and 'Royal Wizard x2' pledges are available. Note that the 'Royal Wizard x2' pledge allows to save substantially on shipping.
This GameFound page provides the most essential information about the game.
You may check the rest on
Kickstarter
where you will find detailed descriptions of gameplay, downloadable postcards, and much more there!
Winter Queen is language independent,
except for the rulebook and reference cards.
The game will be printed

in English
. However, there are
free translations available
: Dutch, French, German, Italian, Japanese, Polish, Romanian, and Spanish. See more about the translations below.

The 'Royal Wizard' pledge includes the base game (retail price: $39) and all additional content: 3 mini-expansions, each comes with separate detailed rules. These are not exclusives: it's possible that these mini-expansions will be available in retail separately.

Check with our Kickstarter updates to learn more about the mini-expansions and how they change the way that Winter Queen is played: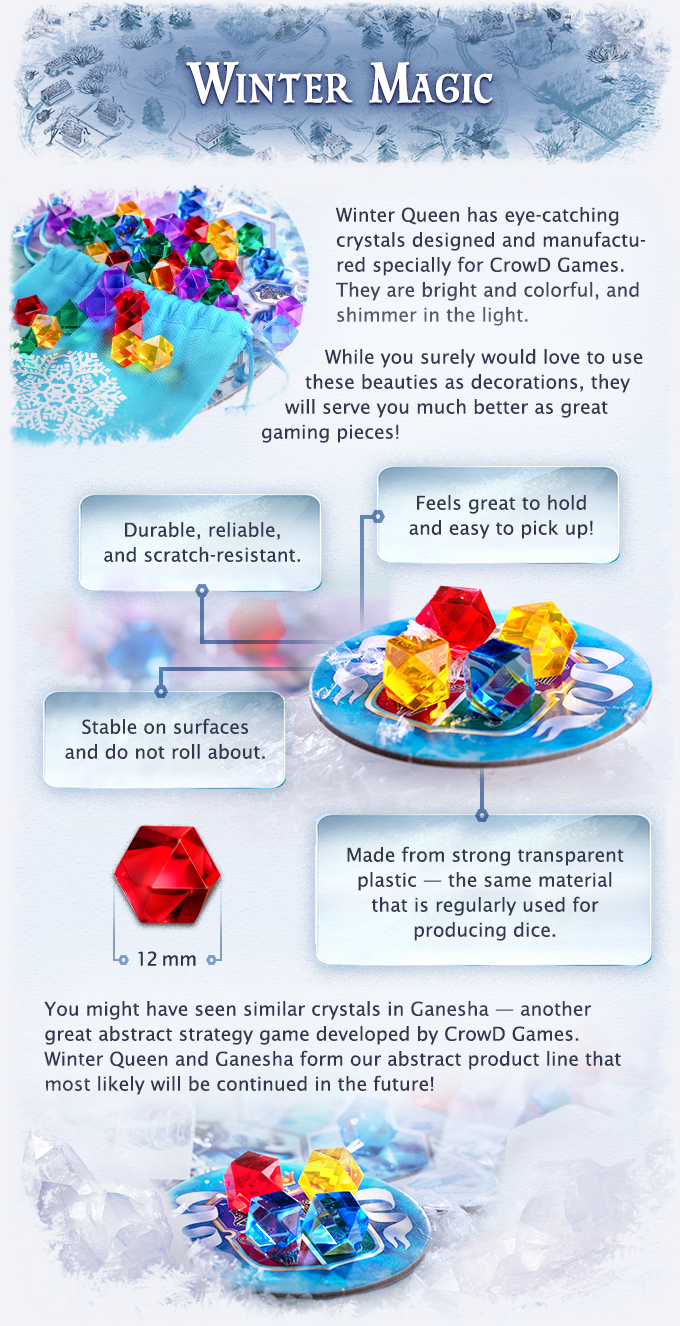 Please visit the Winter Queen
Kickstarter page
for detailed gameplay descriptions with animated demonstrations of the main actions you take during your turn. Also see the how-to-play videos below!
Mark Steed from The Dice Tower, Michael J Wright from Unfiltered Gamer and Alicja Olejniczak from GrAlutka have shared their impressions of Winter Queen. Watch their videos for a quick rule explanation and a component overview, as well as hear their opinions of the game.
1
Steph and Michae
l from
boardgamersteph
&
All the Meeples of the Rainbow
were streaming Winter Queen, teaching and playing through the game. They definitely had fun, and so will you
.
Ryan Creighton from Rahdo Runs Through, Jonathan Cox from JonGetsGames, and Timur Dorokhov from Nastolki Live explain the rules and demonstrate every aspect of the game, making it easy for anyone to learn.

Winter Queen is language-independent
and comes with an
English
rulebook and reference cards. Each of the three mini-expansions is accompanied with its own rules as well.
All translations were created by our backers and participants of the campaign — you may download the language version (5 files: rulebook, reference card and 3 mini-expansions rules) you need for free! Please note that the translated versions won't be included with the printed version of Winter Queen.
If a folder with the translation files is empty or some files are missing, this means that the translation is not finished yet, but it will be completed soon!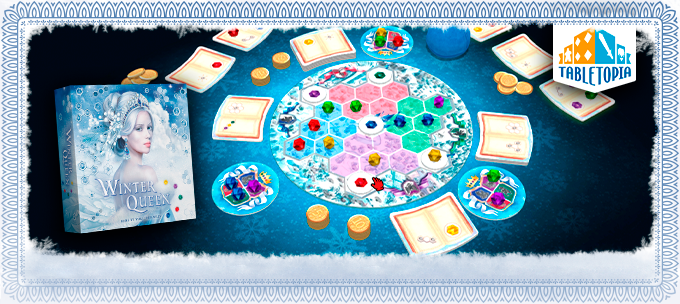 We plan on shipping Winter Queen in May 2021
— or even earlier if all goes smoothly! We've started the production before the end of the
Kickstarter campaign
to ensure that you will get your copy on time.
We offer custom-free FRIENDLY SHIPPING to US, EU, Australia, and China.

Shipping to Canada and New Zealand will likely be custom-free as well. See more details below the Shipping Map.
The shipping prices during the late pledging period on GameFound are the same as they were during the Kickstarter campaign.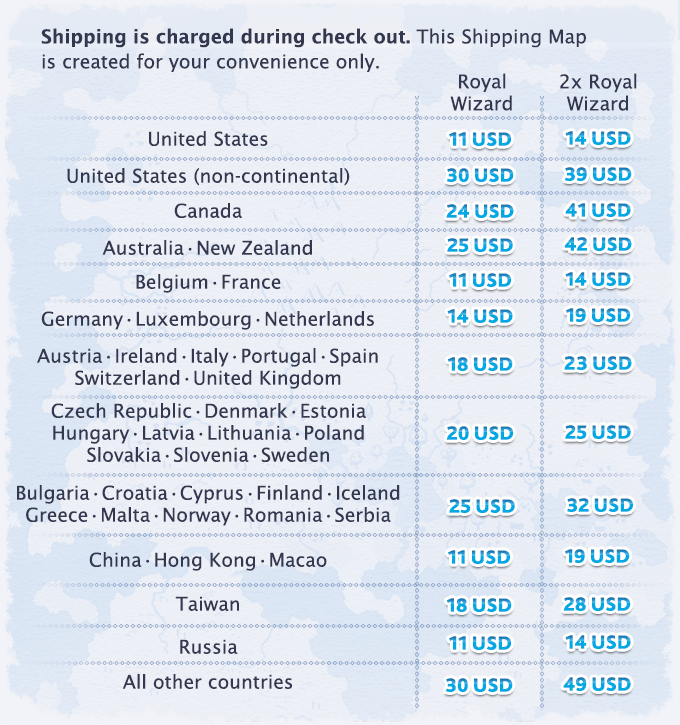 For retail stores (proof required): contact us directly by contact@crowdgames.us. Minimum order is 6 copies ('Royal Wizard' reward).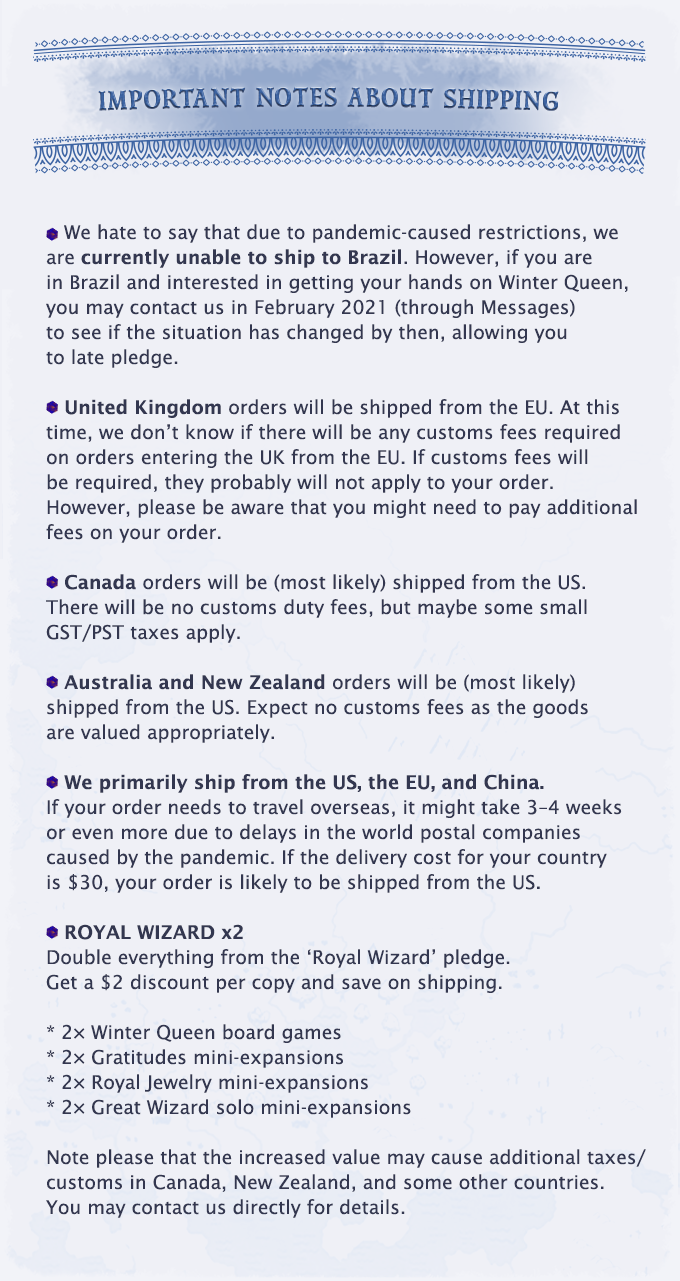 If you have any questions, please feel free to contact us: contact@crowdgames.us
Want to know more about the game? Visit our Kickstarter
page!