You can't add items to your pledge at this time.
Project overview

This complete tarot
contains
78 illustrated cards
including
22 major
and
56 minor arcana
. Each card will be composed of an illustration and its name in english, with as reference the divinatory Tarot of Marseille. You will find a more detailed presentation of the cards in the
ARCANA
section of this page.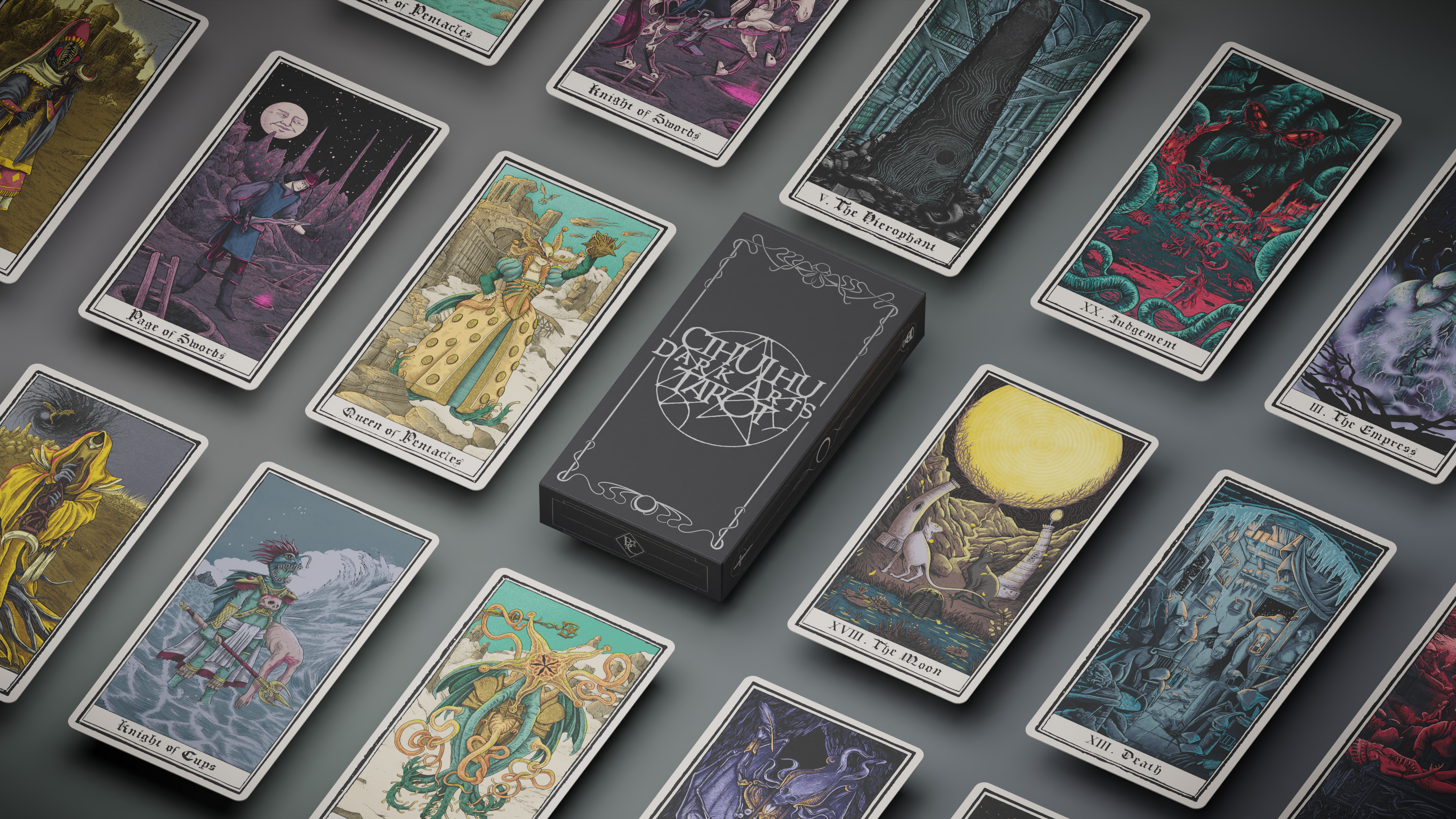 The format chosen for this tarot inspired by the Cthulhu Mythos (3.35" x 6.50" | 85×165 mm) is much larger than the usual divinatory tarot decks, including the Tarot of Marseille. This format is close to one of the oldest tarot decks, the "Visconti-Sforza" created by the artist Bonifacio Bembo between 1428 and 1447.
Given the large size of the cards, we have chosen a rather important weight (315 gr) which combines flexibility and rigidity. The R'lyeh edition silkscreen deck is printed on an OldMill Avorio paper (350 gr), which has a light cream tint, with a black silkscreen ink which allows a very deep rendering.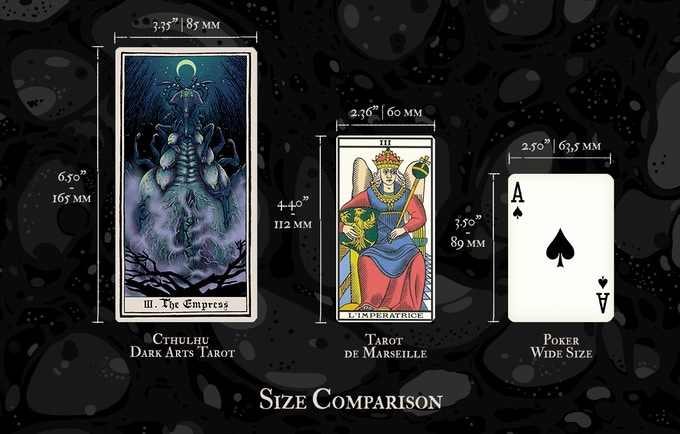 All decks
will be delivered with a 64-page
booklet
(2,95" x 5,90" | 75x150 mm), printed in black and white (32 pages in
English
, 32 pages in
French
) that will help you with the
interpretation of each card
.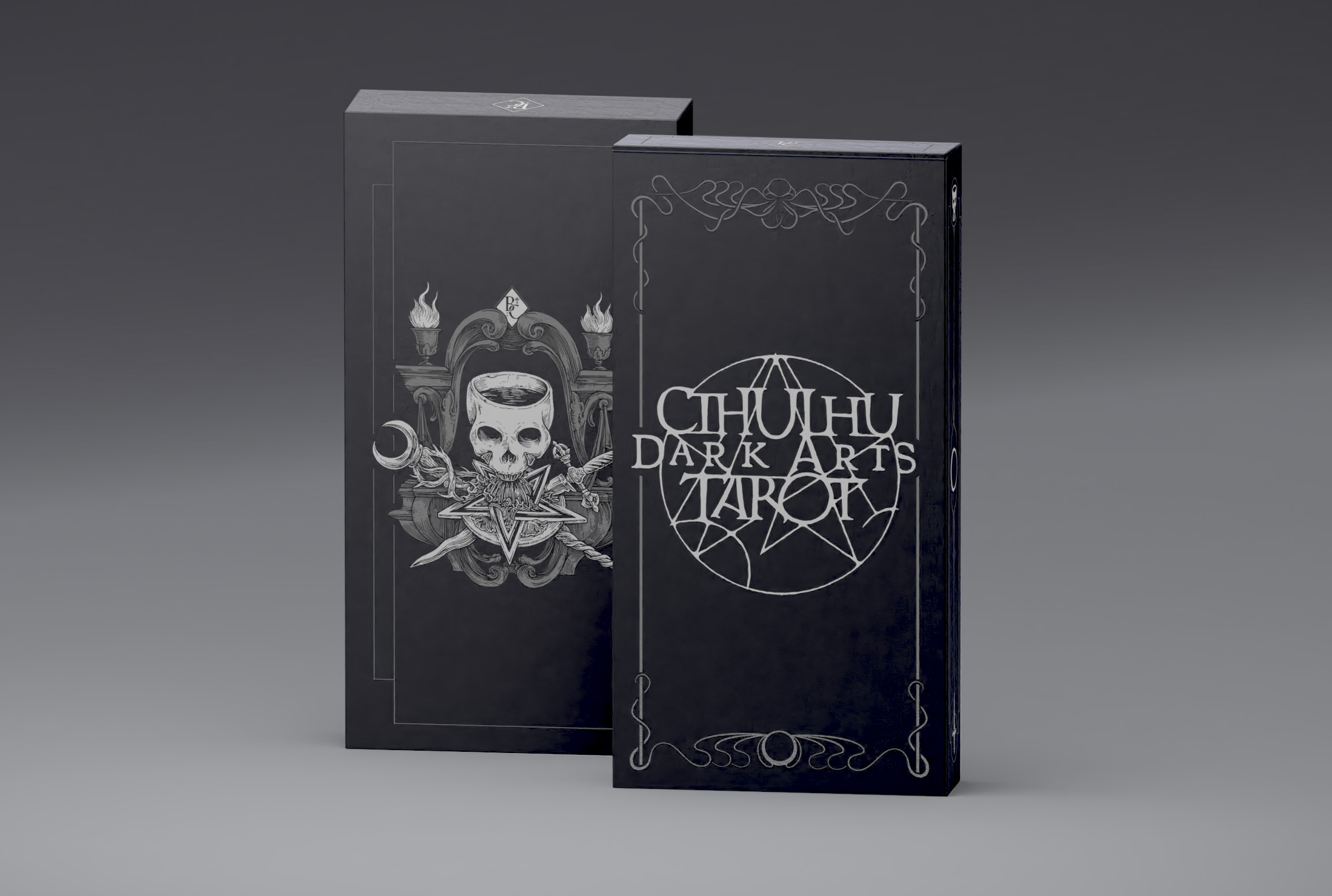 The Miskatonic and R'lyeh pledge tiers will also include Kickstarter exclusive components:
160-page softcover book,
A black cotton drawstring bag (6.1" x 8.2" | 15,5x21 cm) with a red silkscreen print to store your deck,
A magnetic box with hot stamping metal print,
14 Fine Arts, printed in color on fine paper (6.1" x 8.2" | 26x14 cm),
4 enamel Pins (size: 4,5 cm | 1.77"), featuring the 4 emblems of our Minor Arcana,
A limited edition of a 79-cards silk-screen printed deck (only in the R'lyeh edition).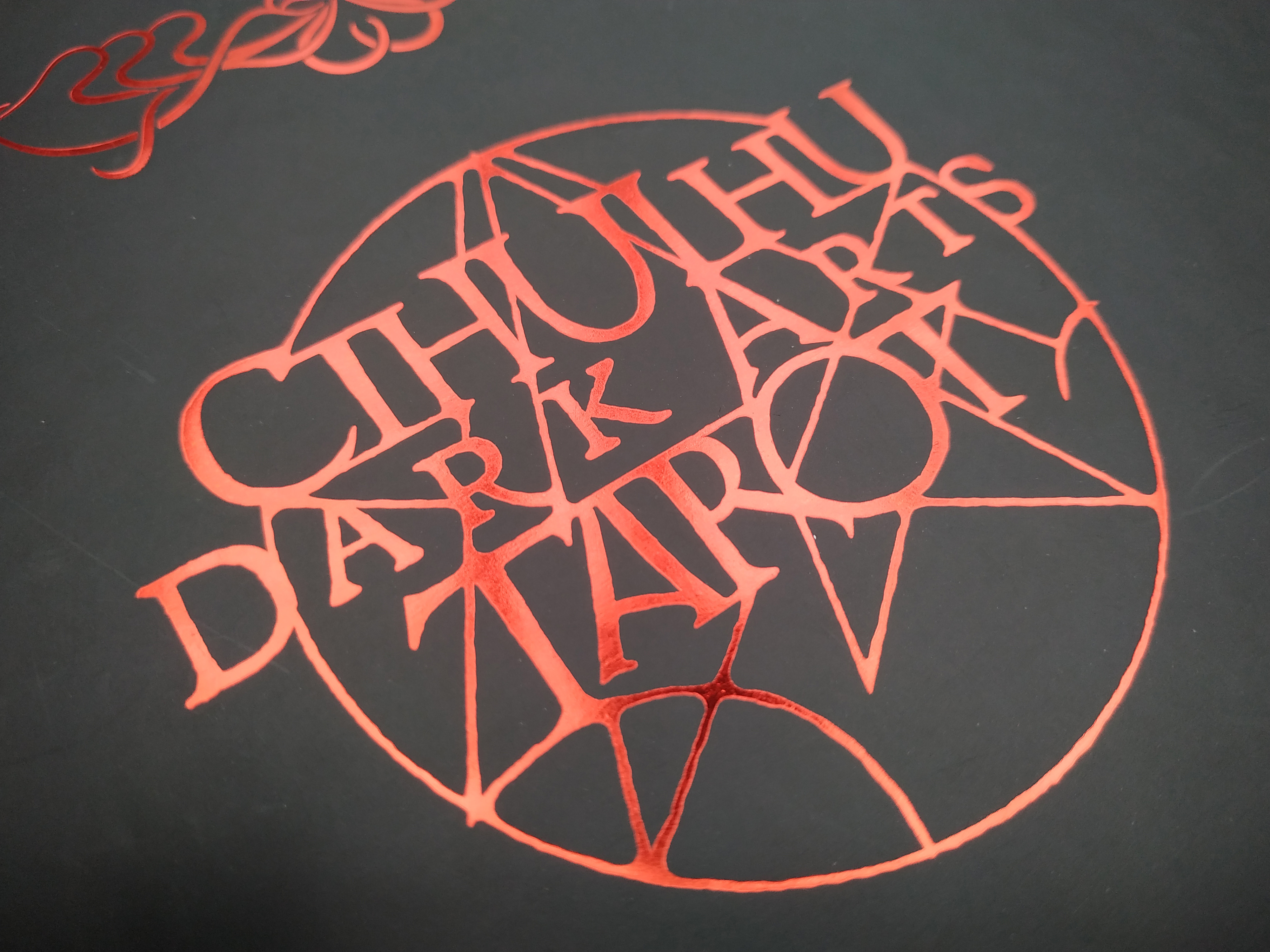 The softcover book is bigger and larger (4.8" x 6.2" | 12,2x15,7 cm) than the booklet included with the Deck. Its content is also very different: the whole story of Isaac Jefferson's researches, interpretive poems, the iconography of each card fully explained as well as their links with the Myth. The book interior design is inspired from ancient books, illustrated with engravings and printed in two colors, black and a red pantone.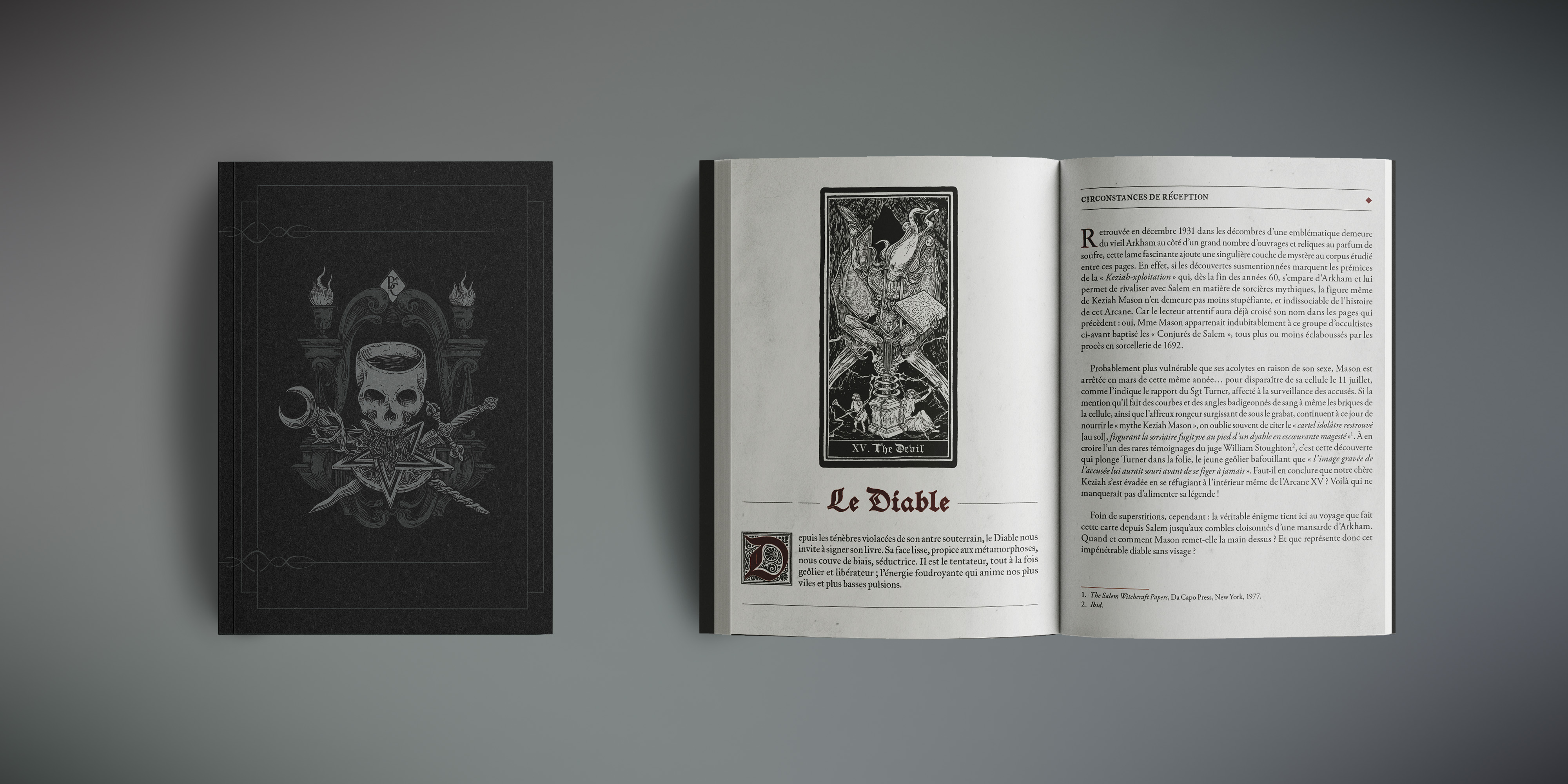 The soft-covered book
will be available in
English
and
French
. You will be able
select the language
in the
Pledge Manager after the campaign
.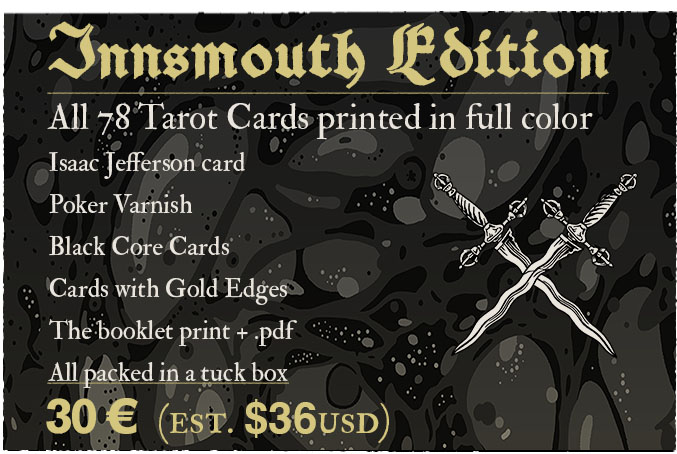 This is the standard Cthulhu Dark Arts Tarot deck. It will include:
All 78 Tarot Cards + 1 Isaac Jefferson card printed in color,
All Cards are improved with poker varnish,
All Cards are improved with black core quality,
All Cards are gilded with gold edges,
A 64-page booklet printed in black and white (32 pages in English and 32 pages in French. Size: 2,95" x 5,90" | 7,5x15 cm). This booklet will explain the symbolic meaning of each card,
PDF version of the booklet,
All these elements are packed in a tuck box finished with mat lamination.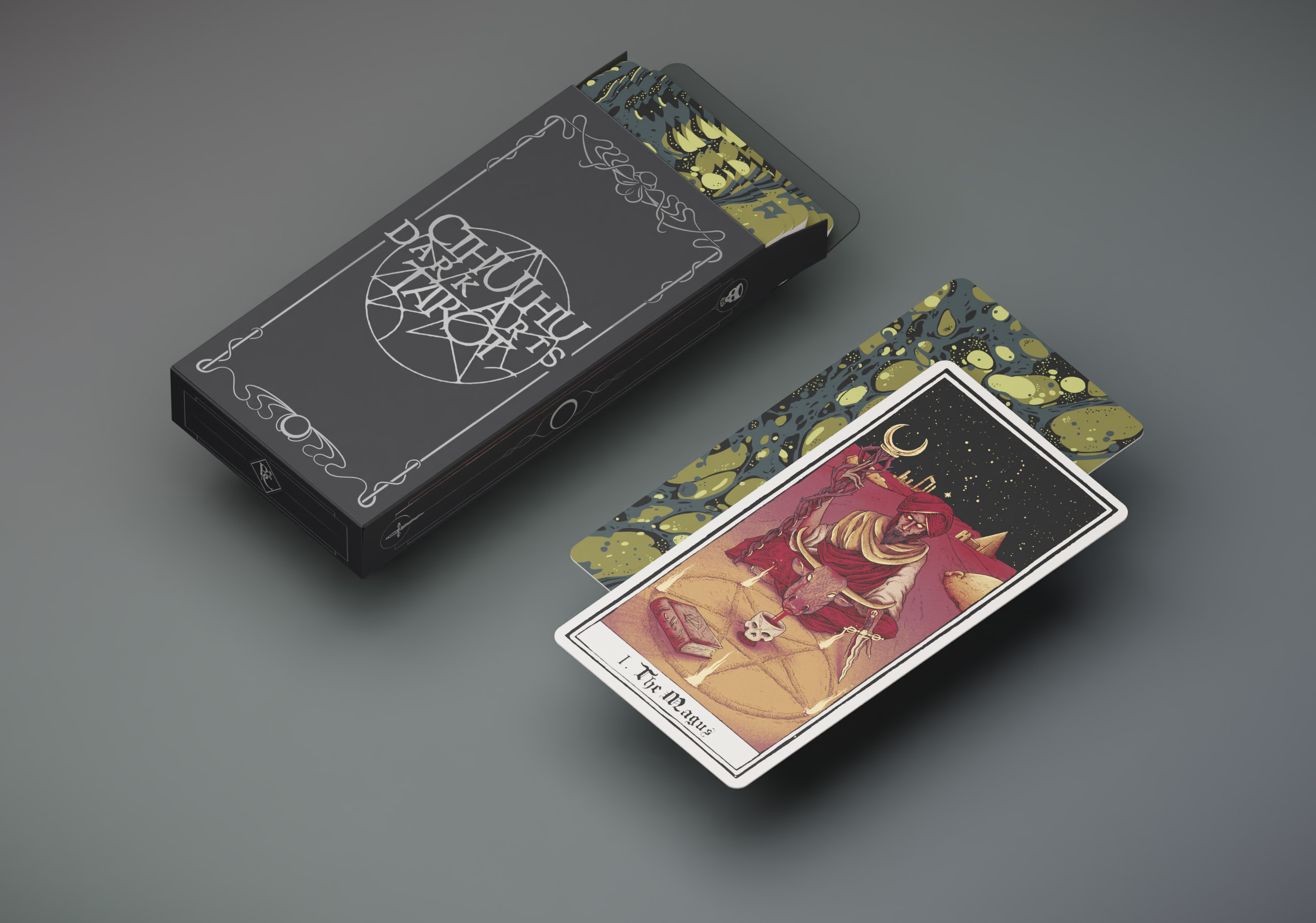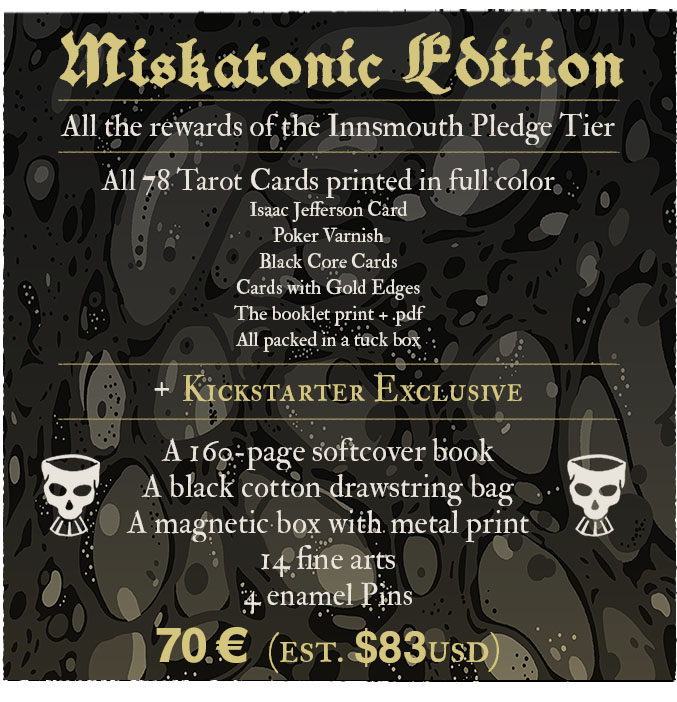 The Miskatonic Pledge Tier will include all the rewards of the Innsmouth pledge Tier, plus Kickstarter exclusive elements:
160-page softcover book (4.8" x 6.2" | 12,2x15,7 cm) containing more illustrations, texts and poems related to the Tarot deck and its story,
14 Fine Arts, printed in color on fine paper (6.1" x 8.2" | 26x14 cm),
4 enamel Pins (size: 4,5 cm | 1.77"), featuring the 4 emblems of our Minor Arcana,
A black cotton drawstring bag (6.1" x 8.2" | 15,5x21 cm) with a red silk-screen print to store your deck when you are on the road,
A beautiful magnetic box with hot stamping metal print to store all the material of this edition.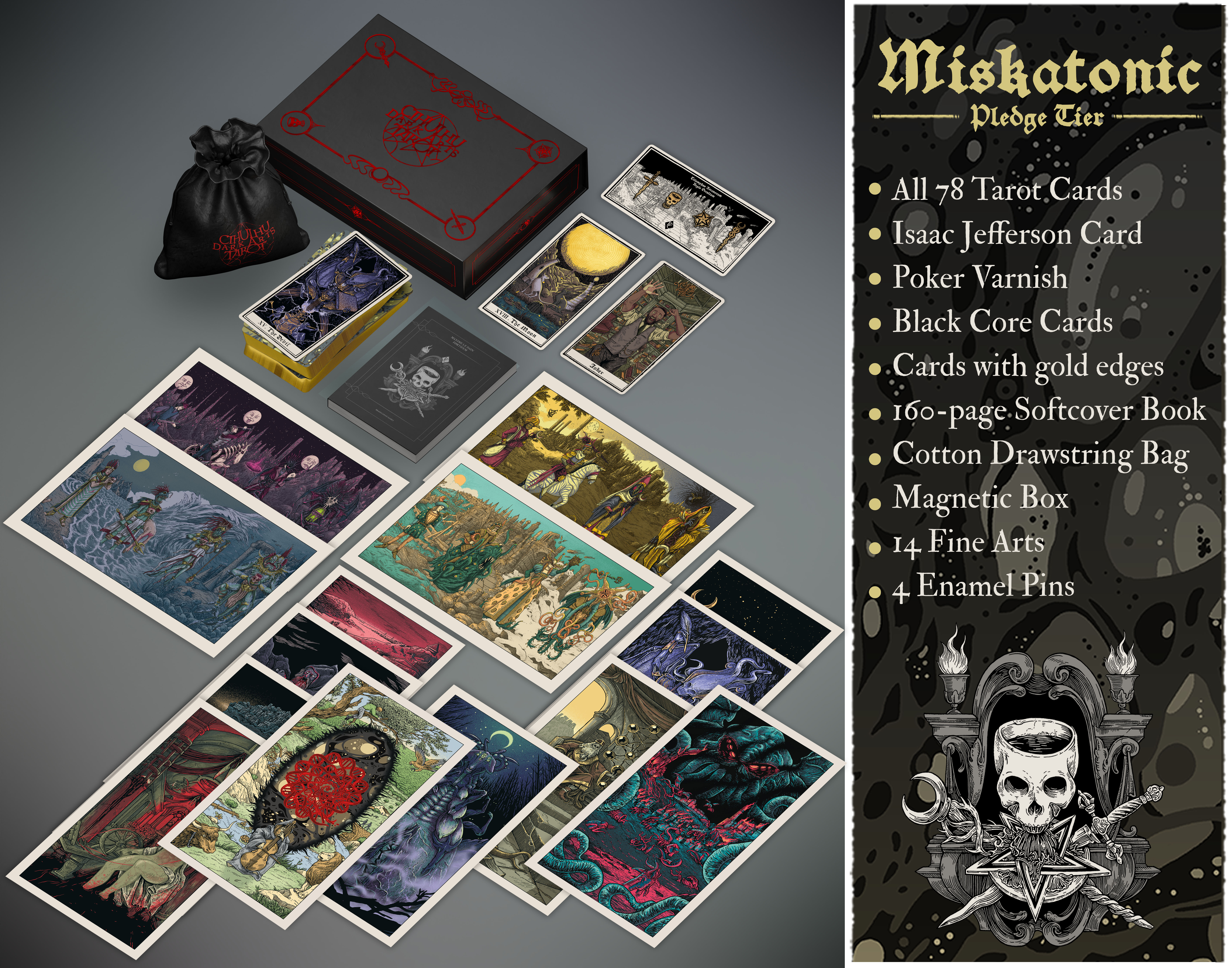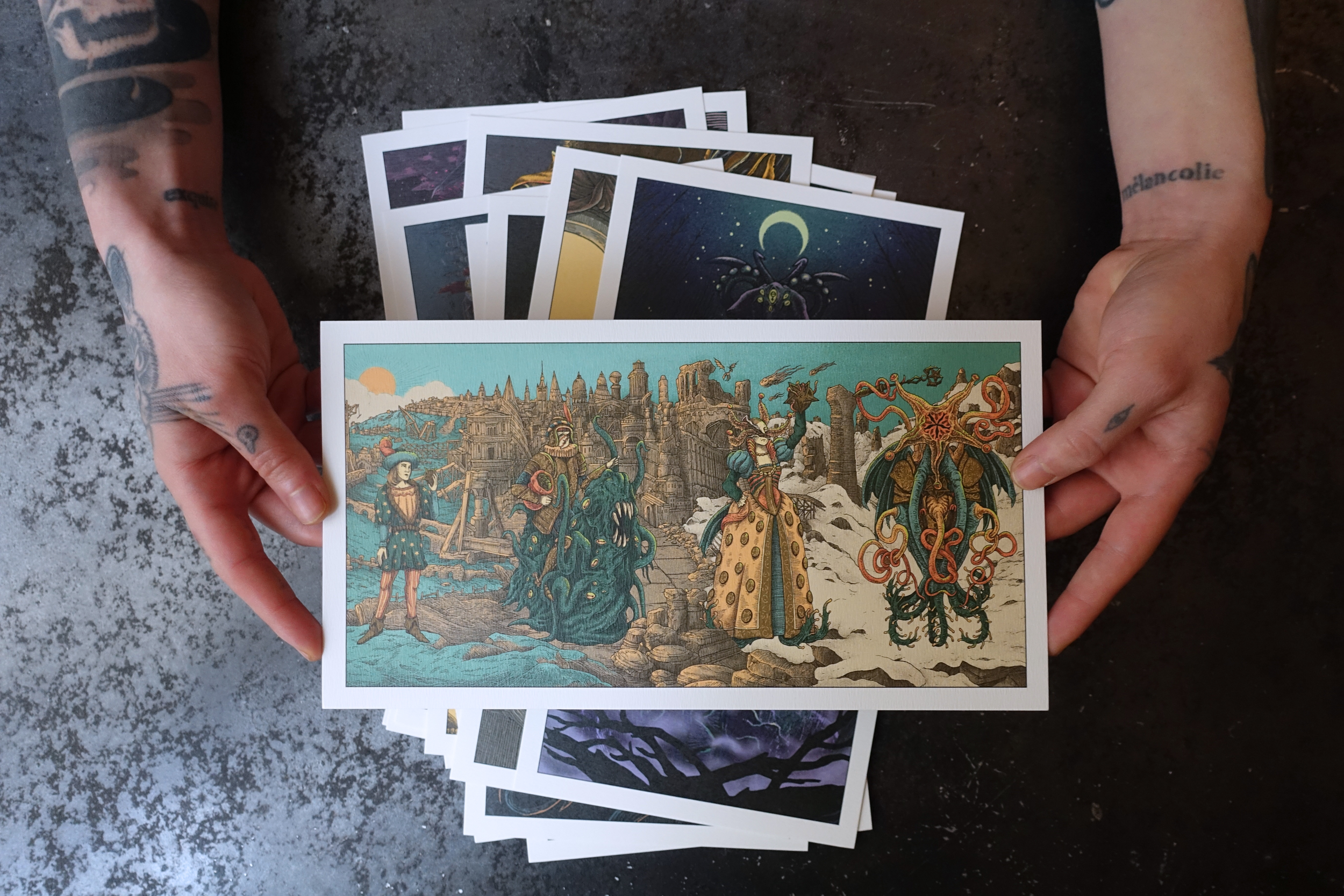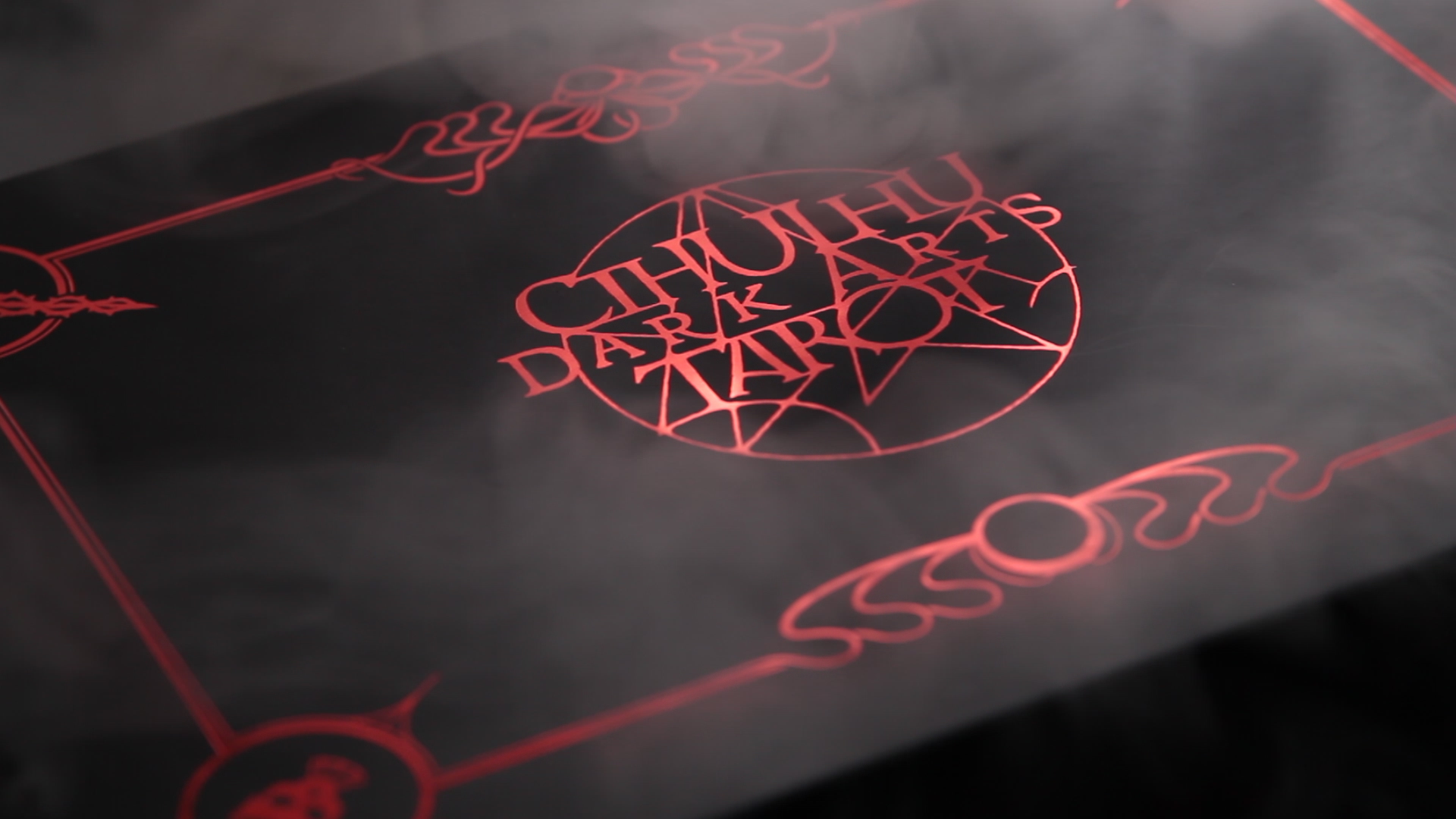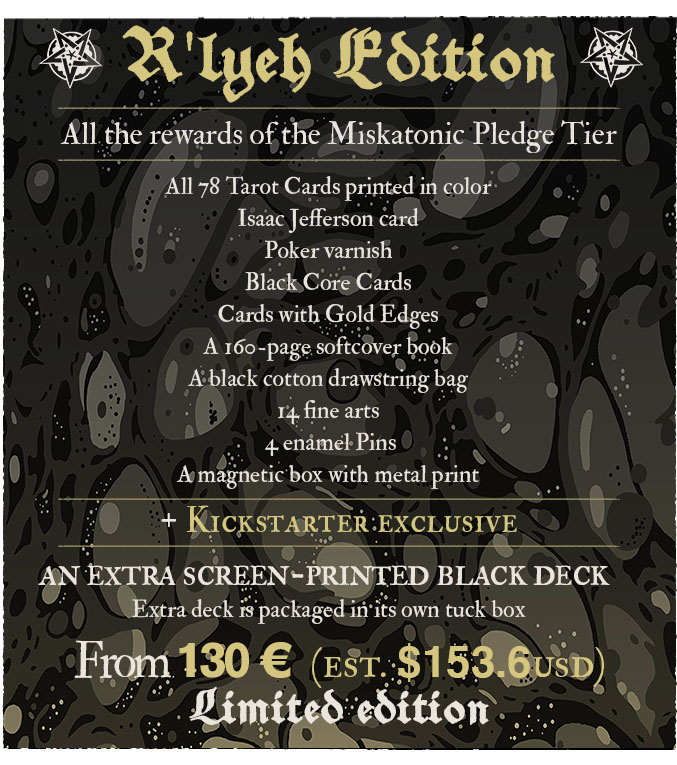 The R'lyeh Pledge Tier will include all the rewards of the Miskatonic Pledge Tier, plus:
An extraspecial edition of the 79-cards deck, black silk-screen printed (Kickstarter exclusive),
This extra deck is packaged in its own tuck box,
The tray of the magnetic box will be adapted to contain this extra deck.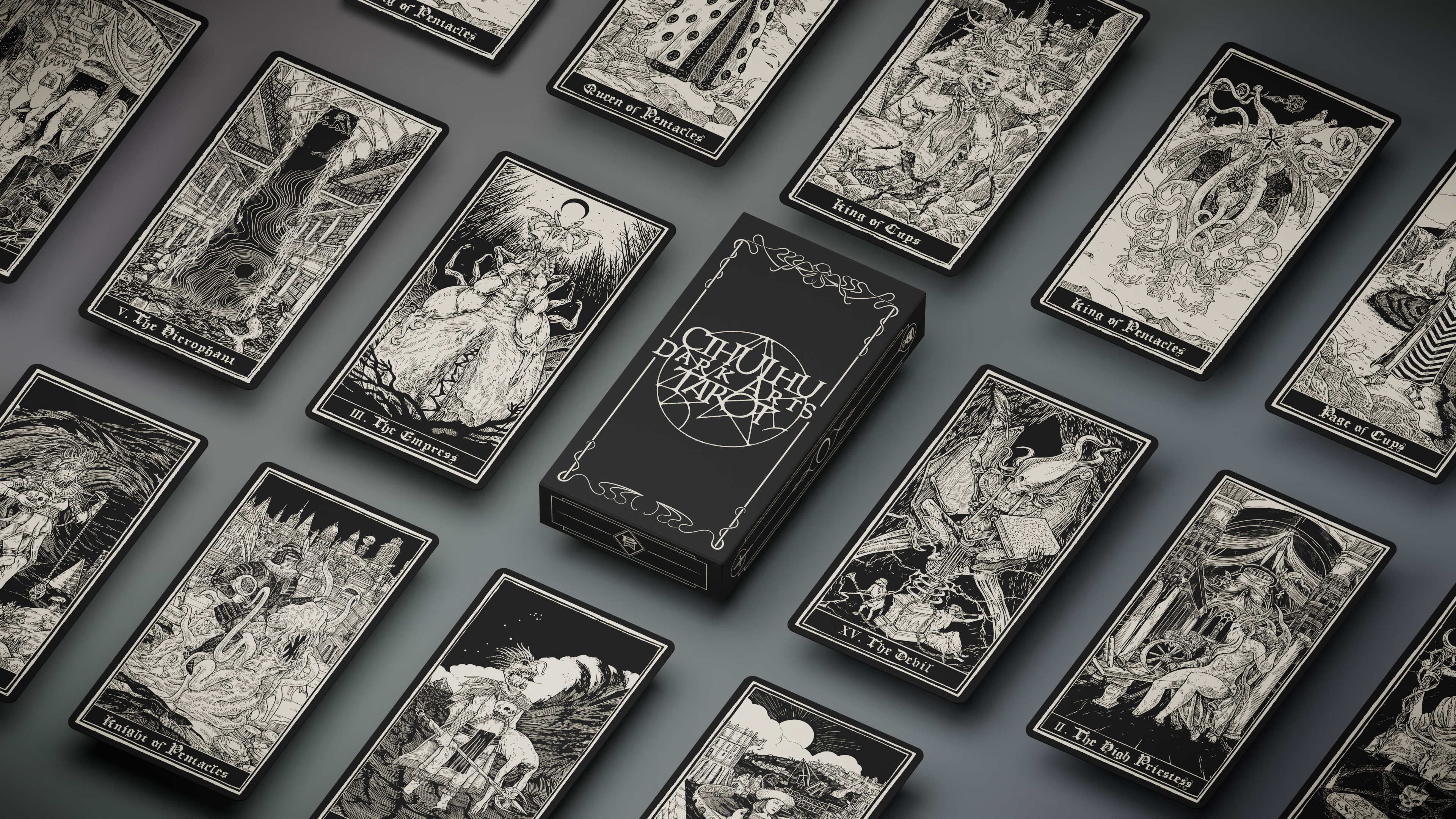 These extra cards will be silk-screen printed and hand crafted by "L'Atelier du Grand Chic", a French well known screen printer. The paper chosen by the artists and the craftsman is an Old Mill Avorio 350 gr, slightly tinted with a cream color and a sensitive grain.
The silk-print is a stencil based technic. It allows very intense color combined with a good opacity. This edition is very limited as it requires a lot of artistic and handmade work. The final rendering will be unique for each card!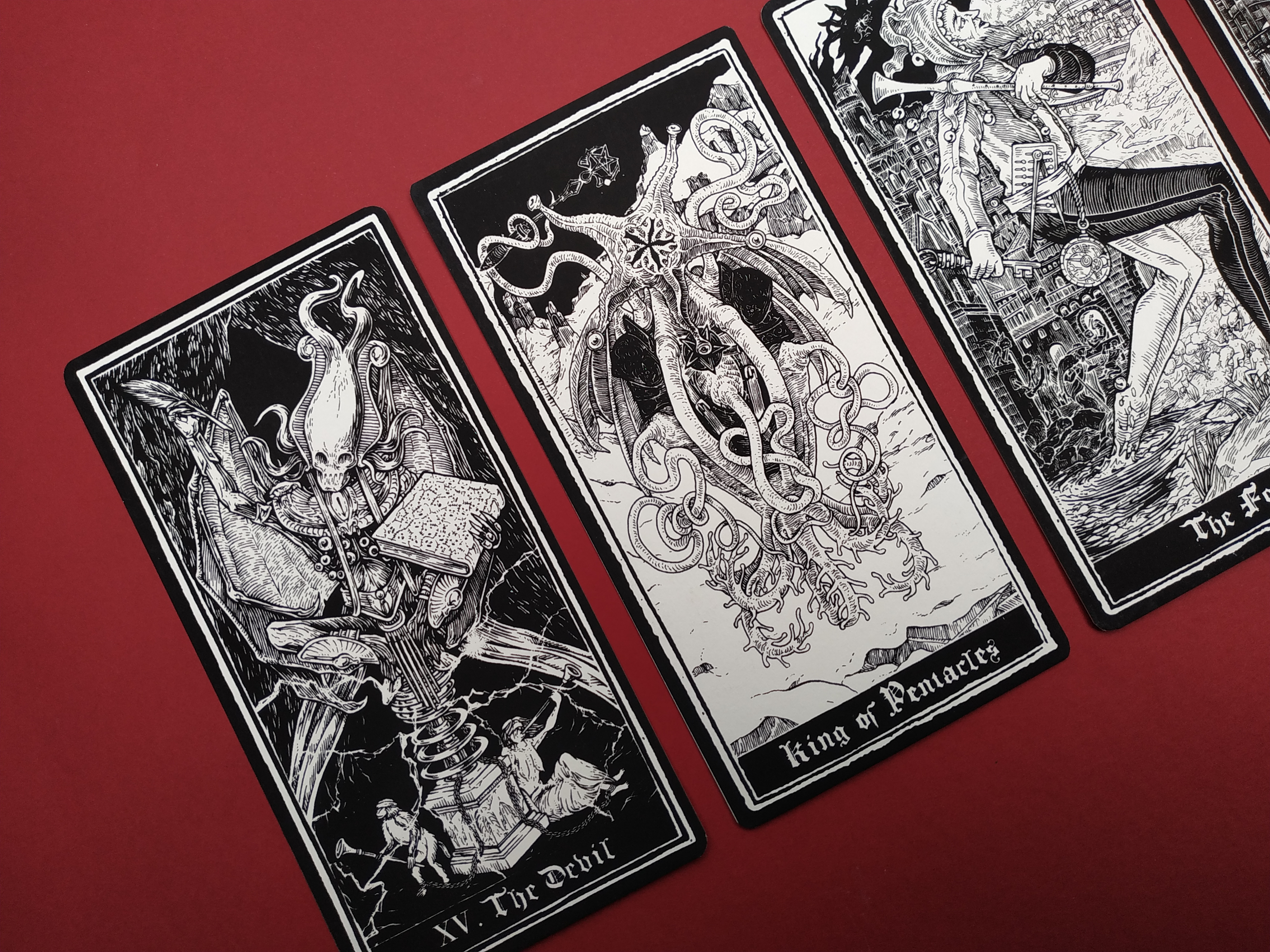 You can get additional copies of the Innsmouth or Miskatonic editions by adding them to your pledge. This is an easy way to get extra copies (ie. if you planned a gift for someone you like :)) or even a way to save some money on the shipping costs if some backers you know are living close to you.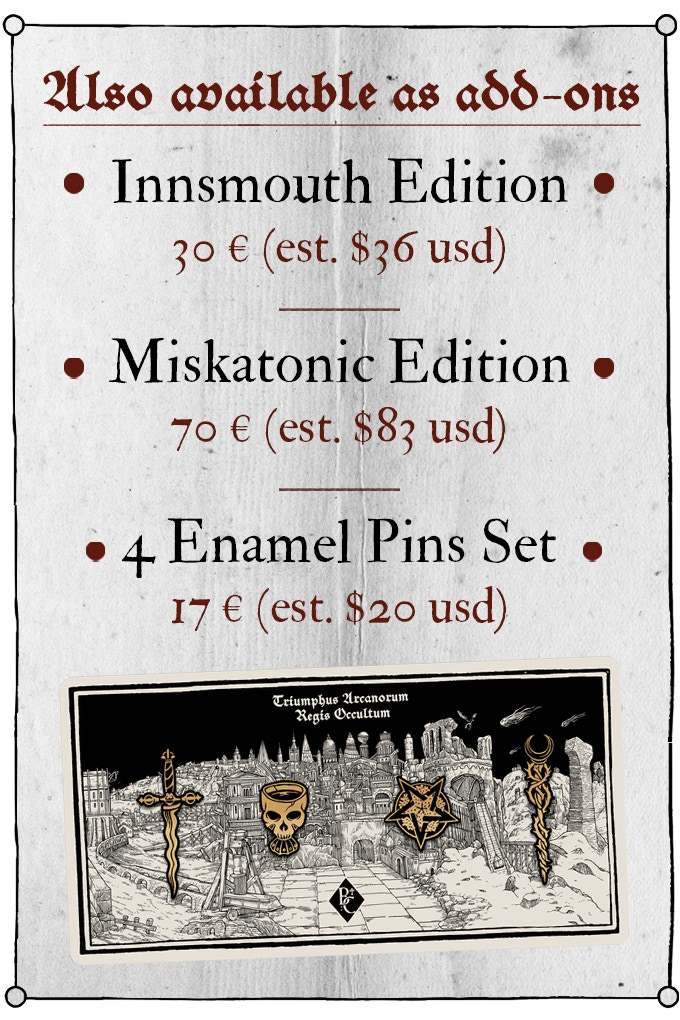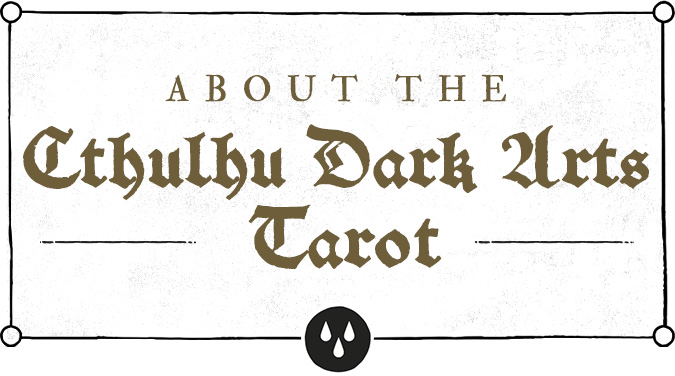 Man likes to mock the frenzied flutterings of the moth as it bumps around on the windowpane, its absurd craving for the indifferent and singeing surface of the lightbulb or the fire that will promptly incinerate it to utter cinders. But man should not laugh, for he ignores the reason of this mad convulsive flight; he ignores what the moth so desperately tries to flee, that which lies in the dark recesses of the world, betwixt the very fabric of time and space or the eldritch depths of our primitive consciousness…
One man knows. One man has been moth and flame, darkness and light and one man has learned their secrets, all their atavic mysteries engraved on a series of cards one millenium ago by a mad monk, a legacy of pain and dark epiphanies spawned in the roiling cosmos of long-dead corpse-stars. This man is Isaac S. Jefferson. And now this man wants you to inherit this burning and burderning knowledge.
Will you heed his call? Will you dare to delve into… the Cthulhu Dark Arts
Tarot?

The illustrations of the Cthulhu Dark Arts Tarot were made by
Førtifem
. First entirely
drawn by hand
, each illustration was scanned and
then colored using a computer
. To ensure that the finished product would honor the quality of the illustrations as well as the greatness of the
Cthulhu Mythos
, we decided to print them
on large cards
(3.35" x 6.50" / 8,5×16,5 cm) on
high quality paper
(315 gr). The limited R'lyeh edition offers you a second deck,
silkscreen printed in black
.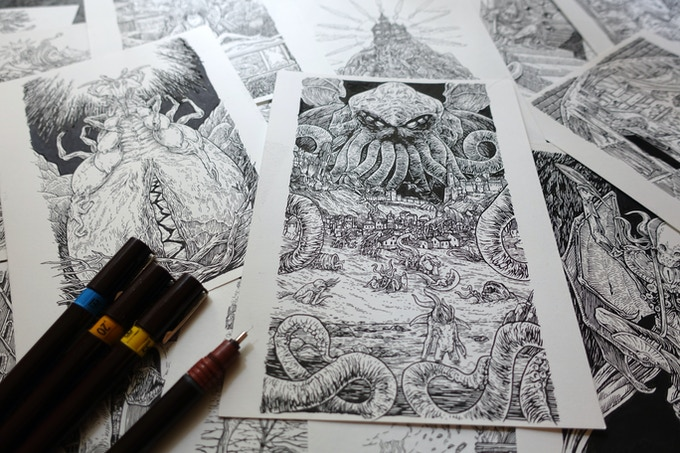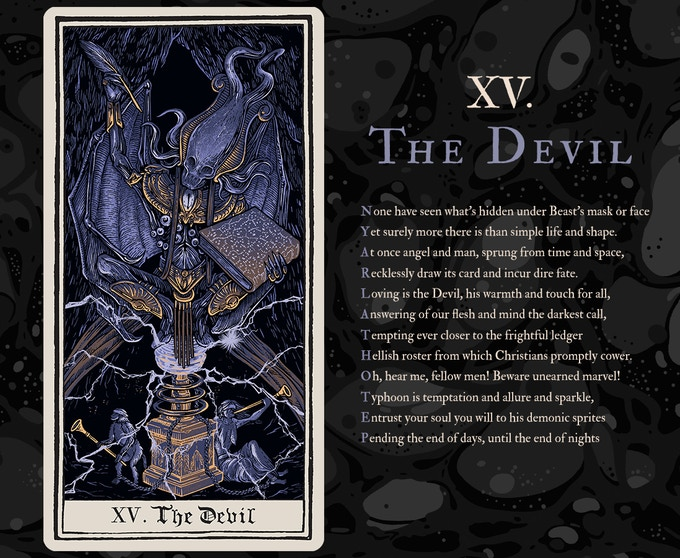 This tarot contains the
22 major arcana
present in the
Tarot de Marseille
. Each major arcana is composed of an
illustration
, a
number
and a
name
. You will find below a presentation of some major arcana taken from the game :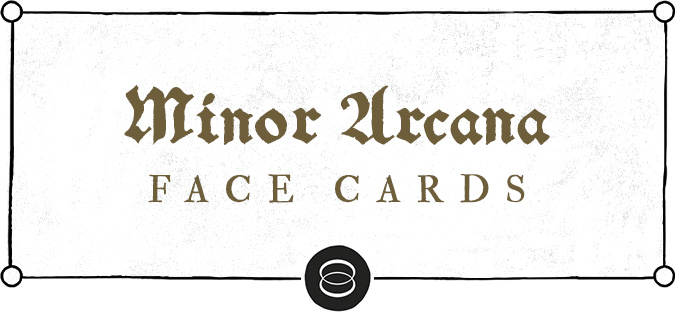 Each four figures is unique and
pays homage to the universe of the Cthulhu Mythos
. In each series, each face corresponds to an eldritch evolution of the previous one. Thus, the 4 figures placed side by side form a continuous illustration. Below, a representation of the faces of
the suite of Pentacles
and
the suite of Cups
.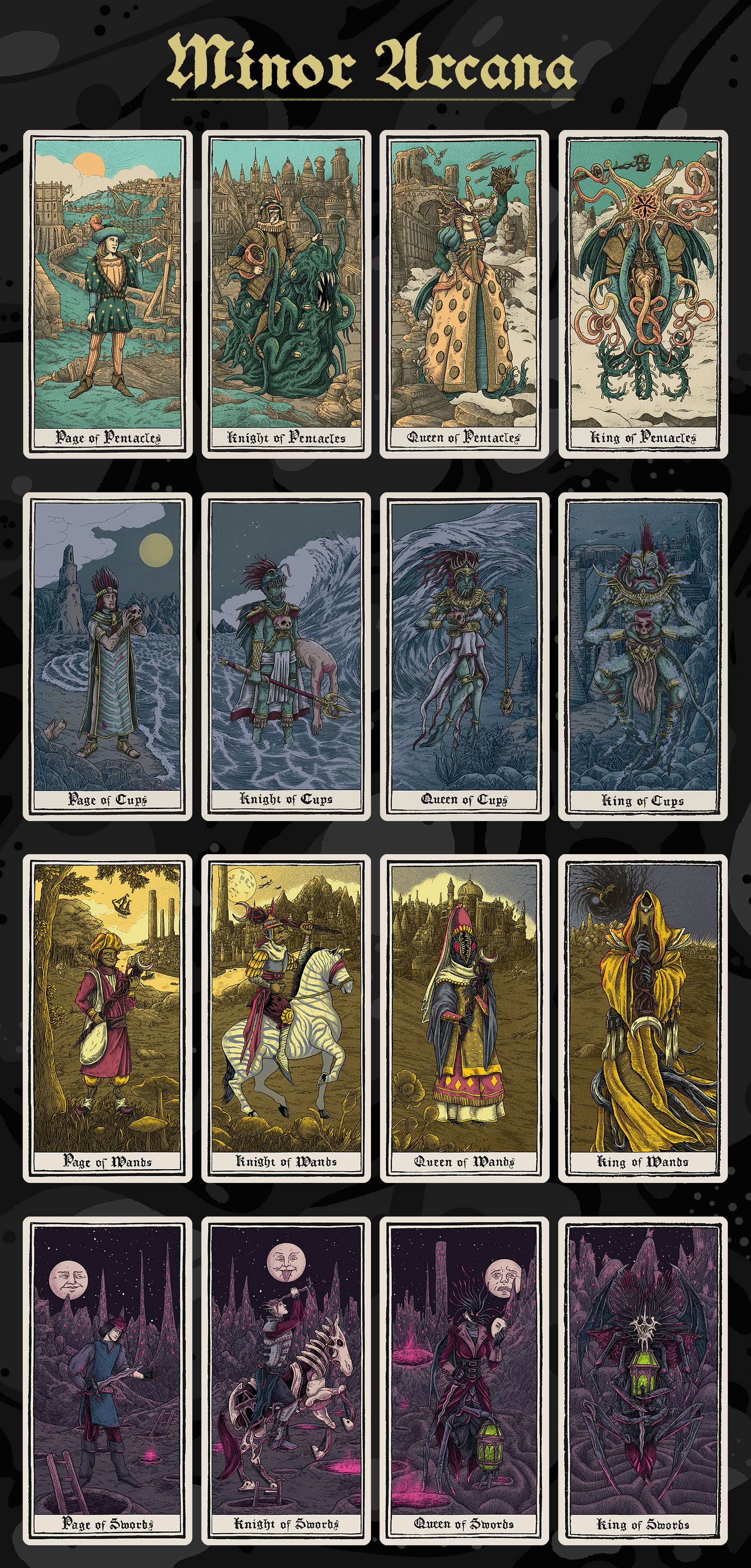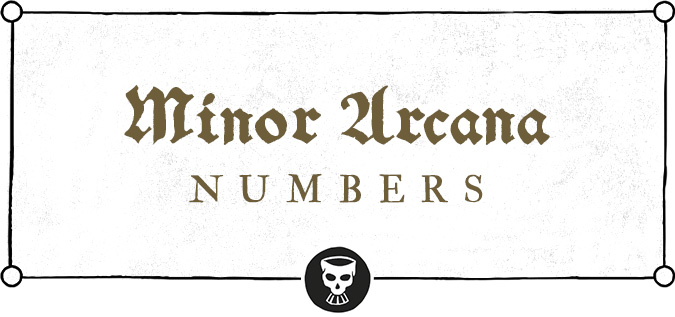 Cthulhu Dark Arts Tarot contains
56 minor arcana
, which include the
numbers
of the traditional tarot cards (
Cups
,
Wands
,
Swords
,
Pentacles
), while proposing illustrations reinterpreting them in the universe of Cthulhu. Contrary to the Rider-Waite Smith Tarot, the minor arcana - excluding figures - do not offer illustrations or characters, but rather a set of unique combinations of the tarot symbols:
Cups
,
Wands
,
Swords...
and
Pentacles!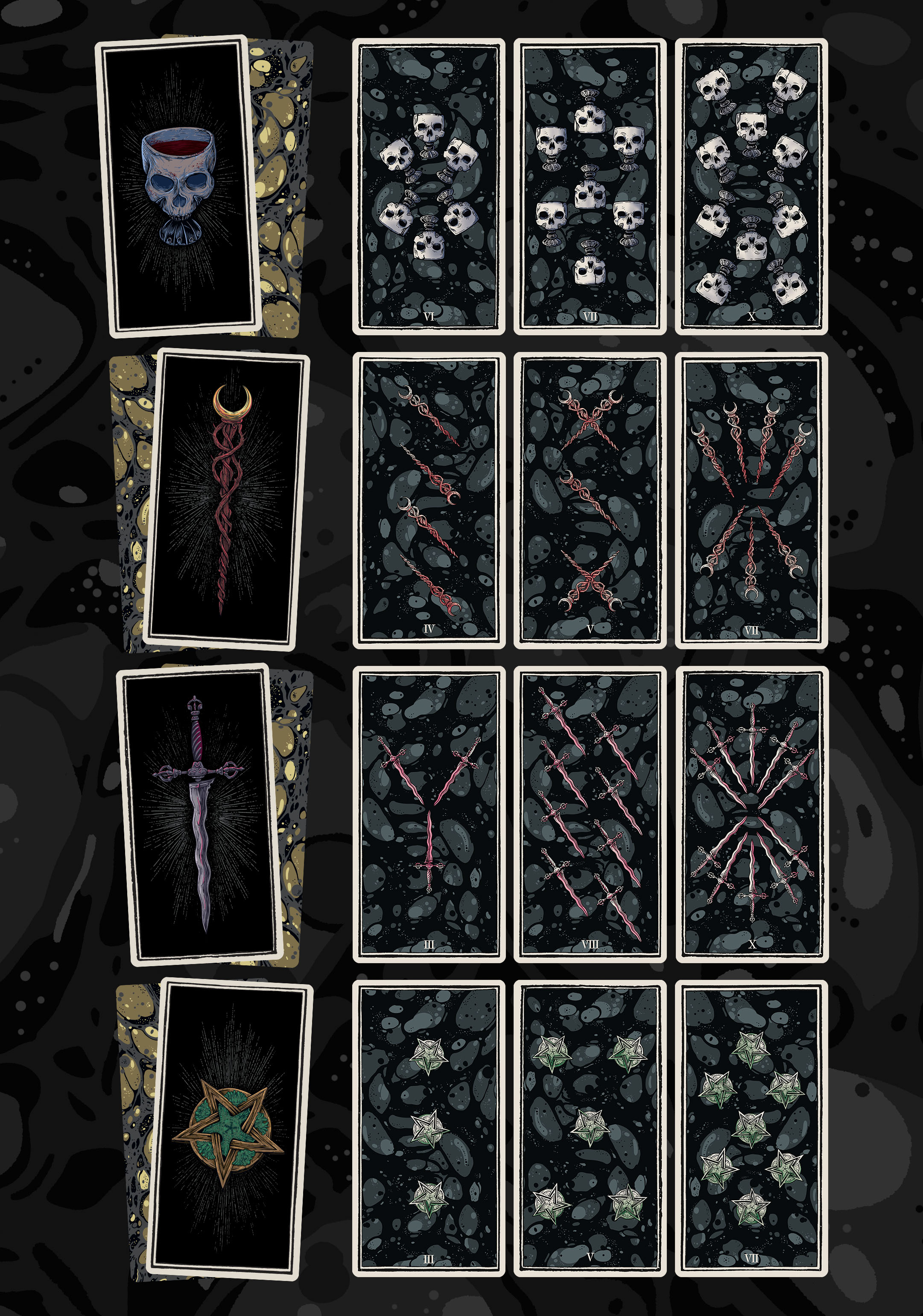 We are using local partners with logistic hub
s in the
European Union
(Meeple Logistics), USA and Canada (Quartermaster Logistics), and
Asia
(VFI Asia), and we will also provide shipping for
United Kingdom
that is as friendly as possible
.

Backers will therefore benefit from optimized shipping costs and they won't pay customs at package delivery as it is sent from their home country.
Through the pledge manager tool, after the campaign, backers will pay an amount corresponding to the shipping costs between the hub and their home. We take in charge transport to the hubs and potential custom fees.
Below are the current shipping estimates. Note that these are estimates as of late October 2020, so there might be slight variations on the actual shipping costs at fulfillment.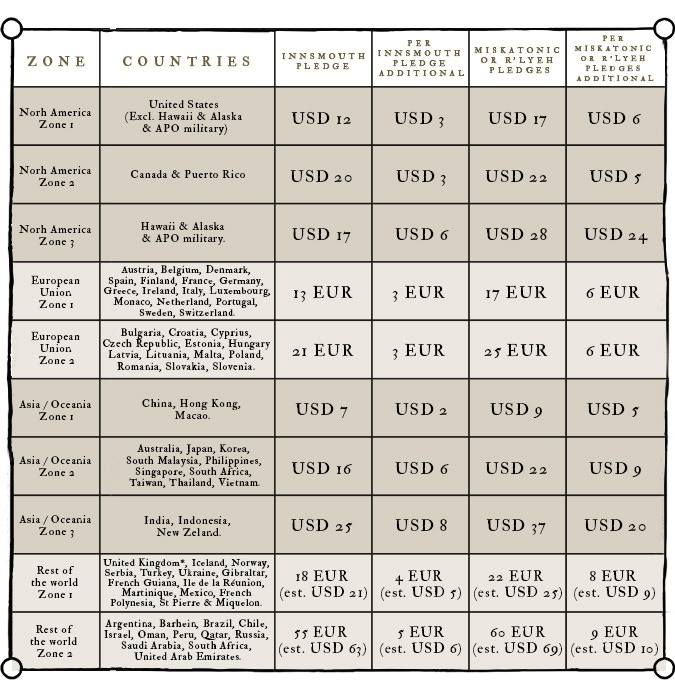 * At the time of the campaign, we do not have all the relevant information on how Brexit will affect our shipping plans. Be sure that we will do everything we can to provide you with friendly shipping costs to the United Kingdom.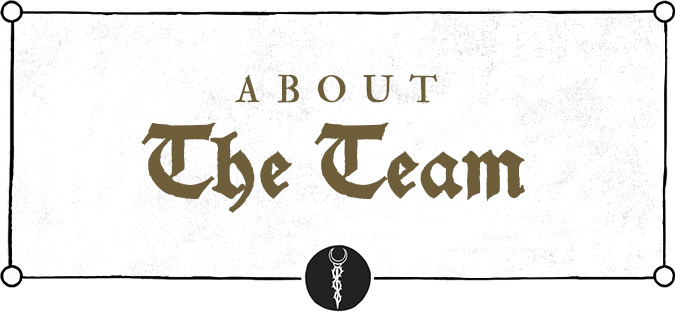 Adrien Havet and Jesse Daubertes both started their careers as graphic designers, before devoting themselves as a duo to their shared love for illustrations, under one name.
Since 2012, they have developed a four handed style that borrows from the strength of tattoo lines as well as from the meticulousness of old engravings.
Swinging between dark and ultra colorful atmospheres, occultism and pop culture, they don't know how to do anything else but drawing, so they try to do it well.
Lovers of extreme musics, they share their time between creating visuals for bands (Rammstein, Slipknot, Trivium, Emperor, Alcest, Carpenter Brut...) but also for books and brands (HBO, Ubisoft, Cartier, Affligem, Le Monde...).
Their personal drawings have been exhibited in Paris, Los Angeles, and Hong Kong. They are based in Paris and work from home, with the "support" of their two feline bosses.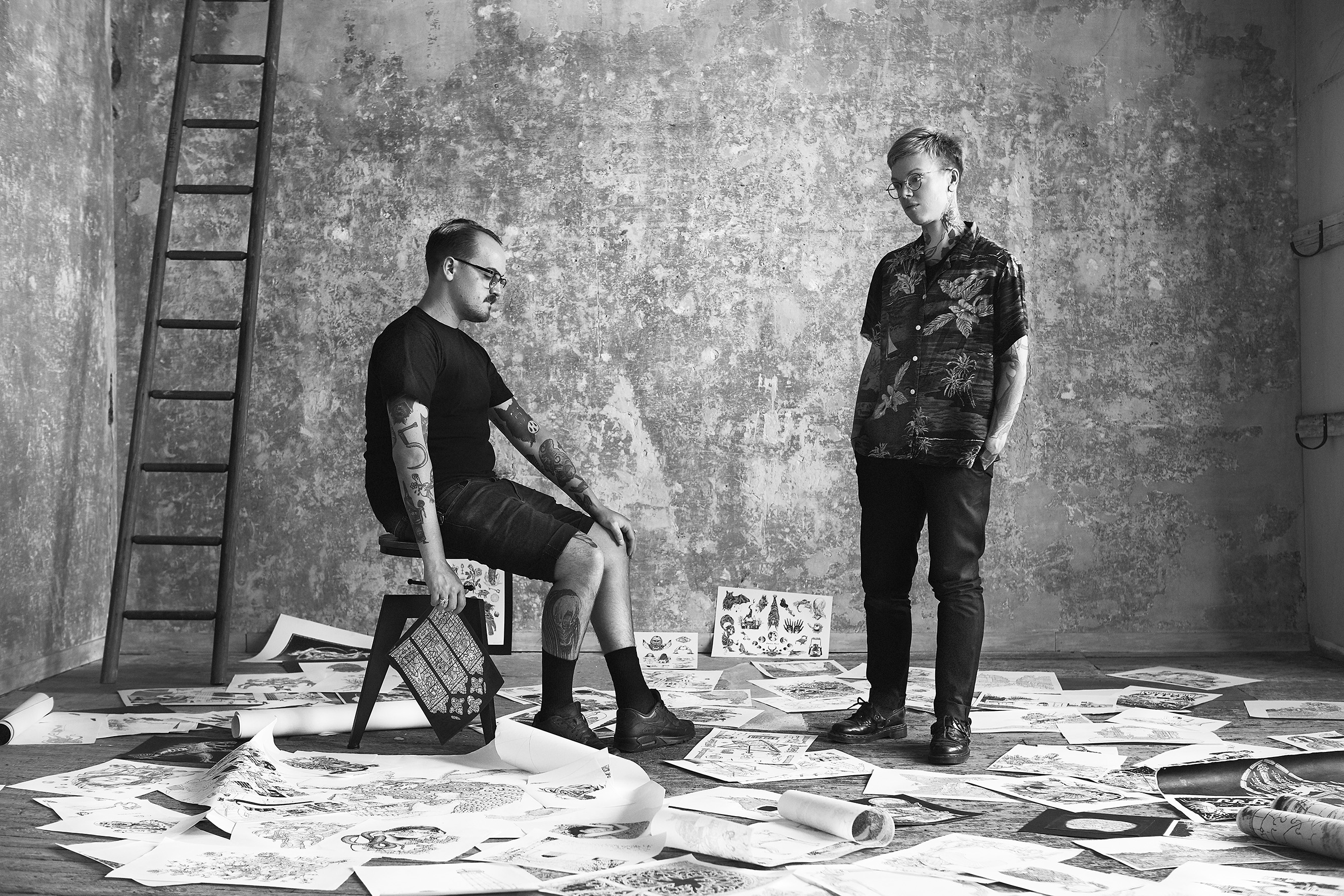 Maxime Le Dain
is a 38 years old French representative of the t
ranslatoria editorialis species
, a terrestrial parasite that dwells in the darkest recesses of publishing houses, waiting for a foreign author to fasten itself onto. Once its victim is hooked, the translatoria unfolds its long stinger to suck out of
the writer's brain
the ink it needs to survive, which it then spews back into another language. As of now, Maxime has had the honour of digesting the cerebral secretions of many wonderful artists, such as
H.P.
Lovecraft
,
Anthony
Ryan
,
Joe
Hill
or
Lewis
Carroll
. When saturated with ideas, the translatoria editorialis
can enter a chrysalis state
that enables it to autonomously excrete words and become
itself an author
. Maxime Le Dain currently lives in its nest in the French countryside, with its mate,
two adorable pupae and three cats
.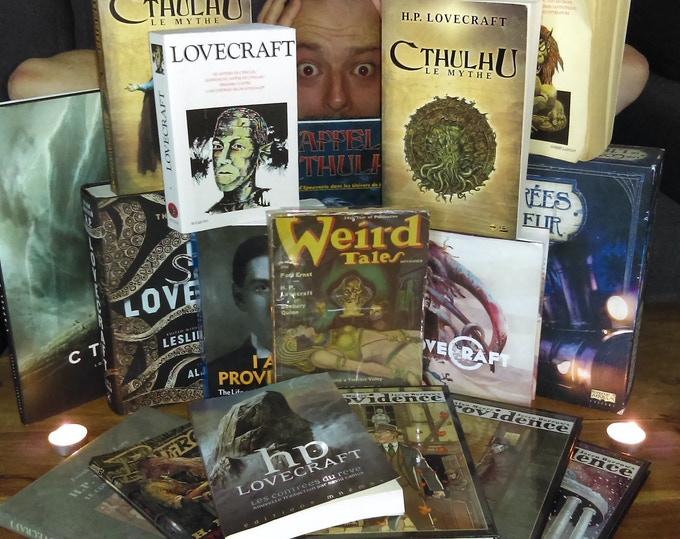 Founded in 2000, Bragelonne is the curious story of a bunch of friends who, rich of nothing but their passion for the genre, became in just a handful of years the first independent publishers of fantasy fiction books in French language.
Today, Bragelonne is referring more than 550 authors from all over the world and has published close to 6 000 titles, to form the most complete and diversified catalogue for fantasy fans of all ages with names such as David Gemmell, Raymond Feist, Pat Rothfuss, Peter Brett, Scott Lynch, Andrzej Sapkowski (The Witcher), Peter F. Hamilton, Richard Morgan (Altered Carbon), among many others; great classics of the genre such as Robert E. Howard, Howard P. Lovecraft or Arthur C. Clarke; Comics legends and new comers such as Joe Hill, Warren Ellis, Garth Ennis, Bryan Lee O'Maley… (for, why just novels when you can also do comics ?) Popular licences with D&D, Minecraft, Assassin's Creed, TMNT, Rick & Morty to name but a few (would you believe we published a Time Story novel and the origin story behind The Werewolves of Miller's Hollow ? would you ? well you should… cause we definityely did !); and last but not least, scores of original pieces of work born and bred in France such as Pierre Pevel, for instance, whose Cardinal's Blades trilogy has been published in 15 countries including the US of A or the UK... it's the three musketeers with Dragons… what's not to like ?
In 2019, Bragelonne's honchos (Stéphane & Alain) having a mid life crisis of their own, decided to go back to what they enjoyed doing in the last century and created Bragelonne Games, signing the very same year an exclusive distribution deal with Gigamic (Hachette Boardgames). And for their 20th birthday, they were forced to play pandemic… a lot… like everyone else. Let's all hope life will do less fumbles in the near future.