This War of Mine: The Board Game is a fully co-operative, open and play, survival experience
. In this challenging, story-driven game for 1-6 players, you will play as group of civilians trapped in a city torn by a military conflict.
At this pledge level you will receive 6 Core Boxes with all their contents, including all related unlocked stretch goals.
Contents of the basic version of the game (without Stretch Goals):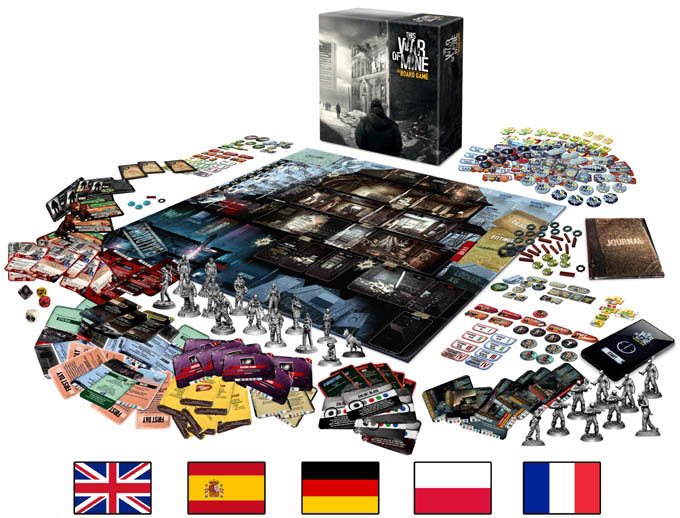 Box
Plastic organizer insert
12 plastic miniatures of the Characters known from the digital version of This War Of Mine (all in 32mm scale and highly detailed!)
204 cards
3 custom dice
1 d10 die
220 cardboard, wooden and plastic tokens
Game board 56x84 cm (22x33'')
Game Journal (20 pages in full color, to lead you through your game)
Book Of Scripts (128 pages with over 1000 unique adventures)
2 additional Scenarios for the game
Save game mechanism (save sheets and 2x plastic bags – Waste bag and Save bag)
Additional (free) mobile app (the app is not required for the game, it can only enrich the experience but does not force anything. The app is to be downloaded from the provided link, code, marketplace or server. The app is free.)
Contents of the unlocked Stretch Goals (to be delivered with every Core Box free of charge):
13TH CHARACTER for the game – it includes:
- miniature of Emira
- character's card of Emira
- 20 additional Scripts for Emira
TACTICAL EXPANSION aims to make the combat in TWOM:THB more strategic with a lot possibilities, detail and it will make it easier to visualize what is happening during a fight. It includes:
- Tactical map (double-sided)
- 4 miniatures of Soldiers
- 15 Tactics cards
SEWERS EXPANSION brings an entirely new area to the game. Through the city's pipeline system you will be able to cut short through dangerous locations or reach some new ones. But like everything in life this also has certain drawbacks, you are not the only person to use the sewers to your advantage… not to mention the rats. It includes:
- 30 Sewers cards
- 3 miniatures of Thugs
ORPHANS OF WAR EXPANSION features children and lets you feel not only the responsibility of taking care of a little one but also the joy they bring in desperate times like these. It includes:
- miniature of a Boy (along with 5x dedicated cards)
- miniature of a Girl (along with 5x dedicated cards)
- 5 Special Fittings cards
FARMERS EXPANSION is about mixing different cultures and backgrounds when times are rough and prejudices should forgotten, should but not always are… It includes:
- 2 miniatures of Farmers
- 8 new cards (3 Events, 2 Residents, 2 Night Raids and 1 Visitor)
HEART OF THE CITY EXPANSION is our way of saying thank you to all those of you who backed us on Kickstarter. This expansion is not only about a beautiful miniature of an angelic monument, it is about how people cope with tragic and seemingly impossible situations, it is about searching for the shards of normal life where very little of it is left. It includes:
- miniature of the Angel statue (City's Historical monument) (8,4cm high!)
- 5 Heart Of The City cards
- 50 additional Scripts
Miniature of a Dog
6 Hidden Objective cards
10 Script cards – to trigger even more narrative oriented events
"Help The Children" promo card
Alternative version of the game board (printed on reverse of the basic one)
Closed envelope with secret, one-time components
Additional features unlocked for the mobile app (Digital Save game, additional multimedia Scripts, Lock picking mini game)
*all miniatures in this version of the game are plastic. If you wish for them to be cast in resin please see add-ons section for resin upgrades.