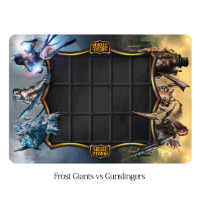 Playmat
60x40 cm playmat, printed on synthetic leather.
Price includes shipping cost.
This add-on includes:
- One 60x40 cm playmat
Addons and expansions will be given by separate shipping.
Rounded corners, durable, waterproof. Four designs available to choose from. Playmat price includes shipping, as it will be shipped separately from the game. Playmat delivery is expected around a month after SiegeStorm is shipped.