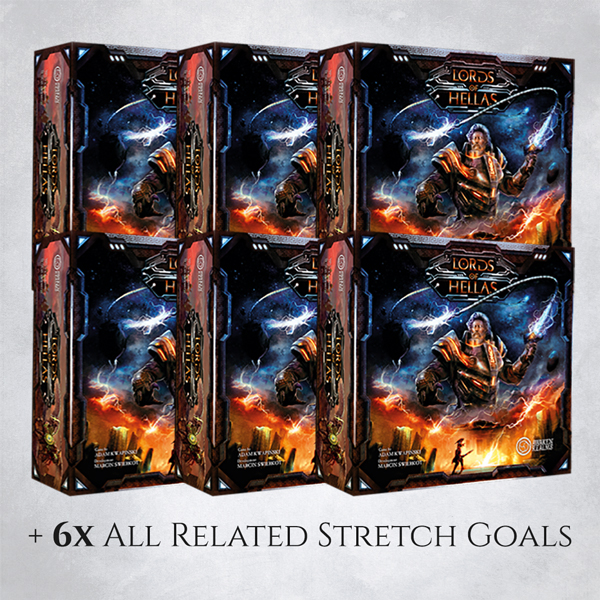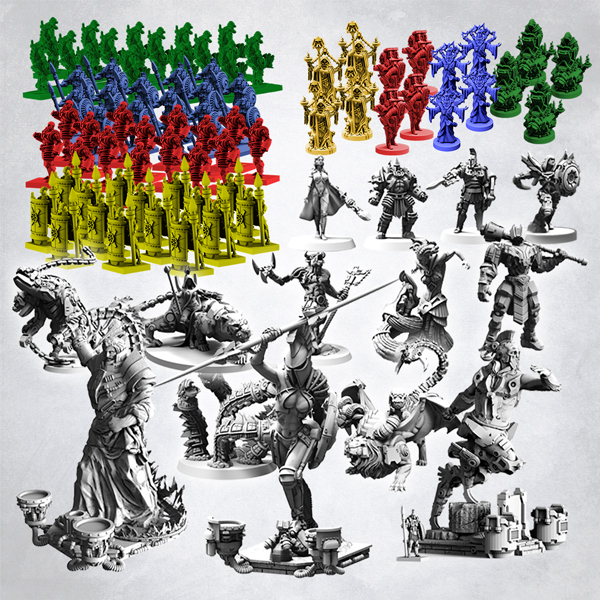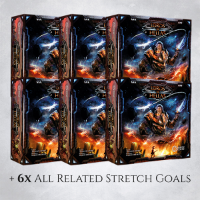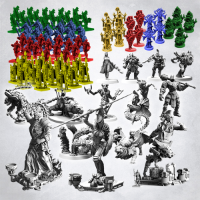 Retailer's pledge: Mythic Collection
This level will get you six copies of core game, terrain expansion pack, art book, with all unlocked stretch goals included. Every miniature will be pre-shaded using Sundrop Technique. You get 10% discount over buying six copies separately!
This pledge consists of:
Miniatures: 840
Cards: 1494
Other components: ~1200
6x Core Box (90 miniatures, 132 cards, ~160 other components)
+ 6x ArtBook (50 pages, soft cover)
+ 6x Terrain Expansion (12 cities, 8 temples, 1 Sparta and 1 Delphi Oracle miniatures)
+ ALL UNLOCKED STRETCH GOALS FOR FREE:
6x Pandora's Box (????)
6x Alternative Map on reverse
6x Additional Heroes: Odysseus, Cassandra, Cleito
6x Additional Monsters: Typhon, Chiron, Siren, Python, Cetus
6x Additional Monuments: Poseidon, Hades, Hephaestus, Kronos
6x Secret Envelope
6x Lords of Underworld expansion pack (Hades monument, 6 Warriors of Hades miniatures, 10 cards, 6 other components)
6x Lost City expansion pack (5th player army, priest and hero - Cleito, map add-on, 10 cards, Colossus miniature and new mechanics)
6x Kronos Rebellion expansion pack (players vs. player game mode, Kronos miniature, 40 cards)
6x Warlord box with plastic insert for storing all of the stretch goals
All of your miniatures will come preshaded using Sundrop technique for free!
Keep in mind that game can be shipped in two waves! (recommended)
WAVE 1: Core Box, Terrain expansion and Sundrop technique-painted miniatures
WAVE 2: all other stretch goals, painted miniatures
Upon providing valid EU VAT number we will refund you 23% VAT.
Shipping of product is estimated for November 2017 (first wave) and around April 2018 (second wave). Language versions will ship 3 months later. Those estimations might change.
PICTURES OF GAME PROTOTYPE
"
Something that is pretty cool and this game does well is that monster fight...it gets pretty epic!"
"The more I play this game, the more I love it. It absolutely is a phenomenal game"
"Monuments are absolutely stunning, they just dominate the board once they are up there"
"It doesn't feel like just area control, because there is so many different end game conditions"