Project overview
Our game, Airships: North Pole Quest had a wonderfully successful kickstarter, with 15 Stretch Goals Achieved! We expect to be shipping in July '21.
You can share this beautiful game with someone who will appreciate it. Our Christmas offer lets you order either the Core Game (Wow!) or the Collector's Set, for very deluxe extras, both at the Late Pledge price (which includes all the Stretch Goals) and sign up for a personalized message plus a newly designed poster, which will be sent to the lucky receiver in time for Christmas.
We are also offering a deluxe and upgraded version of our "Airships: Designed for Greatness" book, specially edited and upgraded for the kickstarter project. If the person you want to make happy is more into books rather than games, this is a good choice. 130 oversized pages, in English and Italian, full of original art, interesting stories, and rare photos. It's a collector's item all its own.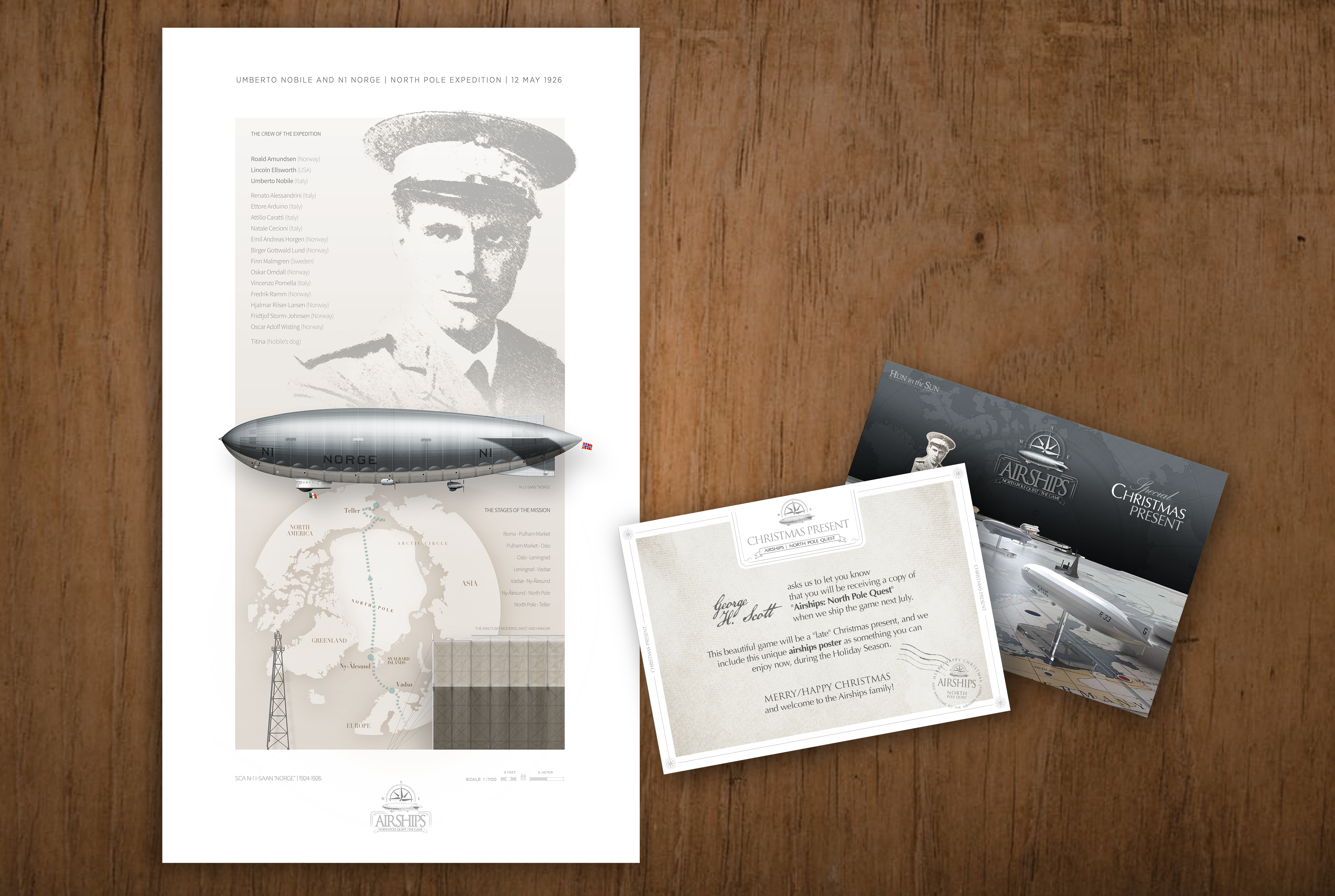 On one side of the gift card is a beautiful photo of the game, giving your lucky receiver an exciting view of what is coming. The other side tells them YOUR NAME and the gift you have chosen.
Season's Greetings!
This card is to tell you that George H. Scott is giving you the Collector's Set of Airships: North Pole Quest for Christmas. You will receive your present in July, 2021.
Merry Christmas!
Choose what suits your wishes and your budget. The prices shown include both the item we will ship next July and the cost of the Gift Certificate and poster. Shipping for the items will be added at checkout.
Make Christmas "lighter" this year, with beautiful airships and great stories!
Note:
The system is set up for kickstarter "pledges," so make your selection and click "Add To My Pledge." Then, when you get to the next page, put in the address that you want the package SENT to, and click on 'different billing address' to include YOUR information. (And if you want to 'hand deliver' these things, just put your own address for both shipping and billing.)
You will be able to select the language for the game (rules, cards, etc.) and the gift announcement from eight languages.