You can't add items to your pledge at this time.
Project overview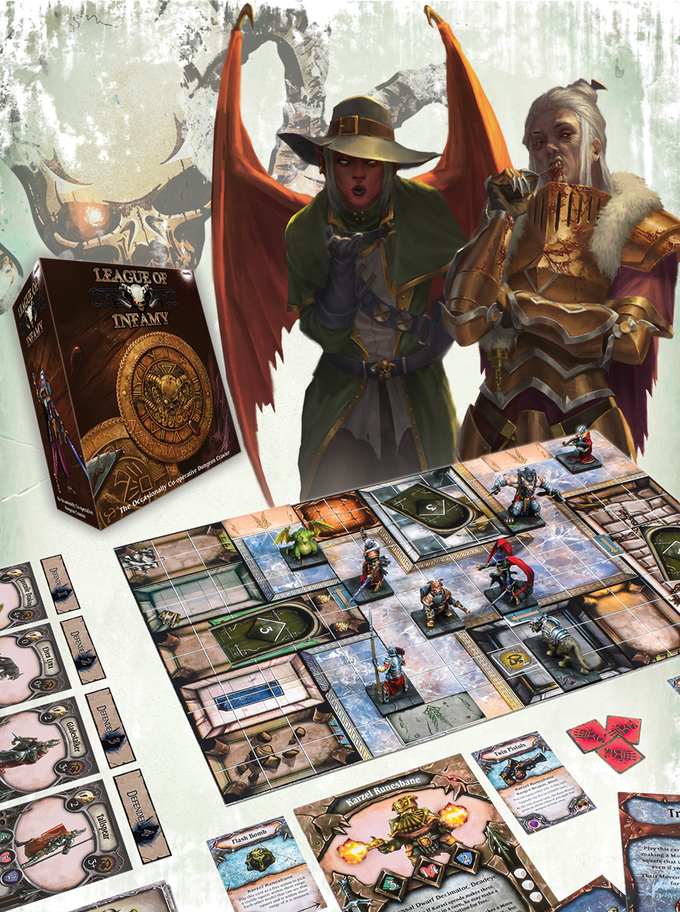 Fed up of playing as the heroes? Bored of always doing the right thing? Want to take part in some devious dungeon delving? Then read on my curious friend...
League of Infamy is co-operative dungeon crawler for up to 5 players, where it pays to commit dastardly deeds and partake in foul thievery – often against your own party. Created by the team behind hit games Hellboy: The Board Game and Dungeon Saga: The Dwarf's Kings Quest, this is a dungeon quest like no other.
Join a rogue's gallery of misfits, ne'er-do-wells and miscreants on a disgraceful mission to kidnap cute little baby Drakons, steal their eggs and viciously wipe out any irritating, goody-goody Elves that try to stop your nefarious schemes.
But it's not just the Elves you'll need to keep a wary eye on. Your fellow (mis)adventurers are just as likely to betray you and steal your loot, shove you into harm's way or just leave you in a dungeon full of unbeatable foes. As they like to say in the League of Infamy – 'keep your enemies close but keep your friends at knifepoint'.

Published by Mantic Games and designed by
Sophie Williams and James M. Hewitt from Needy Cat Games – the team behind Hellboy: The Board Game
– League of Infamy is a dungeon crawling experience like no other. Featuring fantastically detailed PVC plastic miniatures and unique gameplay elements, this is a game where it pays to be bad! One player takes on the role of the courageous Keep Master, while four others choose from a ragtag bunch of assassins, thieves and cut-throats ready to ransack an Elven Drakon sanctuary. Or, if you want to work together, you can use the Unseen Keep Master as the adversary and play co-operatively.

Party members start off working together to complete the mission but each villain will try to accrue the most loot and Infamy to go up the League's ranks. It's every villain for themselves... until you need some help, of course.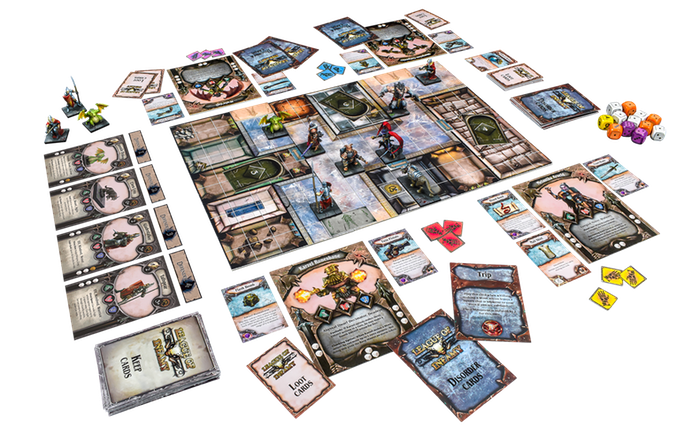 Players can use Disorder Cards to steal from their 'friends', stop them performing certain actions and generally stab them in the back. All the while, you'll be earning Infamy to improve your personal reputation and the chance to bag the best loot at the end of the mission. You'll need to keep an eye not only on the action to spot opportunities to earn infamy, but on your co-conspirators – you never know what they'll be plotting, so always watch what's happening!
In the rulebook you'll find a story-driven campaign for the Villains to play through but each scenario is customisable. You can choose different Villains to complete the mission or even mix up the Defenders used by the Keep Master. Fancy a mission using elves and halflings? Go for it! You can even use the Wandering Beasts included in the Join the League pledge as your Defenders.
Plus, Chamber Cards make the contents of each room totally random. Sometimes you'll find a room full of treasure, another time it could be full of howling cats that will create Alarm tokens for the Keep Master. Even the most simple scenario can play very differently.
The Keep Master can also spend funds on fortifying the sanctuary before the mission. Bring in stronger reinforcements, upgrade the room defences or even use additional, stronger Keep Cards from different expansions. By the final mission, the Keep Master is able to choose their own Defenders and strategy to protect the drakons.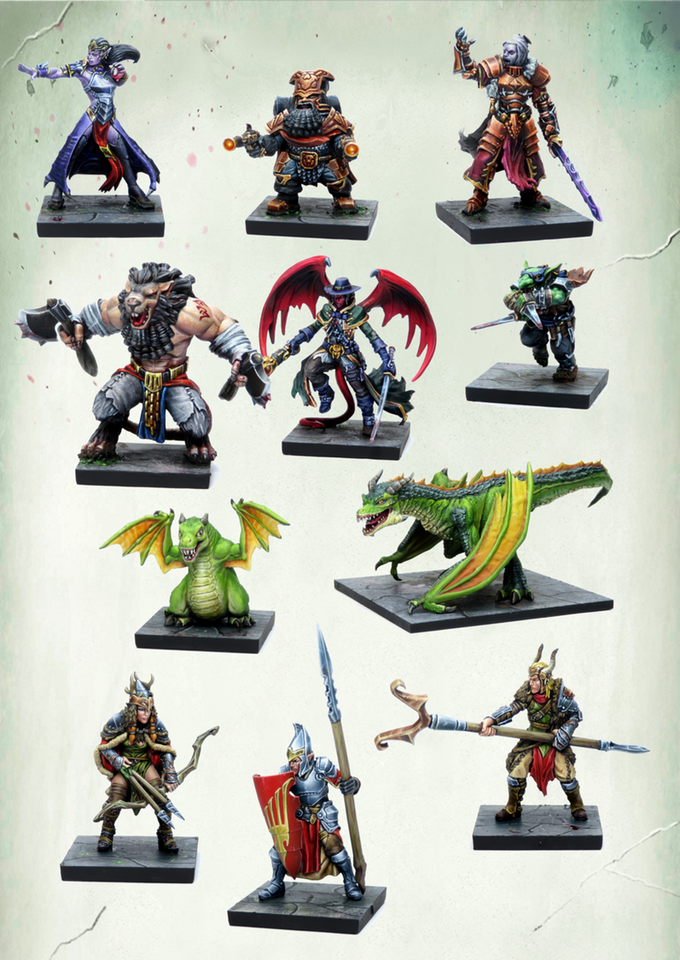 PLEDGE LEVELS
Here you will find the two pledge levels for League of Infamy: Join the League and Master of Shadows.
OPTIONAL EXTRAS
Here you find a host of products you can add to your cart in the pledge manager, including some special discounts on current Mantic products, including Hellboy: The Board Game and TerrainCrate.
We currently estimate all items will start shipping at the end of November, 2020.