You can't add items to your pledge at this time.
Project overview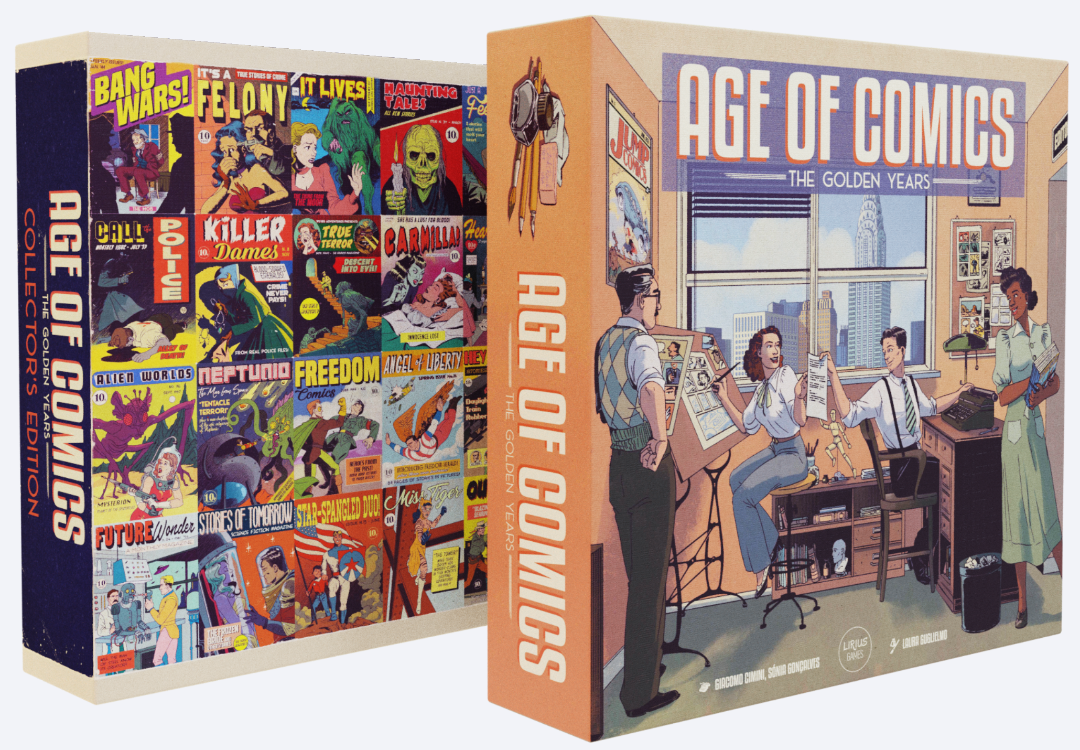 Age of Comics: The Golden Years is a medium light worker-placement board game where you play the role of a fictional comic book publishing house during the golden age of comics (circa 1938-56).
To become the top comic book publisher, you will need to build your fan base by hiring the right artists and writers, publishing comics, and sending your sales agents across Manhattan's newsstands to grab the best sales orders. Visit
liriusgames.com
for playthroughs and how-to-play videos.
Late pledge now! Choose your
favorite
edition below and check out the exclusive content and add-ons!
If you're already a Kickstarter backer:
Be sure to be logged in with your Kickstarter email.

Select the edition (below) that you picked during the Kickstarter campaign or choose another edition.

Browse the add-ons section: we've added metal coins and enamel tokens. If you want, you can add them to your cart.

Confirm your shipping address and finalize the order. (If you are based in the EU or the UK you will also be charged VAT at this point.)
Note: we offer discounted shipping fees if you order more than 1 copy of the game (up to a maximum of 4 games shipped to the same address). The full shipping cost will be displayed at the checkout once you enter your delivery address.
Don't forget to check the exclusive Age of Comics add-ons below!
Estimated delivery:
September 2023.
For more information email us at gamefound@liriusgames.com
To find other players, share opinions, or get updates on the
manufacturing
& fulfillment of the game join our
Facebook Group
or
Discord
.
Retailers: only the Standard Edition of the game is available for retail.
If you backed our Kickstarter, you should have already been contacted by us to confirm and complete your retailer order. (If you haven't, please email us at retail@liriusgames.com)
If you missed our Kickstarter and would like to have our game in your shop, please contact us at retail@liriusgames.com

Note that at this moment our retail offer is only available

to businesses with a brick-and-mortar shop.