Project overview
Now available!
A strategic deckbuilding game where you travel the kingdom of Dorian, upgrade your unique character and battle for locations! Play Battle Cards during tactical siege and field battles to outsmart your opponent. A game of negotiation, area control and betrayal. Get ready for a lot of player interaction. We tried to make this game 'easy to learn' but hard to master.
It's for 3-6 players, but together with the expansion: Return of Zargeth, a player count of 2-7 players becomes available.
We received enthousiastic reactions from content creators all over the world! Here is a selection:
Quackalope: "Conquer the land, crush your enemies, betray your friends, upgrade and repeat! Dorian is a fun take on the deckbuilding genre!" - Jesse Anderson
BoardGameCo (Watch)
:
"Dorian does a lot of things, but easily my favorite part are the power of the cards or more specifically, the way you can combine the various decks, cards and upgrades into epic turns."
- Alex Radcliffe
Jenders Gaming (Watch)
:
"There is so much for the players to do in this game, and the replayability is huge! Many objectives, many upgrades and many events to complete. Excellent!" -
Richard Jenders
Dice Tower (Watch)
:
"An interesting campaign style deck builder. Each game allows you to build a unique army to travel the world, take control over cities and gain rewards and resources. Gain support from your fellow players, to aid you in your conquest. However they may turn on you when you least expect it…"
- Mark Streed
Beasty Geeks: "The game introduces one of our favorite mechanics - betrayal. Nothing spices up the game as backstabbing your friends and in Dorian, it's one of the core mechanics, not just an extra feature." - David (&Greg)
Nox Spellenzolder (Bekijken)
:
"It feels like a fantastic adventure. Explore the world through deckbuilding and turn your hero into a legend."
- Bastiaan Nox
BordVoorJeKop: "It offers the grandeur of a grand strategy fantasy game, but always keeps the momentum going thanks to the smooth hand management. A very successful genre mix!" - Josha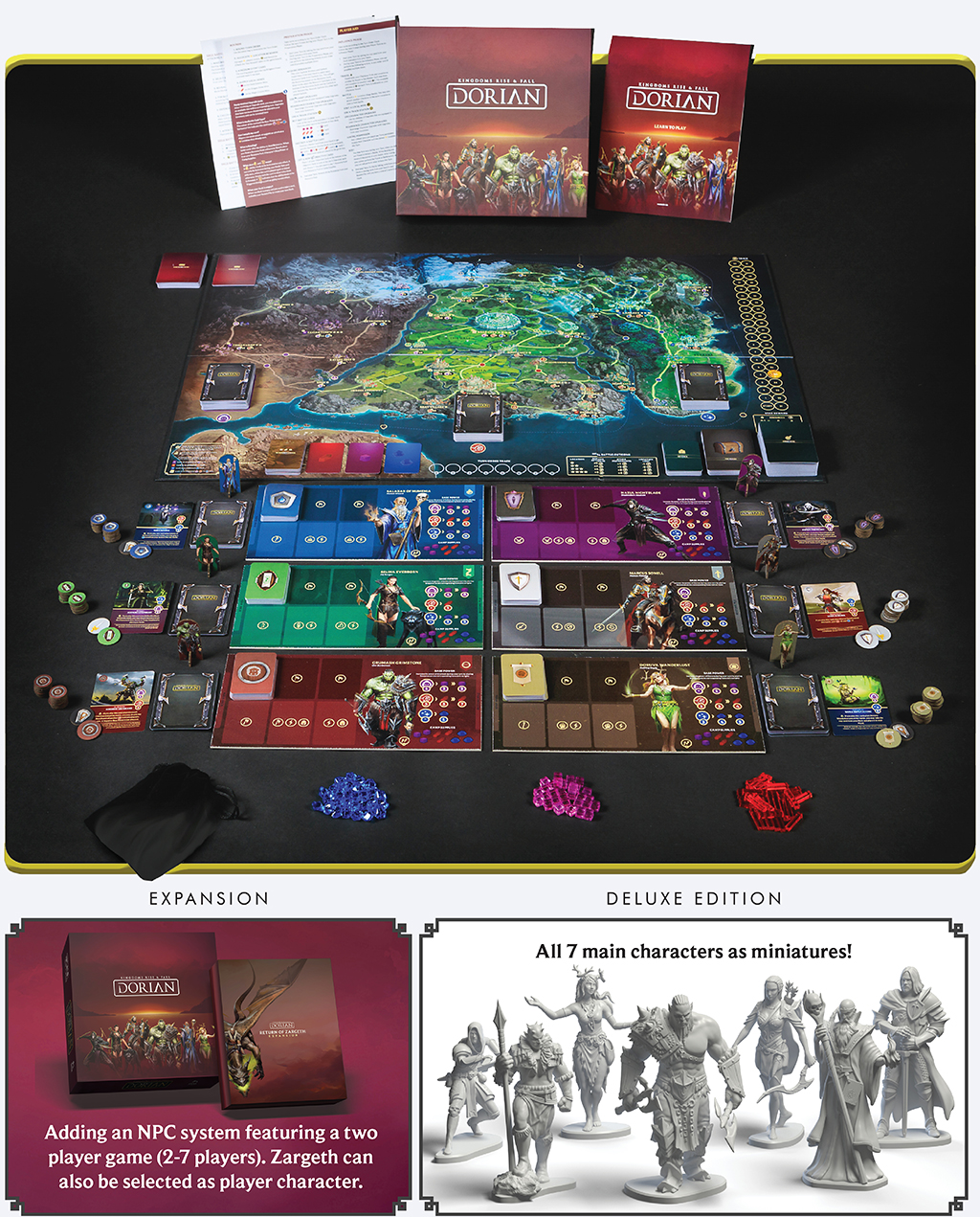 For more information:
Check out our Kickstarter campaign page!