dashboard
updates
taxes
statistics
analytics
data
Tax preparation in progress
Tax still remains quite a complex challenge to many creators (and backers, too!), and at Gamefound, we aim to further work on making it much easier. A lot of those changes are happening in the background, but we want to share our vision for the tax module for the next 6-12 months.
1) All prices on the platform will be net, and then appropriate taxes will be calculated automatically. This means more transparency, accurate accounting for taxes, and no surprises for backers.
2) For creators – everything will be automatized, for example, automatic sales tax rates in the US (that can be very complex and differ based on the street in the same city).
3) PDF invoices and exports – we will generate all the sales documents creators might need for tax purposes.
4) Taking care of (or helping with) all registration processes, for example, in the European Union for creators outside of it. We know it is hard and stressful, and we want to eliminate that!
5) Full compliance with regulations – we want to build a fair and transparent marketplace.
We are halfway there. We are already taking care of VAT tax in the European Union, and very soon, we will add the United Kingdom to that as well. We are already able to calculate sales tax rates in the US and will be expanding its availability.
A lot is happening on our backend in terms of taxes. As we're aiming to cover most of the taxing options for many countries not only from the EU but also outside, we've still got some ground to cover. Recently we also started handling taxes for campaigns that come to Gamefound for the pledge management phase only. The changes that are happening may not be visible outside, but you can trust me: they will make tax payments and settlements easier for everyone and much more scalable for Gamefound as a platform.
Let us know in the comments if you have any questions or concerns. Rest assured – we'll keep you informed about any changes.
As we're streamlining different functionalities on the platform, we've added the option to log in through a window whenever you take an action that requires you to be logged in. For example, when you want to follow a project, you have to log in first, and now you can do it easily and quickly without leaving the project page (also using Google or Facebook accounts):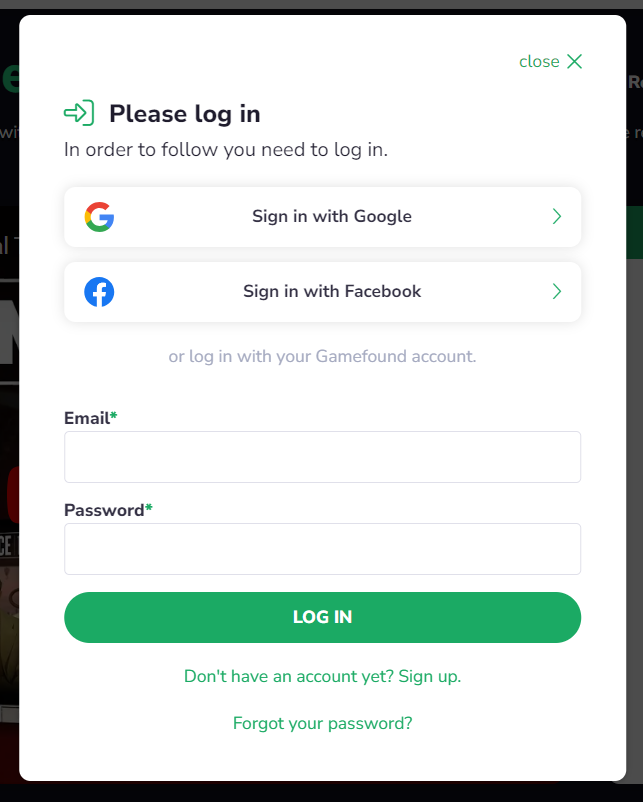 It's a small change that should help a lot with marketing. The easier it is to log in, the bigger the chance of a better conversion.
Statistics available for everyone
After a short period of beta-phase, we've enabled daily stats in the project monitor for all active projects (including pledge managers). Here you can find
more details about it
. Just go to Project->Analytics to review your campaign in the project monitor. Just bear in mind that the historical data is unavailable.

Summing up
We've got a lot of things we're working on, even when we don't always have a lot of obvious changes on the platform. We'll soon be sharing more on those, including a huge feature we're incredibly excited about; platform localization and it's almost done. We're also working on more special tools for creators. See you soon!
Alex Radcliffe,
CMO of Gamefound