campaigns
pledge manager
news
marketing
notifications
To facilitate creators' communication with backers, we added the option of sending emails with reminders about unfinished pledges. This way, creators can easily send bulk notifications to all backers who haven't finished their pledge manager yet. If you want to use this option, go to project settings and choose communication, where you'll find a button in the top right corner.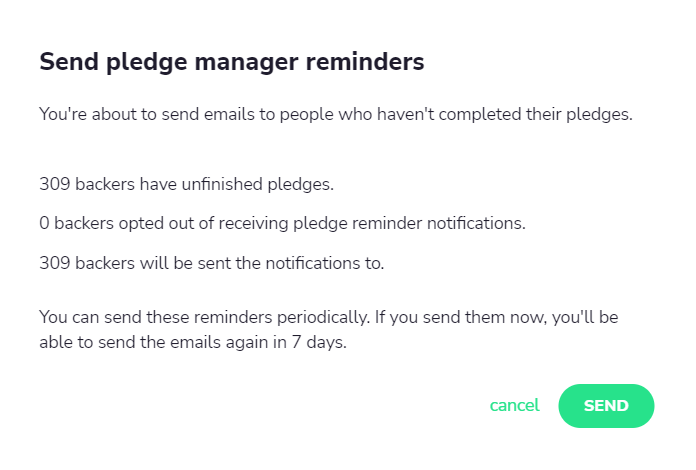 Once you click the button, you'll see a summary of how many people will get these notifications. All backers unsubscribed from receiving such notifications will be excluded from the list.
We've been handling marketing for crowdfunding campaigns for a few years now, and we've compiled our full offer into one place – marketing services. Our individual approach to each campaign and multi-channel marketing operations are at the core of how we have been able to achieve the returns that we do.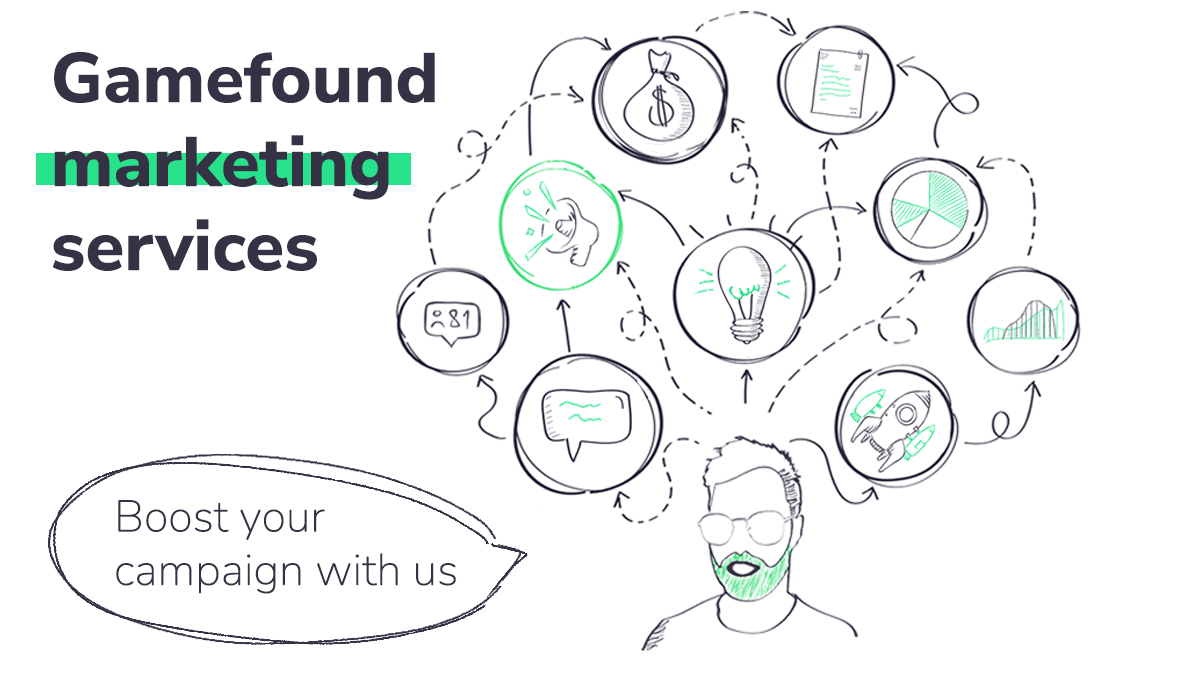 The core of our approach to our marketing is a tailored approach based on the creator and the campaign. There are no one size fits all solutions, and understanding your budget, your campaign, and your comfort level all factor into how we build out options that work for you while delivering the maximum return.
From the very beginning of the campaign, we establish how you want to move forward, and then throughout the engagement, we keep you in the loop and continue to present our recommendations while always ensuring you have the final say. We combine proven channels for promotion while taking advantage of our experience in order to deliver the best possible returns.
Wider reach for launch notifications
We've upgraded the functionality of sending campaign launch notifications for campaigns. We've already put in place a feature that allows followers of a campaign to be notified when the creator launches any future campaigns, but now, backers of that creator will also be included. Now your campaigns will reach even more people and the most valuable ones – those who have already supported your projects.
This is particularly useful if you're a creator who has only used Gamefound as a pledge manager so far, as all your backers will get a notification about your campaign launches once you run them on our platform.
Gamefound has one of the highest possible ranking among spam filtering services with an open rate of 60-70%, making these launch notifications a potentially huge boost to your campaigns, particularly when it matters most; at the very start.
Stay tuned for more as our dev team is working on new features that will be available soon.
Let us know what you think about the newest functionalities in the comments 😊
Thank you for being with us!
Alex Radcliffe
CMO of Gamefound