Today, we have a great announcement to make.
Go On Board
is coming strong on Gamefound with
The Witcher: Path of Destiny
! Along with the announcement, we can finally say that platform localization is ready, and we've prepared a special tool for project translation. We've also introduced a new way to support projects in crowdfunding – instant payments!
Go On Board
is coming with a new amazing title
—
The Witcher: Path of Destiny
, which is being developed in cooperation with CD PROJEKT RED. The new Witcher is created by Łukasz Woźniak (
The Witcher: Old World
) and will include the most iconic stories from the Witcher Saga by Andrzej Sapkowski. Get ready to take the role of Geralt, Yennefer, Ciri, Dandelion, Vesemir, and more in this tableau-building game. Relive the stories of Striga, Lesser Evil, and others with new iterations, mechanics, and narrative variations to enjoy a highly replayable experience. The campaign will be available in six different languages! Curious? Don't wait and check out the project preview in the language of your choice:
English
,
Polish
,
German
,
Spanish
,
Italian
, or
French
!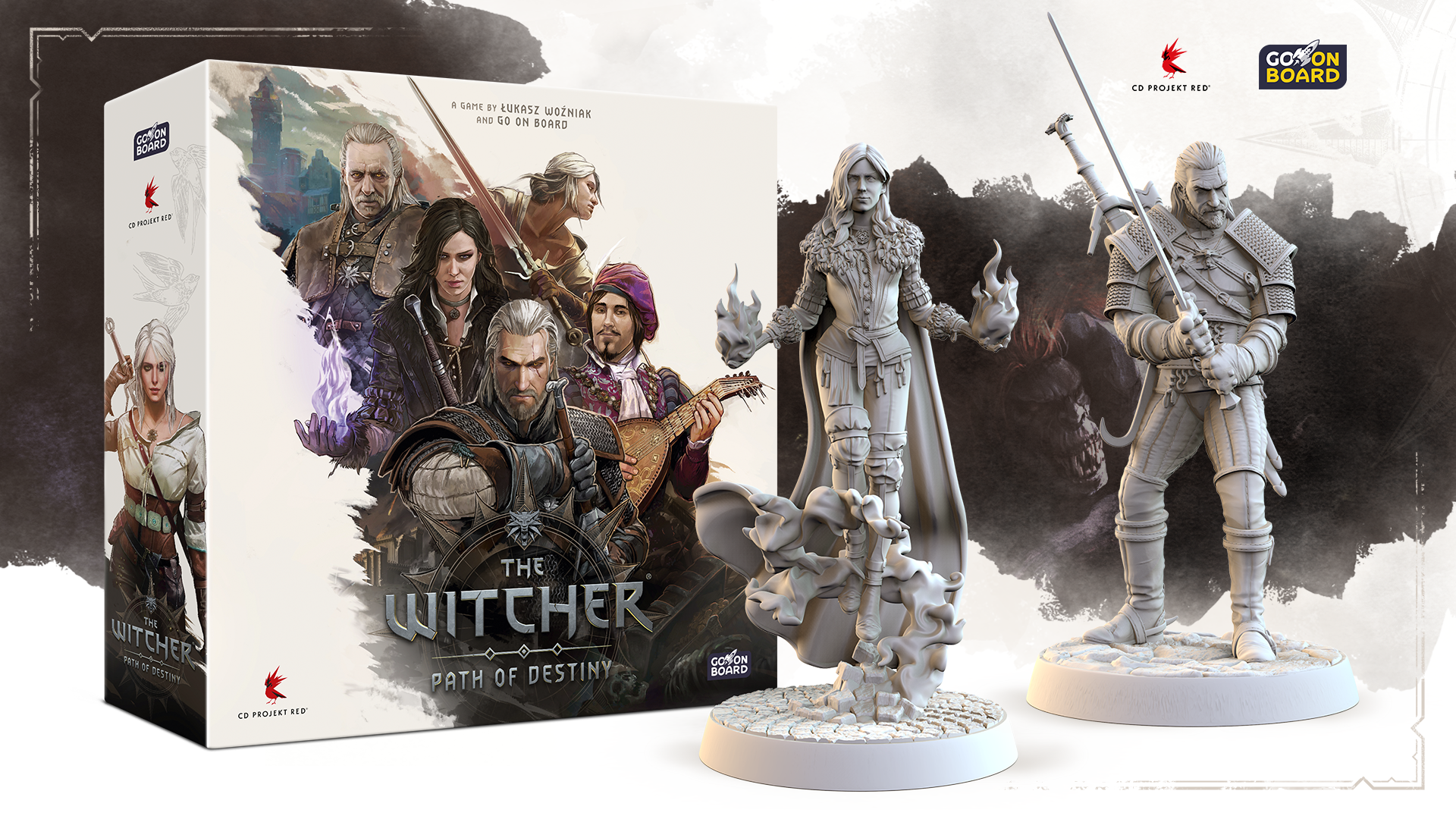 The cooperation opens a new chapter for the quality of life for users – now the platform can be used in different languages and creators can add translations of their project contents.
Some of you may have noticed our platform URL has changed a bit. This is because we've been testing the platform's interface localization implemented with AI. This feature is still in the works, AI is learning, and we keep collecting feedback from the community to improve it. You can access our site with AI translations into Polish, German, Spanish, Italian, and French. Here's a
contact form
you can use to let us know what should be improved in terms of translations.
How to change the language?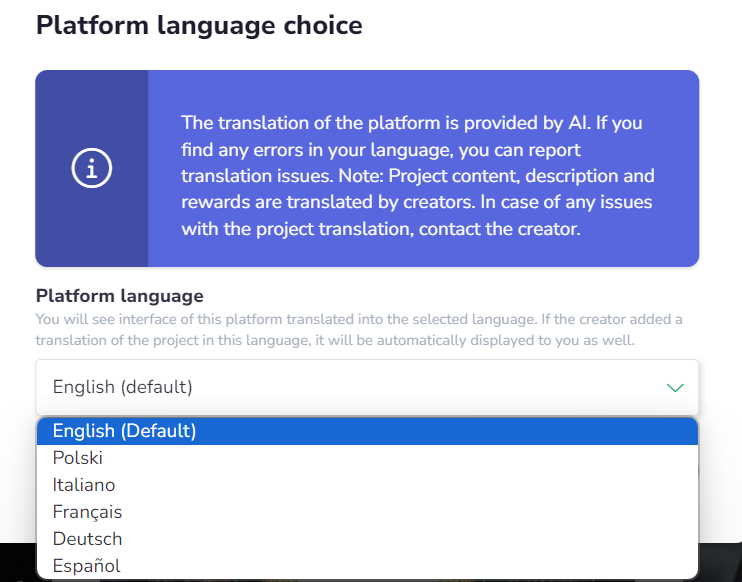 Click the button in the top right corner with the language option. Or change the language at the bottom of the page.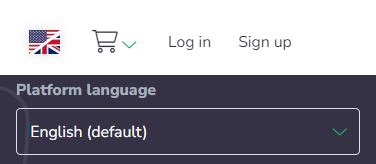 This feature is, of course, connected with the project translations, so once you change the platform language, projects will be displayed in the selected language if it exists.
Project translation tool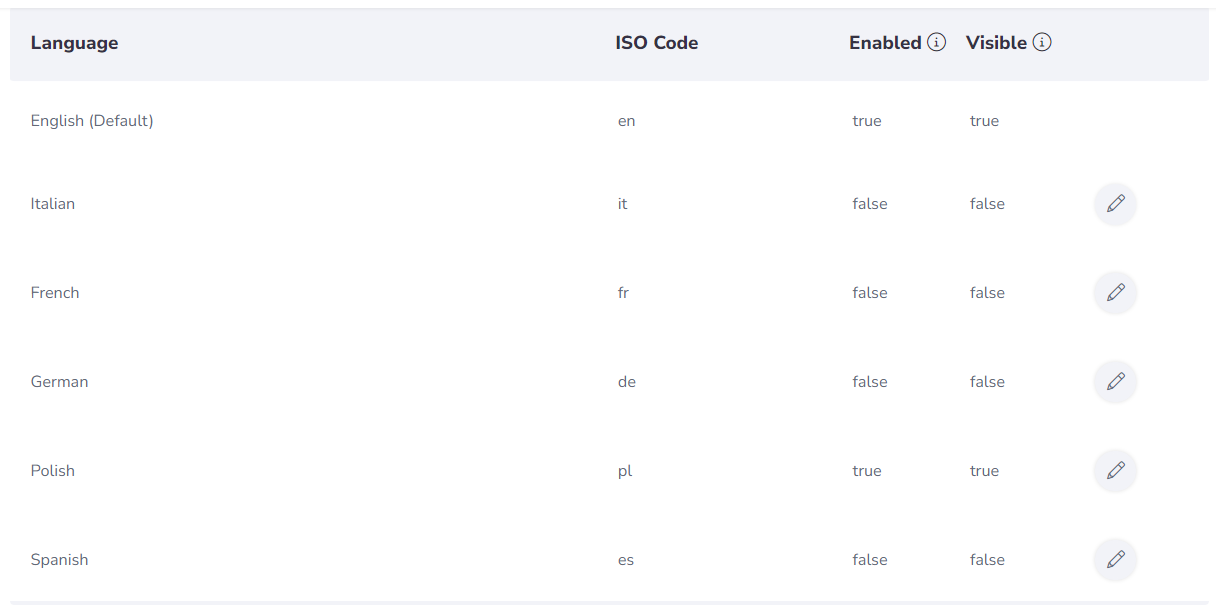 The tool allows you to enable a language version and then add it to your project and product descriptions. You can add all in the selected language the same way as before.

Remember that this content is not translated by AI. Creators have to provide it by themselves, but we plan to support that with AI in the near future as well.
Instant payments
How does "instant" work in crowdfunding? This is new as, so far, backers haven't been charged for their pledges before the crowdfunding's successful end. But we know for a fact some people just don't have credit or debit cards or just prefer using their favorite payment methods that are instant. Now, they can support the project they believe in, and still get a full refund if they change their mind during the campaign. The only thing a backer has to do is to contact the creator with a cancellation request.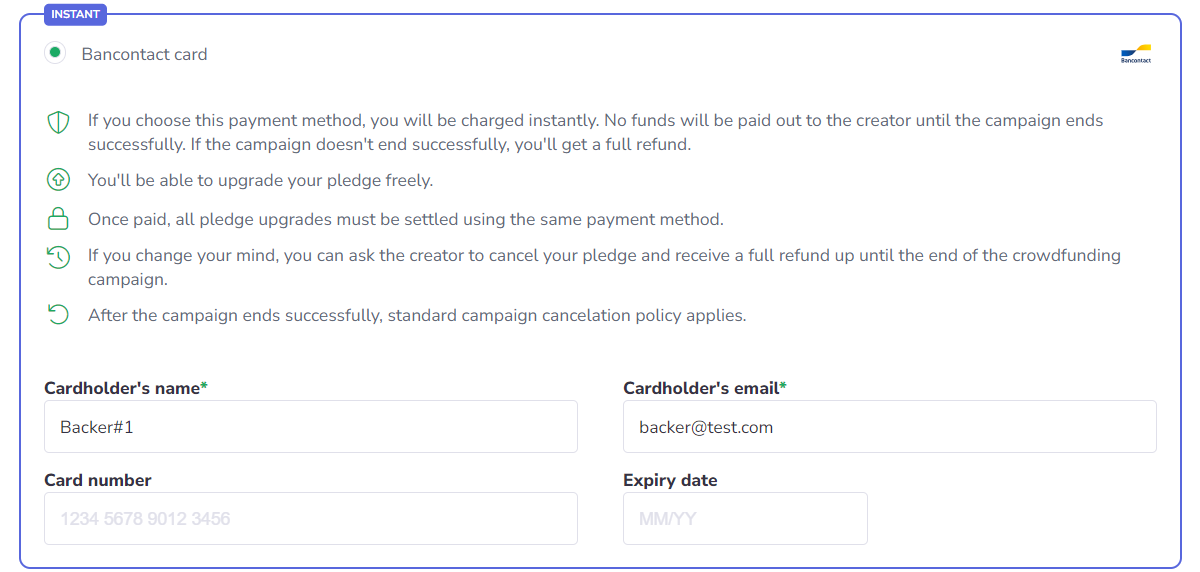 How do we secure your funds?
Creators can make refunds during crowdfunding only for 100% of the funds, and they don't pay anything for it, Gamefound covers the payment processing fees. The money from instant payment methods is unavailable to the creator in any other way before the campaign finishes. Backers' funds are safe on a special Adyen account the creator can access only to make a refund through our system, and the funds are paid out only after the campaign's successful end. So, when the campaign doesn't reach its goal – you get a refund just as anyone else.
Read more here
.
We're extremely happy we could finally deliver new features for your use. We're also extremely glad to see
The Witcher: Path of Destiny
be the first multi-language campaign on Gamefound; we're sure it's going to be a great experience for everyone. As always, we're open to your feedback. The comment section is all yours.
Thanks for your constant support!
Alex Radcliffe
CMO of Gamefound