crowdfunding
campaigns
draft
creator content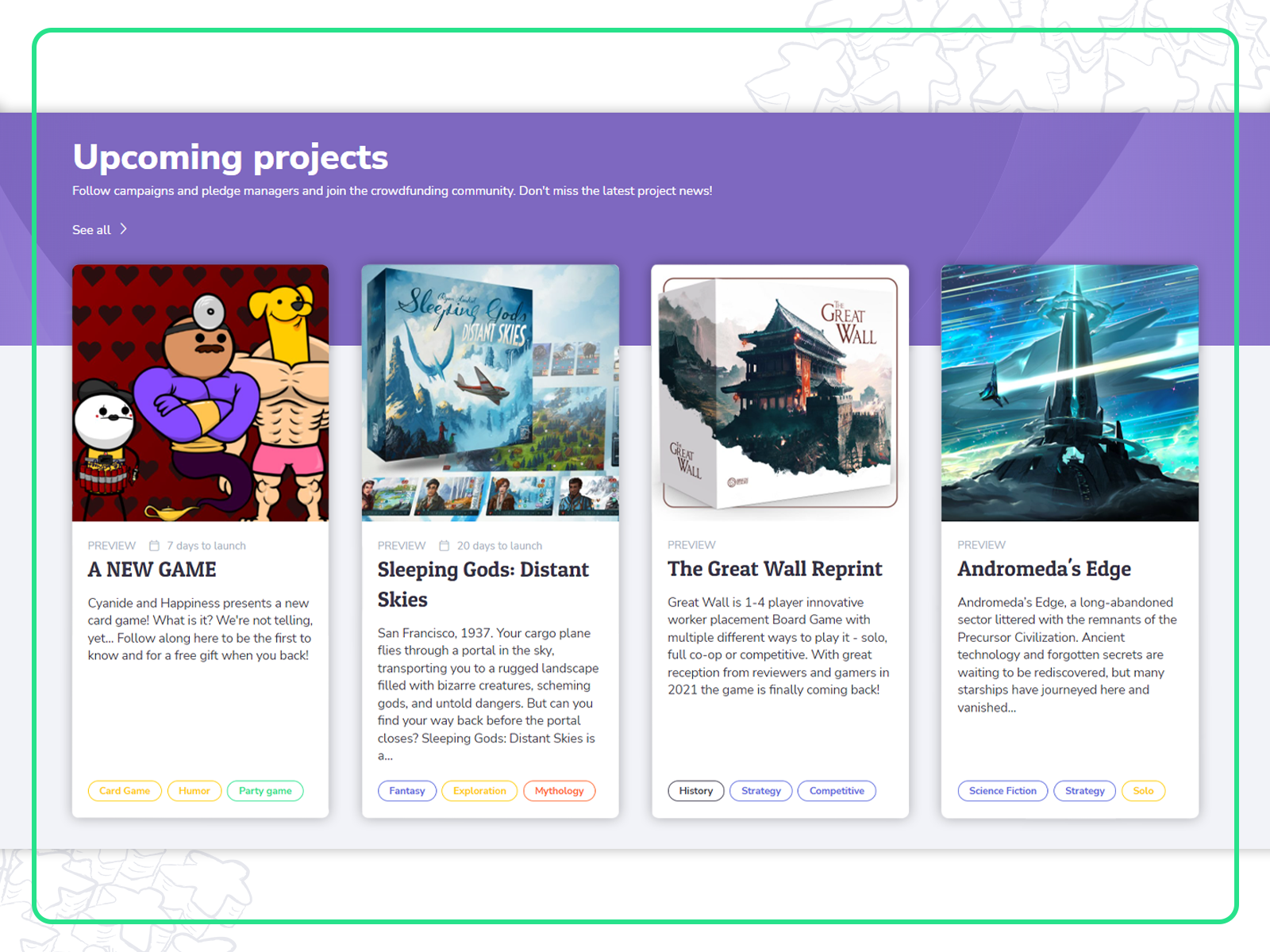 If you're an experienced creator, you know the campaign start is not the beginning but rather the very middle of all activities related to crowdfunding. First, you need to make people care about what you're planning to fund.
This is where a landing page comes in. Whenever you reach out to your audience with your own channels (organic social media, mailing lists) or decide on a paid campaign, you always need to have a page where you can bring people. On Gamefound, there is an entire upcoming projects section where potential backers can browse all the projects to see what's worth following.
Why having followers matter?
Gaining followers is the most important task for you at this stage. People who follow your project on Gamefound not only receive systemic emails when the campaign starts and 48 hours before the end; they also get notifications about all the updates you share. What's more, you can create updates also during the preview stage, and use them to engage with your community, make polls, etc.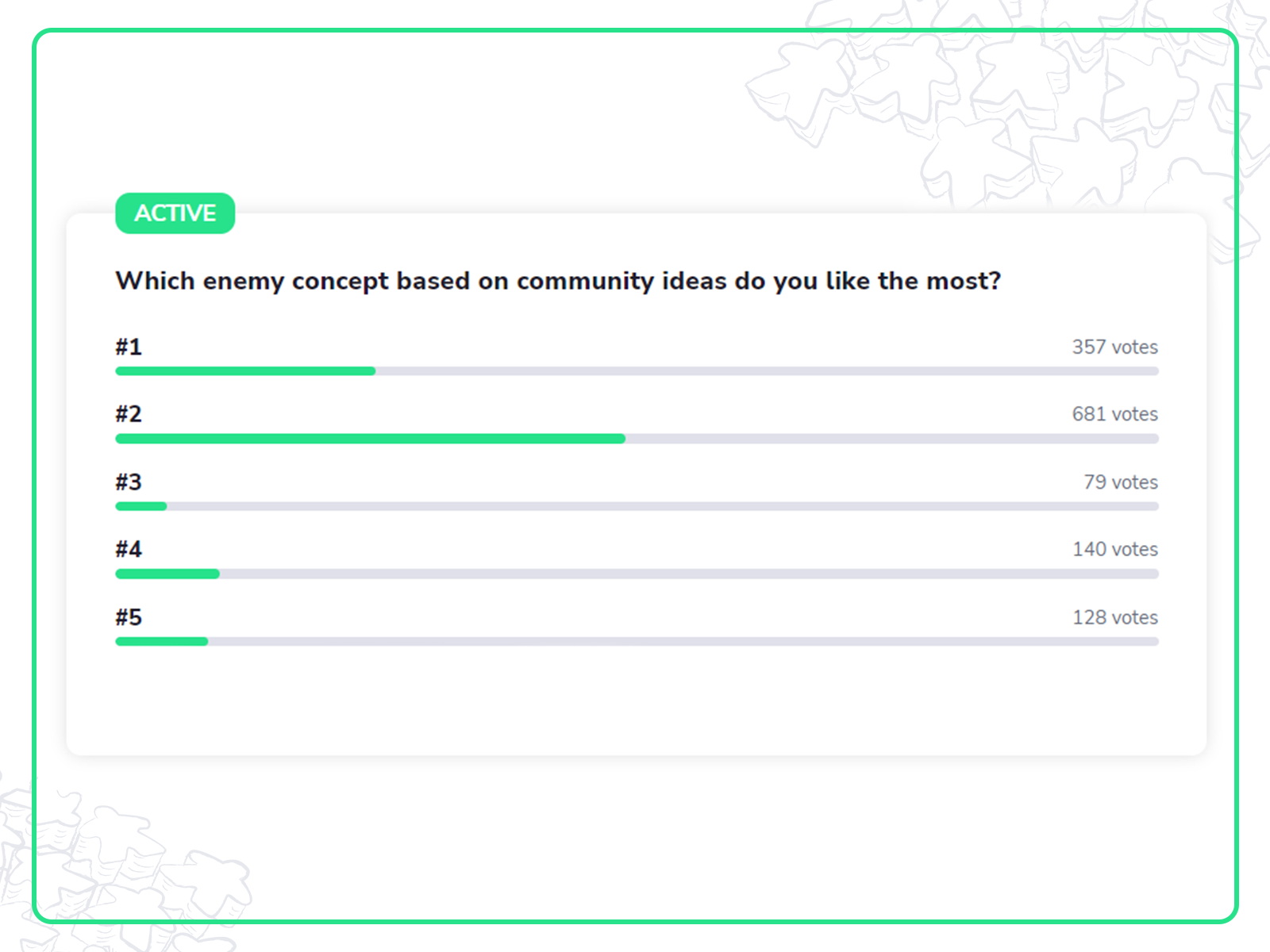 You can add a poll to an update to engage your followers.
Thanks to the many followers interested in your campaign, your chances of successfully and quickly funding your project grow significantly. Of course, you can convince people to support your project on many levels, and the draft page is one of the very easy and effective ways to reach out to them. If you're not sure about what such a preview page should look like, it's always good to learn from the best. Just take a closer look at the preview pages with the biggest number of followers and use them as inspiration (of course, if the campaign is based on a well-known IP, it's fairly easy to bring thousands of followers).
What should be in the preview/draft?
Every draft page should contain at least basic information about your project. This includes adding some images depicting what you're offering, even if they show the work-in-progress stage of your project. If you don't have much to show on the preview page, it's safer not to start paid marketing actions. It's better to send traffic to the page once potential backers can make an educated decision on whether they're interested in the project at all. And to get them interested, you have to give them concrete content, such as a game box, gameplay rules, concept arts, minis, etc. If it's a new concept, explain the rules. If it's a sequel, tell the community about the differences.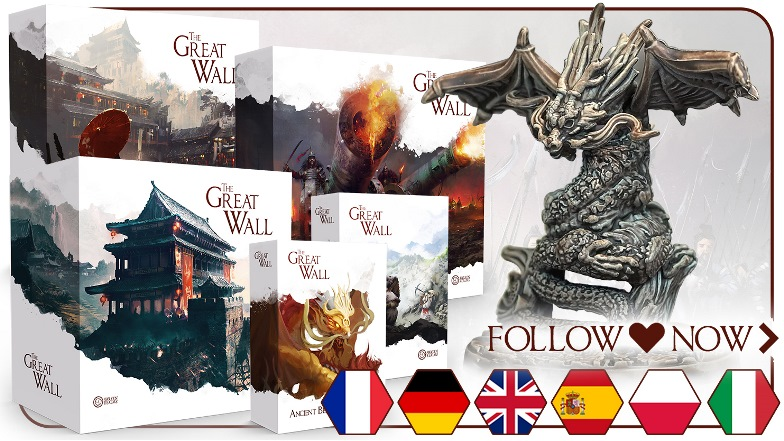 Click the image to see the whole preview page.
If you don't do all that, you will still get some followers, but people will click the big green button "blindly," only if they're at least slightly interested in what you're planning to make. It's nothing bad, but you need to be aware many of them may not want to support you later. You just need to understand the number of backers may be significantly lower than the number of followers.
It's a good idea to work on the page during the preview stage and add more details till the start. Crowdfunding is a community-driven process. Keep the followers engaged by using updates and other forms of interaction - they'll reach the followers you already have.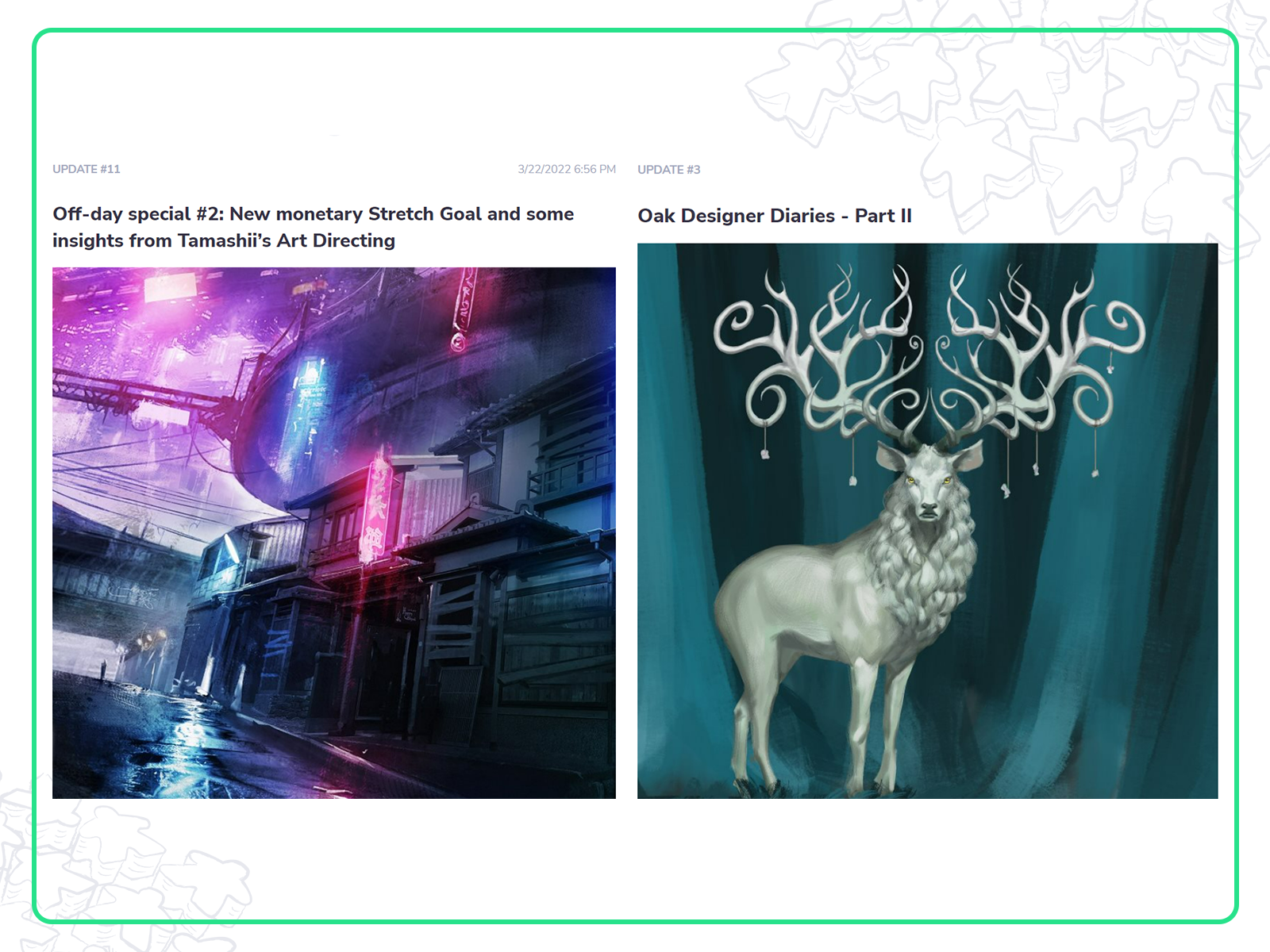 Regular updates are another way of engaging your potential backers.
The important incentive in the case of board games is playthroughs and reviews. While a playthrough can be prepared without external help, it's not necessarily easy to get reviewers involved. This, however, would be the best showcase for your project.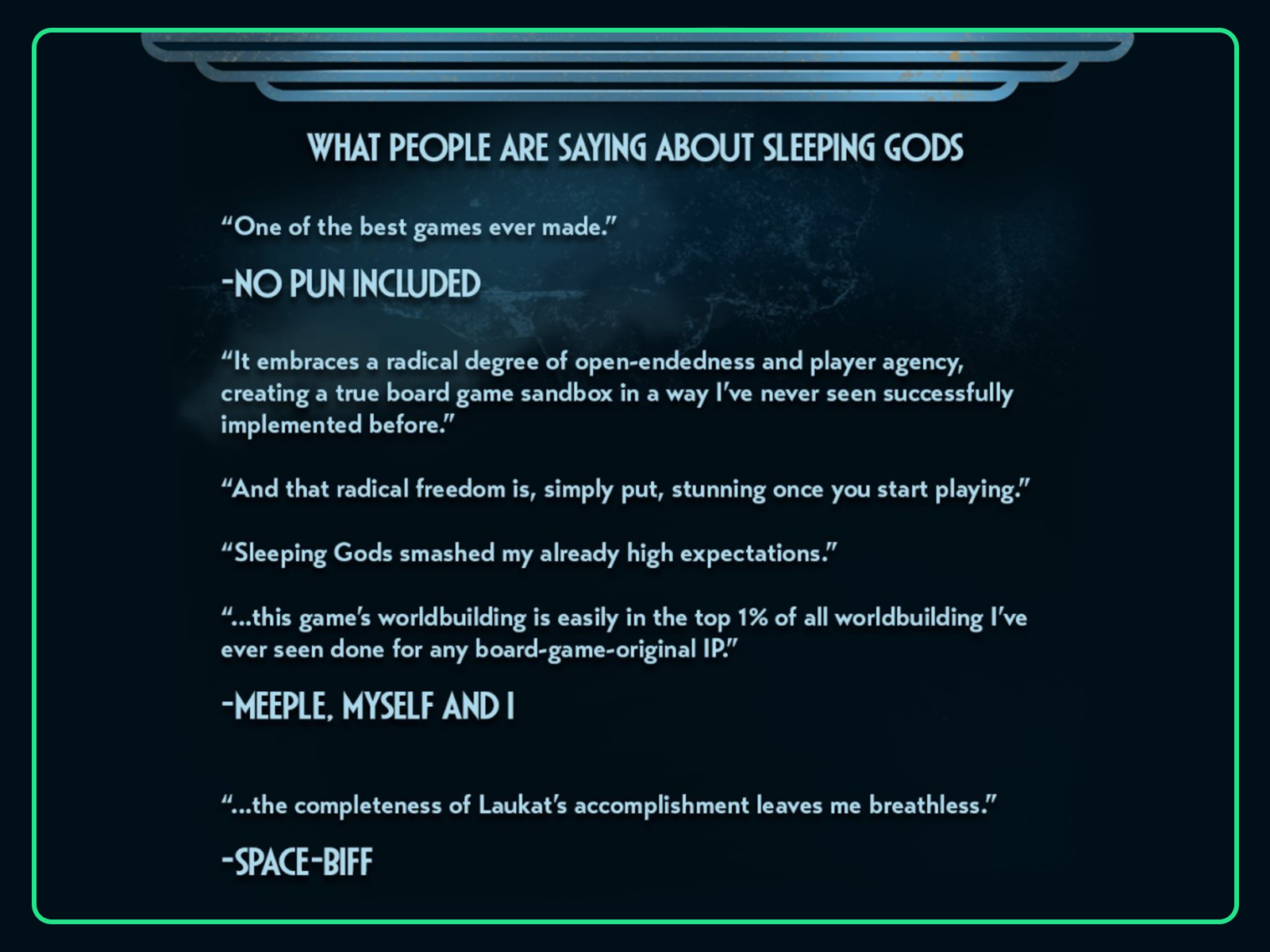 This is an example of how you can show reviews about your project. You can also add videos or animations.
If you want to convince the backers to follow your campaign, show the campaign exclusives upfront. Nothing can stop you from showing the entire campaign page on the preview stage. But keep some aces in the sleeves to make sure you'll positively surprise people also during the campaign.
Last but not least, if you choose to run the campaign on Gamefound, the system has a built-in feature called "follower gifts." You can give people who followed your project before it started something extra. It can be a discount or an item. They'll get it only if they pledge during the campaign. If they don't do that, the gift will disappear forever. It's a great incentive that usually boosts the number of followers significantly.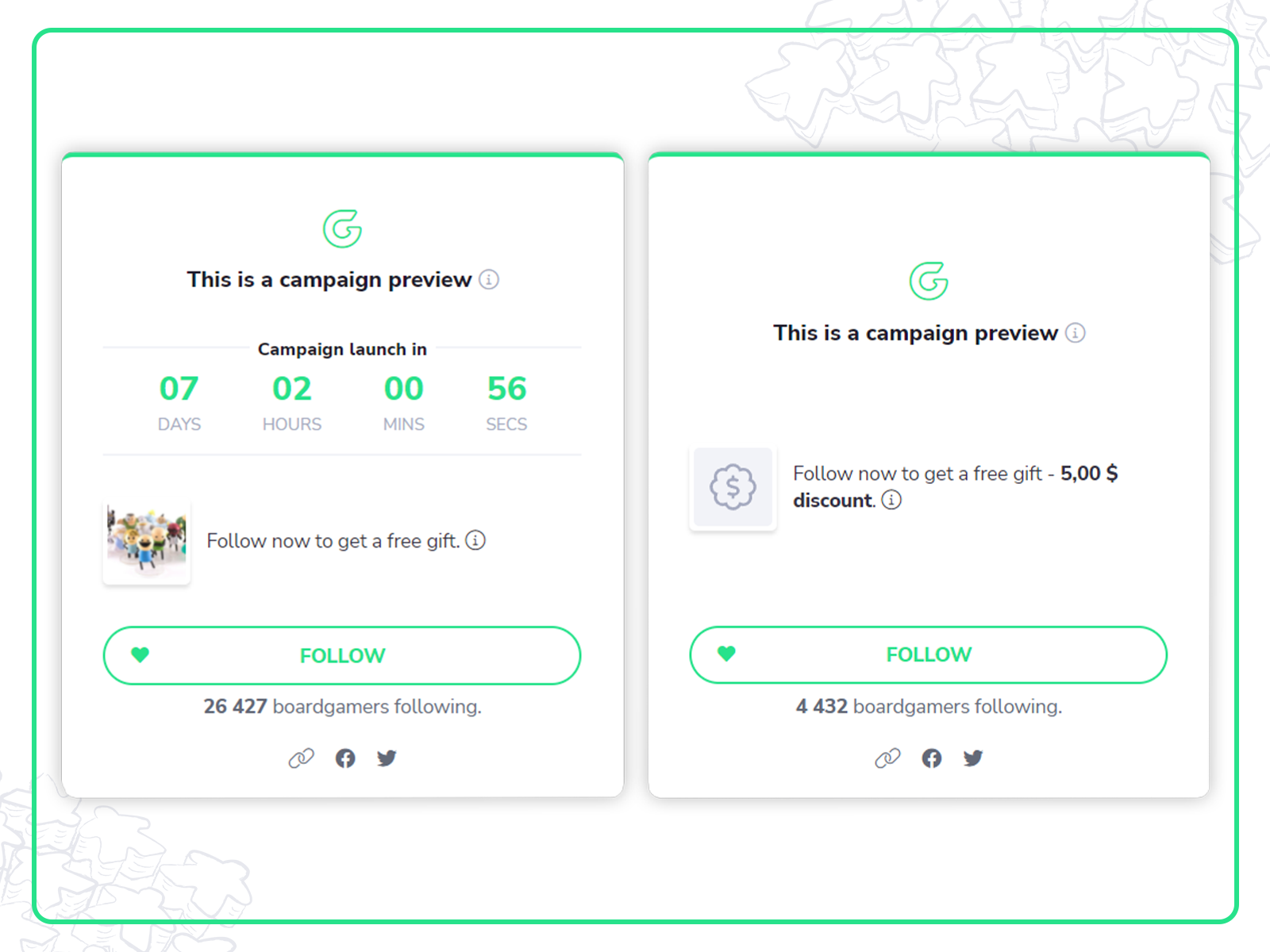 Here you can see some examples of free gifts you can offer to backers for following your campaign before launch.
To sum up, use all you have but don't add it all at once. Make the preview page grow with time, or create a complex draft with a few aces up your sleeve for later. Keep the community engaged and use reviews to get credibility. Add visuals like images, animations, and videos. Make sure your draft page shows the greatest aspects of your project.