milestones
partnership
pledge manager
announcement
late pledge
payment methods
We've been developing the platform for years now, building a platform for the gaming community and by the gaming community, aimed to bring solutions not just to crowdfunding and pledge management but specifically to the tabletop community's needs. Working directly with many of these creators over the years, we've always been able to build a better solution and ensure that the creator's voice and needs are an important part of Gamefound's continued growth and development. With these partnerships, we're making sure that this vision continues.
We're excited, not just for these creators, but for what comes next. We want to continue to make the tabletop crowdfunding space the best it can possibly be; we're excited for the new gamers that will join the platform, the new creators that will find us, and the games we will all bring to life together.
We're here for you, but most importantly – thanks to you.
More about our partners:
Archon Studio
is a leader in the board game, wargaming, and RPG terrain market. Known for their Dungeons and Lasers tabletop terrains. Their recent crowdfunding campaign for Heroes of Might and Magic III The Board Game was supported by over 26,500 backers.
Corvus Belli
, the Infinity Universe creator, has over 20 years of experience in the design and creation of games and miniatures. Their Infinity Universe has gathered a huge community of active players all over the world.
Flatout Games
, publishers of award-winning Cascadia and other puzzly games such as Calico, Verdant, and the soon-to-be-released Fit to Print, Point City, and Deep Dive, aim to create beautiful family-friendly games to share with others. Flatout Games has been supported by tens of thousands of backers to make their collaborative projects a reality.
Geeknson
is a manufacturer of a wide range of furniture for tabletop lovers and geeks. They focus on the highest quality products for those who look for the best experience, thanks to the Geeknson gaming tables.
Open Owl Studios
are the creators of immersive, cooperative world-building titles such as Stonesaga, Mythwind, and Stars of Akarios. Their games have been supported by thousands of backers, and they've decided to use Gamefound's pledge manager until the end of 2024 for all their amazing campaigns.
Van Ryder Games
, award-winning creators of games like Final Girl, Hostage Negotiator, and Detective: City of Angels. With many years of experience in game publishing and crowdfunding, they focus on being reliable, providing great service to their customers, and creating unique games.
We're looking forward to the great projects we'll host and support on Gamefound.
The new pledge manager is here! We've been working on making the service as seamless as possible, and now it's available to you. We've streamlined the option of importing a campaign from an external platform. Now, when you set up a new project, you can add an already funded one and use our pledge manager: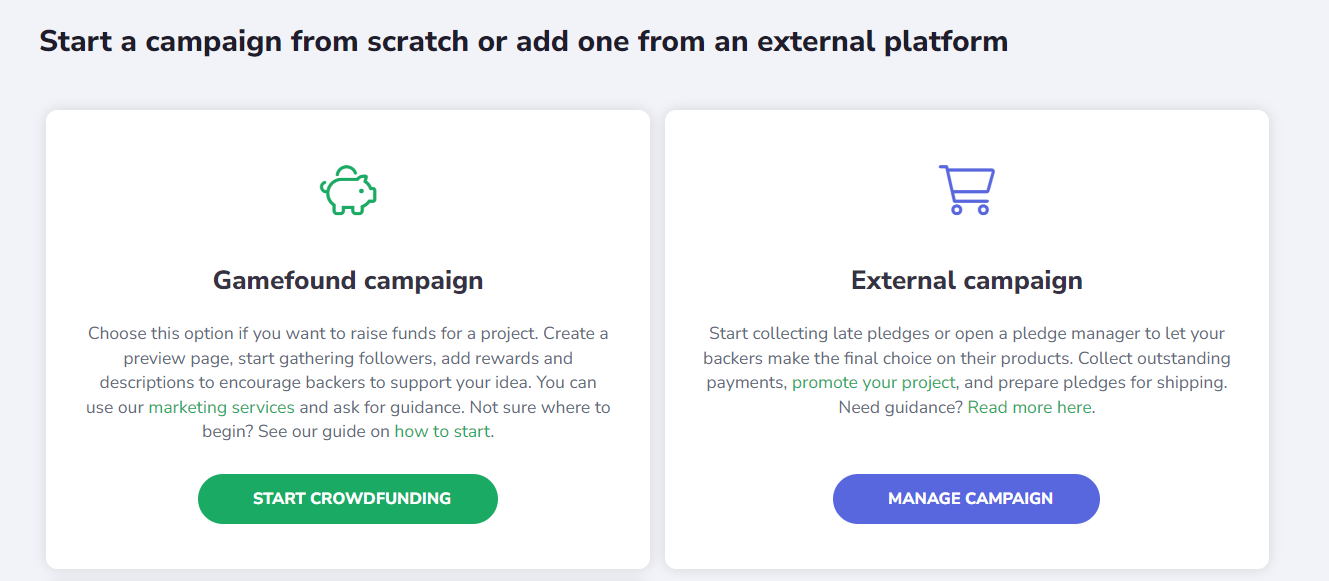 We'll ask you about the funding amount and currency and the number of backers. You'll also have to provide us with the necessary info about your company, which will be verified by our payment provider later.
Then, you'll be able to choose if you want to launch a late pledge or pledge manager.

The rest of the steps are described on the project dashboard. Once you add all the required info and get verified, you can launch your project.
Apart from that, all the functions you already know and are used to have been looked at and upgraded to the highest standards. We'll also be rolling out new functionalities soon to make our pledge manager even better.
New payment method – Klarna
We've introduced another payment method available for backers in Belgium, Sweden, Austria, Germany, the Netherlands, and Switzerland. You can choose Klarna when you're shipping address in one of these countries.

We're excited to move on with a new pledge manager we could create using all our experience and knowledge and, of course, your feedback. We're even more excited to have so many amazing creators on board with us from the very start. With what we've learned, we could make the new service suited especially for your needs. We'll keep on working and developing to make it the best.
Thank you for all your support!
Alex Radcliffe, CMO of Gamefound