pledge manager
news
late pledge
installments
stretch pay
creator's digest
currency conversion
Gamefound currency conversion
Before we start... some Stretch Pay stats!
We introduced
installments
on our platform, and we love to see both creators and backers love the feature. So far, we see 15% of pledges were made using installments, with a
30% bigger average value
. In one project, the value of pledges made with Stretch Pay is as much as
80% higher than regular pledges
. This data strongly depends on the project and how Stretch Pay is set (you can choose the minimum pledge for people to use it), but we can safely assume it
boosts the campaign results by more than 10%
. And remember, it's free for both creators and backers.
OK, now let's get to the exciting news!
Creator's Digest – new notification system
We know how important it is to connect with your backers and stay updated with their feedback. Now you can get a regular summary of recent actions and comments in your projects. You can decide how often this info will be sent to you. You can also unsubscribe from Creator's Digest if you think you don't need it. Here's how it roughly will look like: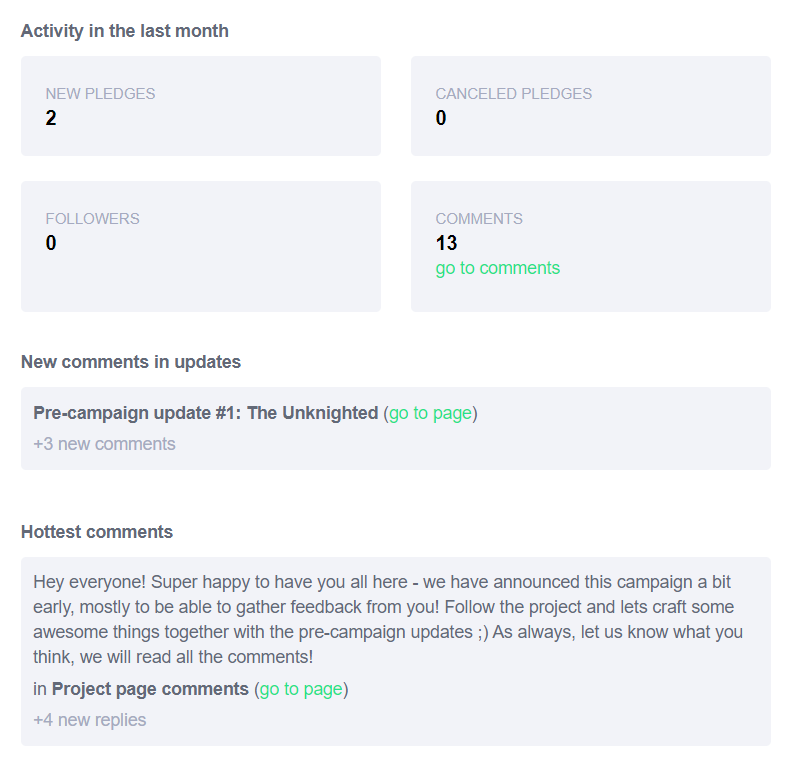 The summary will include the number of new and canceled pledges, changes in follower numbers, and new comments. We'll also show the most heated discussions about your projects. To ensure you receive fewer emails, we put together all your projects within one message.
Creators with admin roles will set how often the digest will be sent to them and to all people who are invited to any role on the creator level (bear in mind that people with roles only in specific projects won't get digest; they need to have a creator role).
The digests will be sent at the same time. Depending on your frequency choice:
Daily: midnight (UTC)
Weekly: Monday 2 AM (UTC)
Monthly: first day of the month at 4 AM (UTC)
Only the people with a specific role can change the frequency (admin and editor), so remember to adjust it properly in the creator settings.

You won't receive the email if there are no updates in your projects (no new comments, no pledges, no change in followers).
Late pledge and pledge manager configuration dashboard
Once your campaign is successfully finished,
you can choose what to do next
. You no longer need to write to us to launch the next phase of your project.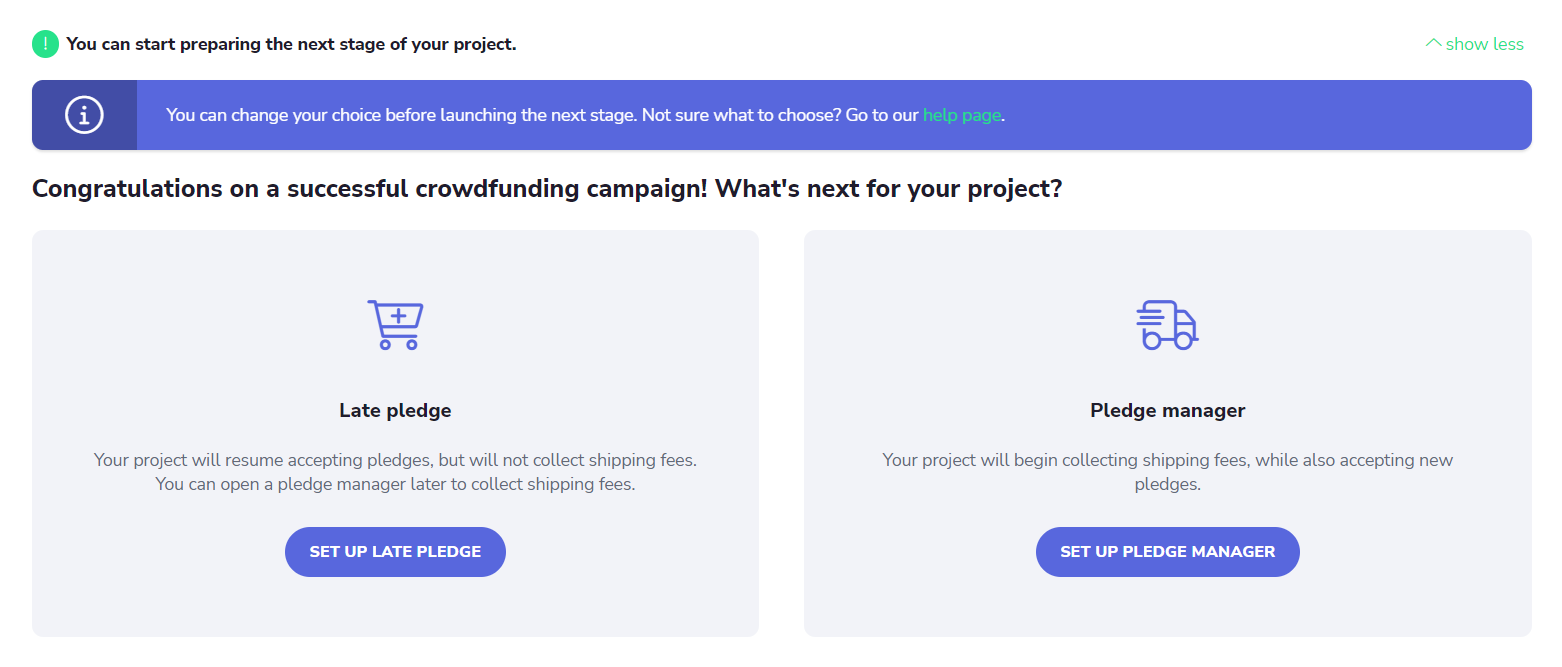 We've gathered all the necessary steps to launch another stage of your project in the project dashboard. You can choose to start the late pledge stage or open a pledge manager. All the required setups and their progress are now in one place.

Once you fill in all the necessary details, you can submit the setup for review. We'll check it and provide feedback if needed. After our team accepts the project, you can launch the late pledge stage or open the pledge manager yourself at any time (yet we don't suggest doing it during the weekend).
Shorter period between stages
We've also changed the time gap between stages. After the crowdfunding campaign, you need to wait for only 15 days (not 30, as it was previously) before launching the next stage. Between the late pledge and pledge manager phases, there's no "cooldown" period. You can turn on the PM any time once the setup is ready.
Gamefound currency conversion
Soon, we'll introduce the option to pay in a selected currency with
Gamefound's currency conversion
. The rate we apply in the vast majority of cases will be lower than the cost of currency conversion offered by widely used banks. Backers will have a choice to pay in the original project currency or use their local currency.

We'll be slowly rolling out this feature to more and more projects. For technical reasons, the currency conversion will be available in all stages for projects crowdfunded on Gamefound. Pledge managers prepared after crowdfunding on another platform won't have this feature for now. At this moment, there are 13 currencies available.
Gamefound currency conversion does not influence the original prices of the products. They are a base for the conversion, so the price at checkout may vary for backers, depending on the applicable rate.
Another advantage of this system is that backers paying with their own currency will know exactly how much their pledge would cost. If they decide to use GCC, there won't be any surprises after the campaign's end; conversion values won't be estimations but actual prices.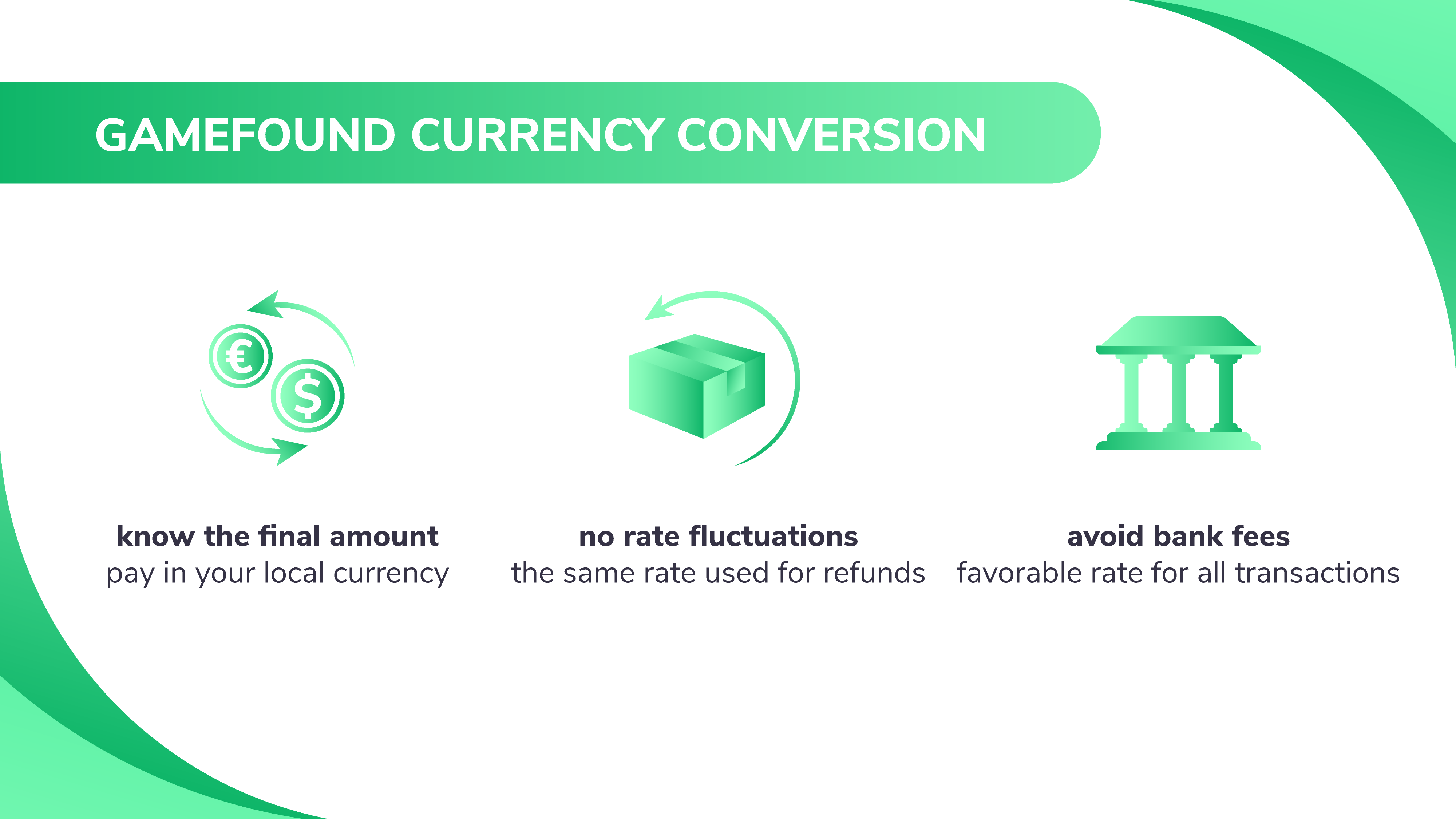 From the creator's point of view, nothing changes with Gamefound's currency conversion: you'll receive money only in the project currency, and you don't need to worry about the currency conversion.
Info about unsaved changes
There's one more thing we've added. Now you'll see a notification about unsaved changes in the admin panel when you leave a page. No need to worry about unsaved settings anymore! E.g., if you add a sentence to your project description and forget to click "save," the page will require a confirmation to exit without saving.
In just one month, we've implemented a few significant and useful features, and we'll continue to keep up the pace. You can expect more life-improving functionalities soon. We're very happy with the impact these features are having on funding totals, project management, and improving the user experience for both backers and creators. As always, we welcome your feedback on both existing features and what you want to see. Do you like StretchPay, will you use it in your next project? Are you excited to have a better way to manage your comments? Do you think currency conversion is something backers will appreciate? And what do you want to see next? Leave a comment down below, we want to know.
Best,
Alex Radcliffe
CMO of Gamefound