taxes
analytics
sales tax
pledge sources
traffic
new features
Sales Tax in pledge manager (USA)
Creators now have an extra tax option for their USA-based backers. If you don't want to collect flat tax rate, Sales Tax allows for an accurate tax calculation based on the address and works automatically using an external service (TaxCloud). This new feature will even recognize specific streets. The feature is enabled in the pledge manager stage. If this option is enabled, Gamefound will automatically add the proper tax to the pledge based on the shipping address provided by the backer. As a creator, you can always decide whether you want to collect flat tax for any state, use the accurate tax collection, or not collect taxes in US at all.
Read more here
.

Pledge and traffic sources - analytics
We've been working on a new type of analytics – pledge and traffic sources. The dashboard will show the sources of traffic on your project and pledges. You'll clearly see which channel brings you the most backers.

We'll keep working on this dashboard and add more sources in the future. It's not yet available to everyone, we're currently testing it. If you want to be part of such tests, contact your Key Account Manager so we can enable it.
Easier choosing options
When pledging for a set consisting of different items, backers can choose the same option for all of them with just one click. Meaning, selecting the same option for different items on projects is now faster than ever. This will come in especially handy when choosing the same language for multiple products. No need to turn this option on, just sit back and relax, while the grouping option appears automatically.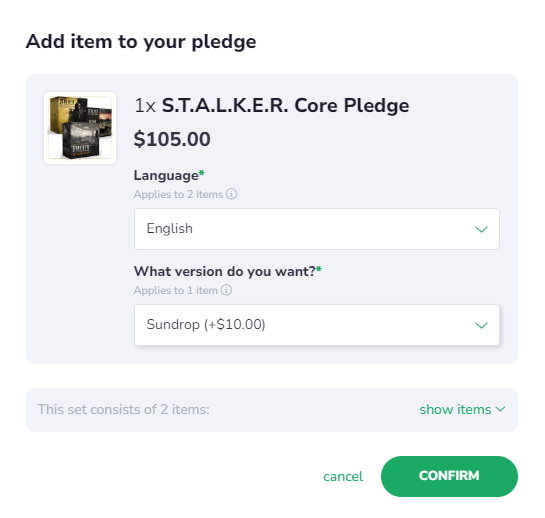 Two new payment methods
We're on a roll! Our goal is to let as many users from various countries back projects with their payment method of choice. Projects can now be supported with the help of new payment methods, Bancontact Mobile for our Belgian backers, and Cartes Bancaires for our French backers.
We're not slowing down! The dev team is currently working on platform localization and other life-improving stuff. If you want to keep informed about the upcoming features,
join our Discord server
. We talk about the newest functionalities, plans and ask for your feedback. As always, you can share your thoughts in the comments as well.
Thanks for your constant support!
Alex Radcliffe, CMO of Gamefound